+5
18V ONE+™ 8" Pole Saw with 1.3Ah Battery & Charger
Model: #P4361
+5
The RYOBI 18V ONE+™ 8" Pole Saw offers the perfect solution for pruning hard-to-reach limbs and branches. Powered by the 18V ONE+™ lithium-ion battery, this pruner extends up to 9.5 ft. to help you reach some of your tallest trimming areas easily and safely. Featuring an automatic oiler for smooth operation, the in-line motor housing also allows you to prune in tight spaces. The 18V ONE+™ 8" Pole Saw is backed by a RYOBI 3-Year Limited Warranty
Features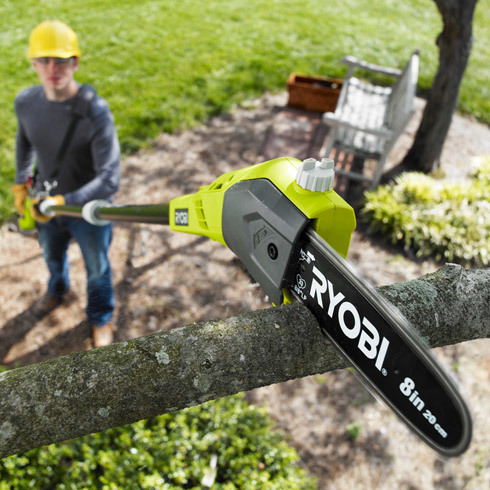 Extends up to 9.5' with extension pole for hard-to-reach areas
Automatic Oiler for extended chain life
8" Bar & Chain is ideal for light limbing
In-Line Motor Design for precision pruning
Angled Cutting Head for more control
Specifications
Bar & Chain Size: 8"
Chain Oiler: Automatic
Throttle: Variable Speed
Replacement Chain: Y33 .043"
Length: 6.5' - 9.5'
Weight: 8 lbs.
Warranty: 3-Year Limited
Includes
18V ONE+™ 8" Pole Saw
18V ONE+™ Lithium 1.3Ah Battery
18V ONE+™ Battery Charger
Scabbard
Hex Key
Extension Pole
Shoulder Harness
Operator's Manual
Reviews
18V ONE+™ 8" Pole Saw with 1.3Ah Battery & Charger
18V ONE+™ 8" Pole Saw with 1.3Ah Battery & Charger
is rated out of
5
by
1858
.
Rated

5

out of

5
by
DarthDaddy98
from
Fast, versatile, and reliable. A great value!
I bought this tool well over 2 years ago and I honestly did not have high expectations. I have a ficus hedge that has gotten out of control and neede to be cut down to size. This little saw zips through ficus limbs like a hot knife through butter and comes back for more. I am still using the original chain that came with the saw, even though I bought a spare just in case. My only complaint is that the collars that hold the extensions in place get wedged in place and are sometimes difficult to turn, but gentle persuasion with a pair of vice-grips does the job easily. This tool is an excellent value and does a great job for me.
Date published: 2017-07-05
Rated

4

out of

5
by
cloclo
from
So convenient!
A chainsaw is a chainsaw, and they're all dangerous, including a pole saw. An electric one like this Ryobi provides the operator greater control, and it is so convenient as well as safer. Not having to mess with gasoline and oil and not having to worry about whether your engine will start or not is worth a lot. You still have to worry about the chain tension, which is fairly easy to adjust, and you have to use bar and chain oil to lubricate the bar and chain. I cannot easily determine how much oil is in the container when I fill it, which is why I dropped one star in my rating. On balance, this pole saw does a good job, quickly and efficiently.
Date published: 2017-11-24
Rated

1

out of

5
by
brentj77
from
Problematic from day one
I bought this a year ago and it just seemed to run rough. I put the bar chain oil in and that leaks all down the pole. After using it 5 times the battery died. I took it back to home depot and they gave me a full in store credit so I purchased another one. I just used it once (literally cut one branch) and the chain came off. When I removed the cover I noticed the sprocket came right off. Either they forgot to put the retaining clip on during manufacturing or it came off after one use. A total waste of several hours of my Saturday to return the unit for a second time. Not to mention that I still have to do all the work I was planning on doing.
Date published: 2017-05-13
Rated

5

out of

5
by
Pepaw
from
Great limb trimmer
I brought this Labor Day weekend and used it all day Saturday and most of the day Sunday. It performed really good. I read the reviews and went to Home Depot and checked it out. I found that my store even sells replacement 8" Oregon chain that will work on it. The chain stayed sharp the whole weekend. I had to tighten the chain about 6 times. It tightens just like a chain saw does. I used about a half a quart of chain saw lube. It cut 8" limbs with no problems. I hauled off about 8 pick up load of limbs to the recycle place. I had other Ryobi 18V one + tools and used their 4 Ah batteries. I would recommend this tool and would buy it again.
Date published: 2018-09-18
Rated

2

out of

5
by
SteveB4321
from
Great at first. 1 flaw.
The 18-volt pole saw worked great at first. Then after a while the chain would loosen and not stay tight. After a disassemble I discovered the problem. The chain tensioner was made either to small or of weak material and it bent. The chain would not stay tight and would loosen up easily. I went on Ryobi website to order a new part. Of all the replacement parts available that one small piece was out of stock. I have to assume this is a common and known problem. I returned the pole saw. Later bought the 40-volt system and the expand it pole saw. Very happy with that one. Skip the 18-volt one not worth the money.
Date published: 2018-08-24
Rated

4

out of

5
by
Ed1946
from
Very Good Pole saw
I like it very much except for the oiler leaks down the pole and ruins the batteries. When I went to recharge the battery, the charger just stayed on solid Red which means battery defective. Cuts greats, lots of power when the battery is charged. Not much notice that the battery is losing its charge, it just stops, even in the middle of a cut. I would recommend this saw to anyone who wants to cut limbs but be careful with the battery and bar chain oil.
Date published: 2016-04-14
Rated

5

out of

5
by
pkoury
from
No gas mixture no cords GREAT SAW
I am a handyman and I bought the P546 chain saw for a project that would have required mixing gas or renting a generator, I figured that with all the Ryobi tools that I have that served me for over 10 years nonstop that I had enough 18 volt batteries to do the job. Estimated 4 days for this job, after all this is 18 volts, battery powered tool. Needless to say the customer was extremely happy when it only took 2 days to complete the project and the estimate cost was cut in half. Thanks Ryobi this customer gave my name to there friends and I have 4 new customers. Hope this makes sense I usually do not write reviews not a scholar.
Date published: 2019-05-31
Rated

5

out of

5
by
GettinItDone
from
Perfect tool for me!
My husband bought this for me because, 1) I'm short & couldn't reach to the high branches in our yard, 2) I wasn't strong enough to start his chainsaw, & 3) I wanted the convenience of a battery operated tool. I love, love, love it & have used it almost everyday since he brought it home. I only use one of the two attachments it comes with, otherwise, I wouldn't be able to hold it up because of its weight. However, one attachment is enough for the jobs I've done so far. It's easy to maneuver, easy to operate, & slices these exotic fruit trees that have grown wild on our property like butter. This tool works great for someone like me.
Date published: 2018-09-20