18V ONE+™ Compact Lithium-ion Battery
Model: #P102 | Home Depot Sku #: 883293
The RYOBI® 18V ONE+™ System introduces lithium-ion performance at Ni-Cd prices. New and improved Lithium batteries are the very best value in lithium-ion performance. This new battery provides up to 20% more runtime, holds a charge 4X longer and is 45% lighter weight than 18V ONE+ Ni-Cd batteries at exactly the same price. Best of all, like all 18V ONE+ batteries, these new lithium-ion batteries work in every RYOBI 18V ONE+ tool ever made.
---
Product Videos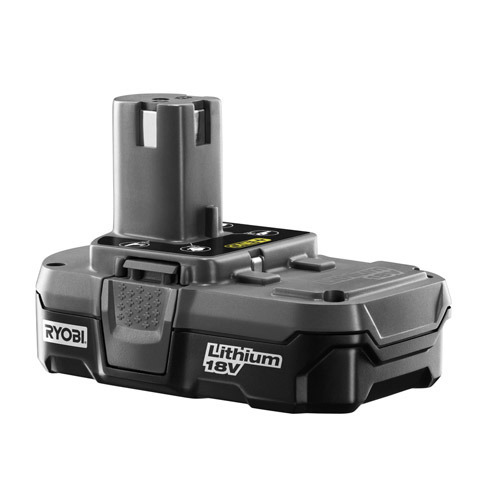 Compact Lithium-ion Battery
Compared to 18V ONE+ Ni-Cd (P100):
Up to 20% more runtime
45% lighter weight reduces user fatigue
Compact size allows use in tight areas
Fade-free power for maximum performance
Compact size ideal for use in tight spaces and overhead areas
Compatible with all Ryobi 18V ONE+ tools
Charge only with 18V ONE+ dual-chemistry chargers
All RYOBI 18V ONE+ tools work with all RYOBI 18V ONE+ batteries.
P102 18V Compact Lithium-ion Battery
Can I charge Lithium-ion batteries on my current charger?

Only a Lithium-ion charger can be used to charge Lithium-ion batteries. However, the lithium-ion chargers can charge the Ni-Cd batteries.

What do I do if my battery is exposed to a corrosive or conductive fluid?

If your battery pack is exposed to a corrosive or conductive fluid, do not attempt to use or charge the battery pack and immediately perform the following steps:

1. Wear appropriate personal protective equipment, including eye protection and rubber gloves.

2. Place your exposed battery pack in a large bucket, such as a 5 gallon or similar bucket, and fill the bucket with regular tap water. Do not place more than two packs in the bucket.

3. Locate the bucket outdoors in an area inaccessible to children and pets and away from all buildings, garages/ sheds, structures, vehicles, and combustible/flammable materials.

4. Leave the battery pack(s) in the bucket filled with tap water and call Customer Service at 1-800-525-2579 for additional instructions on the proper disposal of the exposed battery pack(s).
---