+8
18V ONE+™ BRUSHLESS 7-1/4 IN. CIRCULAR SAW
Model: #P508
Brushless motor provides longer runtime and longer tool life
34% More cuts per charge
26% increased cut capacity
+8
OUTLAST, OUTPERFORM & OUTDISTANCE THE COMPETITION
Features
Full-size 7-1/4 in. blade for maximum cut capacity and blade variety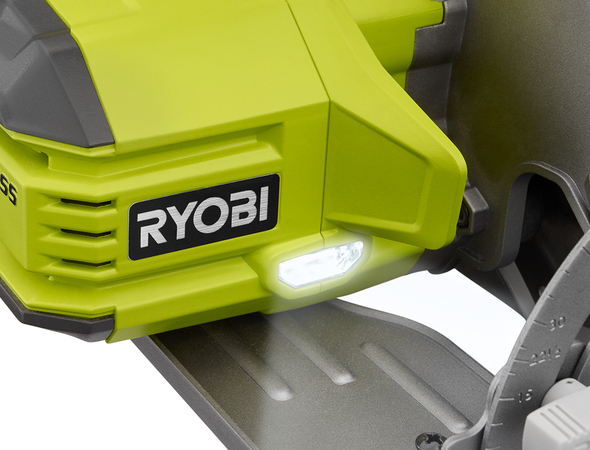 LED light illuminates cut line
0–56° bevel cut capacity allows user the ability to cut the most common and complex angles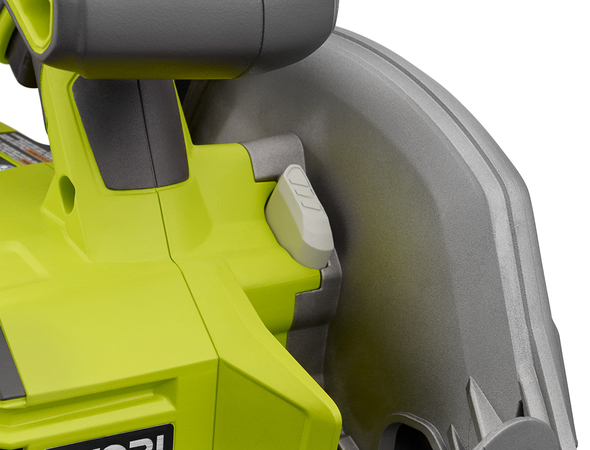 Spindle lock for quick and easy blade changes
Specifications
Dimensions
Tool Weight

6.6 lbs
Details
Battery

18V

Blade Size

7-1/4 in

Arbor Size

5/8 in

No Load Speed

3,800 RPM

Depth of Cut at 0°

2-7/16 in

Depth of Cut at 45°

1-13/16 in

Bevel Cut Capacity

0-56°
Warranty
Certifications and Listings

1-UL Listed
Includes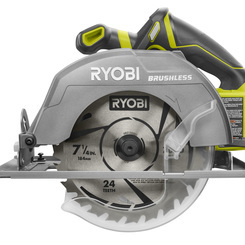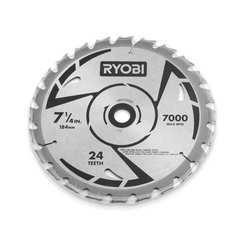 7-1/4 in 24T Thin Kerf Carbide-Tipped Blade
[#<ProductFeature id: 1333, title: nil, content: "Circular Saw", photo: "5fa59d38-85a3-4a71-b90b-99e392160ddc.jpg", created_at: "2018-02-03 02:15:06", updated_at: "2018-02-03 02:15:06", product_id: 935, sort: 0, enhanced_type: "included_item", enhanced_group: nil, enhanced_icon: nil>, #<ProductFeature id: 1334, title: nil, content: "7-1/4 in 24T Thin Kerf Carbide-Tipped Blade", photo: "cd6bd6a2-ff88-456b-801f-8c0a8072b23d.jpg", created_at: "2018-02-03 02:15:08", updated_at: "2018-02-08 03:19:10", product_id: 935, sort: 1, enhanced_type: "included_item", enhanced_group: nil, enhanced_icon: nil>, #<ProductFeature id: 1335, title: nil, content: "Blade Wrench", photo: "6e6cecd6-0ea0-4715-a4e9-dcef74baa067.jpg", created_at: "2018-02-03 02:15:09", updated_at: "2018-02-03 02:15:09", product_id: 935, sort: 2, enhanced_type: "included_item", enhanced_group: nil, enhanced_icon: nil>]
Reviews
18V ONE+™ BRUSHLESS 7-1/4 IN. CIRCULAR SAW
18V ONE+™ BRUSHLESS 7-1/4 IN. CIRCULAR SAW
is rated out of
5
by
300
.
Rated

4

out of

5
by
Keith 56
from
Maybe I'll like it better with the new gen battery
I have owned and used a Ryobi R10632 5 1/4" saw from my first Ryobi combo kit for many years and really like it. I got this saw free with a by the brushless drill get a free tool deal so I can't complain about the price. However, I was a little disappointed in its performance with 5 year old, 4AH P108 batteries. I had trouble cross cutting 1x4 PT pine boards. The old saw cuts better with the same batteries. The old saw had been a disappointment until I upgraded to the Lithium batteries and maybe when I upgrade to the newest generation batteries, it will work better (I heard this on a You Tube video). I'm holding out for the 9AH batteries before I upgrade. I'm optimistic.
Date published: 2018-06-06
Rated

5

out of

5
by
RyOBI1KanOBI
from
Powerful clean cuts!
I bought this circular saw as a combo deal during the "buy 2 pack 3ah batteries with charger/bag to receive free qualifying tool of choice." I chose this saw and wow am I glad I did! Everytime I use this saw I get a clean, smooth, precise cut with no loss of power feeling at all! The feel, LED light, guides and power make this saw a must have! I started really getting into building my personal diy tools during the first part of 2019 and Ryobi's one+plus line was so eye catching and brow raising... I began my cordless tool collecting and still continue to be impressed with the one plus tools. Great job Ryobi, keep it going!
Date published: 2020-01-28
Rated

5

out of

5
by
Anonymous
from
works great
I had a garage full of gas power tools that I hadn't used in 10 years. After plenty of research I determined they simply were worth fixing when I compared the cost of repair to this awesome one+ lineup. I already had a 3ah battery from a circular saw so I bought the hedge trimmer with battery and charger and the string trimmer with battery and charger. I also now have the brush cutter, pruner and articulating hedge trimmer expand it attachments as well as the 410 cfm blower(tool only), 12" chain saw(tool only) and 2-gallon garden sprayer. These new battery operated tools are so much better than dealing with 2 cycle BS. Well done Ryobi!
Date published: 2020-07-23
Rated

4

out of

5
by
Mr Francis
from
Good saw
I recently got the Brushless Circular saw, and it's leaps and bounds better than the old blue smaller Ryobi circular saw. My only gripe would be the batteries, Ryobi should recommend certain size batteries for certain power tools. I had the smaller black ones and the saw would bite and loose power. I the switched to my bigger grey batteries and now I cut through thick 4x4 pressure treated posts like they were hot butter...lol
Date published: 2018-06-10
Rated

5

out of

5
by
Maysdave11
from
Great cutting time
I used this to frame in my fireplace. Cut 2x4's and 3/4 plywood with no problem. Would have thought I was using my corded saw!
Date published: 2018-05-22
Rated

5

out of

5
by
Edmund S
from
Awesome value!
A great big step up from the very capable but smaller brushed P507 6.5." Although the blade speed is lower than the competitors, just like its smaller brother, the P508 is engineered to favor low end grunt over maximum blade speed. This resists bogging in hard woods or on deep cuts, giving the user far more control. And user friendly operation and low cost are Ryobi hallmarks. I also think that this makes both the tool and the blades last longer, although some difficult cuts might take slightly longer. This tool is surprisingly light considering it uses a full size 7.25" blade. I would recommend you purchase a Diablo 24 tooth framing blade to go with it, as it makes cleaner, faster cuts with less wear and tear on the tool and tends to extend battery run times. 250-300 cuts in 2X4s are possible with the 4.0 Ah battery, putting this tool in direct competition with far more expensive brands. Using the new 6.0 Ah or 9,0 Ah batteries further enhances power and run time as these new batteries can "talk" with the brushless tools, minimizing power usage and enhancing performance at the same time. Even with the larger batteries, this tool is lighter than the competition, which is nice if you have a lot of cutting to do. The left side blade mounting gives superior visibility of the cutline for right handed people, as does the very bright LED light and the built in blower which serves to clear the dust off the cut line ahead of the blade. I got mine using a coupon from Ryobin Nation, for a total of $109. To access these coupons, just sign up on Ryobi Nation, as its free and will save you money. I kept the lighter 6.5" as a trim saw, as it is extremely light and handy and I've yet to kill any of my Ryobi tools. All in all, a very effective tool at a very competitive price.
Date published: 2018-08-11
Rated

5

out of

5
by
Rodo2020
from
Nice Saw for Light Duty Use
I bought this saw for mostly home use. I like the fact the blade is on the left for easy visibility of the cut. I have a large heavy corded saw and always reach for my Ryobi saw out of convenience. I use my Ryobi when I probably should use my corded and it never puts up a fuss. I use the Diablo thin kerf carbide tip blade. I do see a difference between thin kerf and standard blade in both cutting speed and battery life. I love this saw and only wish the blade guard were stronger. I have not had an issue with the guard yet but am slightly uneasy about it. I highly recommend this saw for most users.
Date published: 2020-02-08
Rated

5

out of

5
by
Tbjr
from
Great for cutting all day long
I purchased the 7 1/4" circular saw 18v. I have the original 4 1/2" circular saw from years ago and decided to upgrade and see how it works. This was a great purchase to help building a new barn shed. I put the corded circular saw (Ryobi) away and decided to run the new one to see how it does. The 4AH battery and higher worked well 3AH and under not so good. The 9AH battery I have did the best. It powered its way thru everything. This saw with a diablo blade is a keeper.
Date published: 2020-07-31