+4
18V ONE+™ 200 CFM SWEEPER (Tool Only)
Model: #P2109A
Over 175 ONE+ Tools – All work with any RYOBI ONE+ 18V battery
200 CFM of clearing power
Compact and lightweight design
+4
Over 175 ONE+ Tools – All work with any RYOBI ONE+ 18V battery
Features
Compact and Lightweight Design
Reduce user fatigue
Performance
Delivers a powerful 200 CFM and 90 MPH
System Capability
Over 175 ONE+™ Tools – All work with any RYOBI ONE+™ 18V battery
Specifications
Dimensions
Weight

3.5 lbs.
Details
Battery Platform

18V ONE+

CFM

200

Decibels

65

MPH

90
Warranty
Warranty

3 Year Limited Warranty
Includes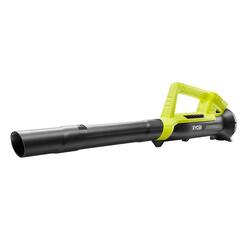 18V ONE+™ 200 CFM Sweeper
[#<ProductFeature id: 3440, title: nil, content: "18V ONE+™ 200 CFM Sweeper", photo: "3d95ab4f-7ffe-4113-9464-55b873b22a17.jpg", created_at: "2020-10-30 23:53:02", updated_at: "2020-10-30 23:53:02", product_id: 1112, sort: 0, enhanced_type: "included_item", enhanced_group: nil, enhanced_icon: nil>]
Reviews
18V ONE+™ 200 CFM SWEEPER (Tool Only)
18V ONE+™ 200 CFM SWEEPER
is rated out of
5
by
2037
.
Rated

5

out of

5
by
Trandall
from
Runs forever
I have an older model of this blower that I have had for years now. I run a woodworking shop out of my garage and use it daily to blow out sawdust. I can't believe this thing has been running so long without any maintenance, just plug in the battery and go. It also runs a REALLY long time on one full size battery, I only change batteries once every 3-4 days depending on whether I am blowing out my garage or the whole driveway. My 2 year old loves using it as well, as it is light enough for him to run around with it. The fact that he drops it and throws it around so much just makes me amazed that it is still running. Very durable product.
Date published: 2019-04-06
Rated

5

out of

5
by
Georgia Runner
from
Much quieter than previous model
This unit is great. I liked my old Ryobi 18 Volt unit buy it was time for an upgrade. Much quieter, and gets the job done in less than half the time. I blow off a 5 car area in my driveway to clean off the sand that builds up from vehicles coming up a nearly 1/4 mile sandy drive just about every night. I did not need the battery and all so I ordered the tool only. My first thought was to take the old blower off to the lake house... but now I am thinking just buy a second one. The time savings alone it well worth it. Just a much better product. Not that the older one was bad, I have been using it for over 5 years and still works fine.
Date published: 2019-03-21
Rated

3

out of

5
by
Cj3924
from
Short Battery Life
The year I retired I bought 5 RYOBI saws and love everyone of them. I thought I'd be satisfied with any RYOBI product. However, because of my age, energy level, and body strength, I thought a lightweight, battery-powered blower would serve me better than a gas or electric one. The charge on this blower lasts about an hour which was disappointing so I thought I'd buy a second battery to prevent delays in my projects. Well . . . the battery for the 18V One+ costs as much as the blower and the next larger battery costs MORE THAN the blower. Something is wrong with that picture! Highly recommend other RYOBI products but I'm a bit disappointed in this blower.
Date published: 2019-01-09
Rated

5

out of

5
by
TJSH
from
Light weight, powerful
I purchased the Ryobi model P2109 on Saturday August 11, 2018. My goal was to get a blower that is light enough for me to handle and yet get the job done. Due to my age I have arthritis in my hands and I am not very strong. I needed a blower to clean out debris in my hurricane shutter tracks, off my driveway and my garage floor. Also important to me was that it is cordless, battery operated and that the battery be lithium. It is also great that the battery fits all Ryobi tools. Yaa!!! I am very happy to report that this is the perfect blower for me. I will be telling my friends and family to choose this brand.
Date published: 2018-08-14
Rated

5

out of

5
by
cscottcamper
from
Light but strong
I'm reviewing blower model P2109. I've been looking for a blower to replace an old heavy electric one I've had for a few years. I wanted the new one to 1) be lightweight and 2) battery powered. Very tired of being tethered to a cord. I've had Ryobi products in the past and they've served me well. Did some preliminary research on the web and thought this blower might fit the bill. After using it several times, I am very pleased with its performance. It is very light and is plenty strong enough for how I use it. If you are wanting to blow heavy debris or wet leaves, this is not the blower for you. But, if you want to blow the leaves off your deck or porch, or the cut grass clippings off the driveway, this one will do the trick.
Date published: 2018-09-30
Rated

4

out of

5
by
jeni
from
You get what you pay for
I bought this as a Black Friday special, so it has been well worth the price. However, you have to know what you are buying and what you are planning on using this tool for in order to be satisfied. My main purpose is to blow dried leaves, dust, and dirt off concrete surfaces and pea gravel, and this tool works perfectly for that purpose. This tool roughly has the power of a cordless vacuum, and the blower is strong enough to move leaves without moving the pea gravel. This tool is nowhere near in power to a gas-powered blower, which is why you need to be well-informed so you are not disappointed like other customers.
Date published: 2018-11-25
Rated

3

out of

5
by
mobeth
from
Blow dry material
I bought this product last week. I have used it 3 times to blow the debris from trees off my patios. These are seeds and flower stems and it worked fine to blow them away when they were dry. It was a bit more of a challenge when they had gotten wet. It is definitely is not strong enough for fall leaves. My real disappointment was in how often the nozzle falls off the blower. Sure hope they come up with a better design for future models. In any event, it beats sweeping them with a broom.
Date published: 2018-06-04
Rated

5

out of

5
by
Topgun
from
Works very well
I bought this for light duty jobs like cleaning off tools, saw dust grass clipping on the sidewalk. WORKS GREAT. Actually it works a bit better than I expected. Haven't had a chance to try it on large quantities of leaves, but it should work well. Small enough to get behind shrubs close to the house. I like it enough I think I might want to try the P2180 for even more power. I did notice several reviews where people complained the nozzle tube sections wouldn't stay together. I experience this the first time, but after assembling it again, I gently tapped the nose on the ground and everything snapped together nice & tight...just like you would want it to.
Date published: 2018-09-24