+5
18V ONE+™ Airstrike™ 23GA Pin Nailer
Model: #P318
+5
RYOBI brings you more cordless innovation with the New P318 23 Gauge Cordless Pin Nailer. Experience the ultimate in nailing convenience with RYOBI's Airstrike Technology. No compressor, Gas cartridge, or hoses needed. Drive 1/2 inch to 1-3/8 inch pin nails, powering through the biggest jobs with up to 3,500 pin nails delivered per charge. Place each nail with confidence and precision using the included edge guide. Included belt clip for added convenience. A powerful LED light illuminates your work piece while 2 non-marring pads keep your work surface free of tool marks. The added grip and comfort of the Gripzone over moulding keeps you going as long as your ONE+ battery. RYOBI's new 23 Gauge Cordless Pin Nailer is part of the ONE+ System of over 100 products that all work with any ONE+ battery. RYOBI. Pro Features. Affordable Price. Available exclusively at The Home Depot.
Features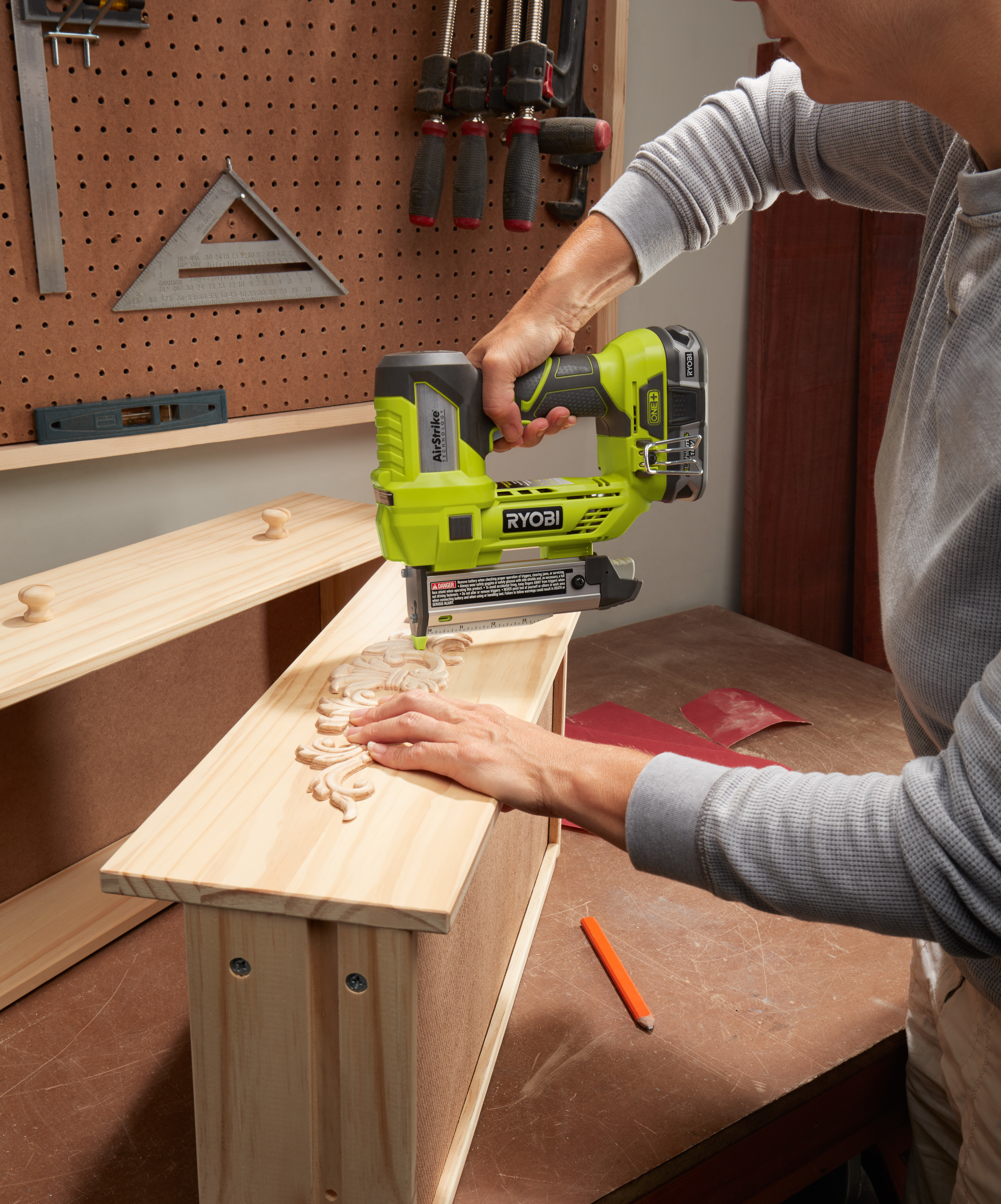 Features
Up to 3500 pin nails per charge with a P108 Battery
Drives 1/2in. To 1 3/8 in. pin nails
Double-Action trigger design for sequential driving
Includes Edge Guide for consistent placement of pin nails
LED for optimal vision
2 non-marring pads to keep work surface free of tool marks
Dry-fire lockout feature extends tool life
GRIPZONE Overmold for added comfort
Part of the RYOBI ONE+ family of over 100 Tools
Specifications
Tool Weight: 3.85 lbs.
Fastener Size: 23 GA 1/2in. To 1 3/8 in. pin nails
Reviews
18V ONE+™ Airstrike™ 23GA Pin Nailer
18V ONE+™ Airstrike™ 23GA Pin Nailer
is rated out of
5
by
125
.
Rated

5

out of

5
by
cleveljj31
from
Easy to use/ Great tool for Trim
I have a lot of trim work around house as I'm redoing all the floors. My Brad nailers are good but leave an indentation that you need to fill. Didn't realize RYOBI had the pin nailer, so was a no brained to purchase. No adjustments needed, just aim and shoot, pin sinks in automatically just below surface.LED helps a lot to see better. This makes do trim a whole lot easier and of course the benefits of being cordless. Priced at 129, well worth value and time saved. I can use this on several other smaller projects and if you need to ever pull trim off, the pins are much easier to ease trim off and not damage so you can re-install.
Date published: 2020-04-26
Rated

5

out of

5
by
Anonymous
from
Powerful and Precise!
I never need much of a reason to buy another Ryobi tool - especially when I get a chance to show-off their performance to my "Dad-Squad" buddies. I was asked to help a friend trim out some upholstery of his motor coach. I needed pin nails for my compressor rig - and saw this new Ryobi pin nailer - and of course - I bought it! This thing is so nimble - so maneuverable and precise! I was able to complete the entire wood repair in less time than it would have taken to just set up my compressor. I'm a contractor and I've been using Ryobi tools since 1996. The batteries have gotten better and better over the years - and so has the entire collection of 18V ONE+ tools! Russ. Ft. Worth, TX
Date published: 2020-10-23
Rated

5

out of

5
by
AndyQ
from
Smooth and quiet!
I recently bought the 23ga pin nailer and I am impressed. I have used it in plywood and into hardwoods and it does its job. My small glue-ups just became real easy. The pins are so small that there's no worry about plugging up holes either. I have the 16ga as well and it is loud and I thought the pin nailer was going to be as well. I was really surprised on how quiet the pin nailer is and how well it penetrates with such ease. The pins load easy and the nailer hasn't jammed on me yet. I am running it with a 2.0AH battery and it gives the nailer all the power it needs. I definitely recommend this pin nailer to anyone looking for a nailer that won't leave holes in your projects or in your wallet!
Date published: 2020-10-27
Rated

5

out of

5
by
Txgent10
from
Where you need it, when you need it.
I have several Ryobi nail guns, this is just my latest. I use to use pneumatic nail guns, until I tried on of these. The convenience of not having to drag around a compressor or to even have to have one charged up is worth it right there, but the Ryobi nail guns consistently have the power to drive the nails you need driven to the right depth. The pin nailer is just as good as it's big brothers. If you are doing a big project, would suggest you have a spare battery on hand, but working with the pin nailer, I've yet to have a project that ran out even one battery yet.
Date published: 2019-05-29
Rated

4

out of

5
by
BDavid73
from
Very durable!
I have owned this since 2016... its not the newest model, but I have had great luck with this and have put over 1000s of hours building with all my Ryobi tools, without fail. I own a Haunted Attraction and we build sets that cover over 13,000 square feet. This along with a dozen other Ryobi tools have not let us down with our builds. They have been dropped, stepped on, ran battery after battery through them and still keep going. If there was any negative, I have had the nailer and stapler jam a couple times, but nothing that couldn't be taken care of quickly.
Date published: 2018-05-29
Rated

5

out of

5
by
jimofoz
from
Handy
I've had this for several months and like it. It's handy not to have to pull out my compressor and hoses just to pin a couple of parts. I work mostly on small items and this really works for holding glue joints on small projects. Yesterday I used it to put several pins into a scrap of wood with the pins sticking out about 1/2". I then placed several small wood buttons using the button holes on the pins and sprayed them with lacquer. The pins were just enough to keep the buttons in place while I sprayed and since they just sat there, I could easily turn them over to spray the other side.
Date published: 2019-08-29
Rated

5

out of

5
by
DaltonSignature
from
This takes the Hose & Air Compressor hassle away!
I didn't want the hassle of a Nailer that required a Hose and a Compressor attached. I've always loved and purchased RYOBI Products so it made perfect sense to jump in with both feet to purchase the 23 gauge pin nailer to help me kickstart my project, #Desks4TheKids. We started this project to give back to our community that 100% rallies to help anyone out. I've been fully funded through generous donations from local people and local businesses to help me build 40+ desks. We're building more and giving more desks away to families in need while they navigate through our current pandemic.
Date published: 2020-11-24
Rated

4

out of

5
by
Darnel
from
Winning me over.
I own the 18 gauge brad nailer and it was a big game-changer for my picture frames that I made for my paintings. Virtually no visible hole sounded great. At first I wasn't very impressed especially with the limited in nail size. I planned on returning it it is sticking with my brad nailer although after a couple times using it it started to fall in love. It's very gentle but effective and driving the pin nails in I'm able to glue and nail frames together without 90° clamps and then I use a band/strap clamp. I've decided to happily keep it.
Date published: 2020-07-07