+6
18V ONE+™ 6-Port SUPERCHARGER
Model: #P135
+6
The RYOBI 18V ONE+™ 6-Port SUPERCHARGER features IntelliPort technology to maximize battery life, requiring less charging in as little as 30 minutes. This unit also features a 2 Amp USB port that allows you to charge your smart devices. The RYOBI 18V ONE+™ 6-Port SUPERCHARGER works with any18V ONE+™ battery (sold separately) and is a part of the ONE+™ System of over 50 great tools that all work with the same 18V battery platform.
Features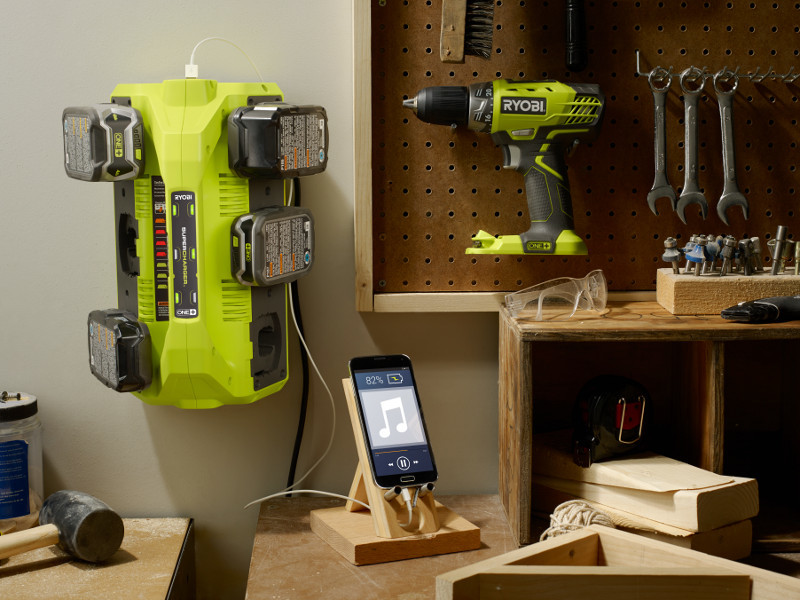 Features
Charges up to six ONE+ batteries (one at a time) in as little as 30 minutes per battery
2 Amp USB output for charging phones and tablets
Indicator light shows status as batteries are charged and maintained
Temperature LED indicates when a battery is too hot or too cold to charge
Energy Save Mode conserves energy when not charging or maintaining batteries, protects battery cells and maximizes battery life
Innovative charger design can mount on the wall, sit flat on a bench or stand up vertically for maximizing workspaces
Batteries lock securely into place for easy transport
Specifications
Battery: 18V Lithium-Ion or Ni-Cd
Input: 120V, 60HZ, 85W
USB Output: 2A Max
Cord Length: 6 ft.
Tool Weight: 4.05 lbs.
Reviews
18V ONE+™ 6-Port SUPERCHARGER
18V ONE+™ 6-Port SUPERCHARGER
is rated out of
5
by
324
.
Rated

1

out of

5
by
FJC1
from
Failed after three montHs
My son bought this unit for my tools. I thought wow what a great idea, I could keep my batteries hot and ready to go. It worked great for three months. I went to plug a battery into the unit for a recharge and there was a spark and the unit went dead. I attempted to have the unit repaired, but Ryobi informs me that without a receipt, you can't get it fixed on their dime. This is poor customer service, especially when the unit failed within the warranty date and I had registered the device with Ryobi. It will be cheaper to purchase a new one then have them repair it. I don't plan on purchasing another unit hut will use my single port chargers as they haven't failed me as yet.
Date published: 2018-04-23
Rated

4

out of

5
by
RyobiGuru
from
Excellent Product! One Flaw...
This is an excellent product. Have had it for over a year now and it keeps all my batteries ready to go. My only issue with the unit has nothing to do with the battery charger at all, but with the USB charger. You should really be able to use this while not plugged in. I have 6 4ah batteries usually always plugged in and ready to go (when they aren't in use), what would be great is to be able to take with me away from the outlet, and allow the combined 24ah's in batteries to be used to keep my phone charged. As I said, great product, but really wish the USB would be usable while unplugged.
Date published: 2018-11-15
Rated

4

out of

5
by
Mike
from
Awesome charger !
I have had the 6-port wall-mountable charger for almost a year and a half and it has worked flawlessly. Keeps all my batteries (I have a mix of six) charged and ready for use anytime. A bonus benefit is the USB charger which I use for my phone (I wonder if they will ever come out with a "Ryobi" phone?). I gave the unit 4 stars instead of five since it can only charge one battery at a time (but I guess that would take a lot more amperage).
Date published: 2018-04-02
Rated

5

out of

5
by
Norm69
from
Best idea yet
I got all these batteries and all these chargers taking up all my outlets in my garage and then I see this product. So I used it oh my God it is amazing literally all my drained batteries I put them on the charger at night time before I go to bed and when I wake up in the morning all of them are charged. I don't have to have multiple outlets with multiple chargers all plugged in which is a huge bonus because I really don't have that many outlets in my basement. Then the convenience that they all are in one area is tremendous. I actually reviewed one of your 40-volt mowers and I wish that they would make a 40 volt multiple charger just like the 18 plus system that this fits. Amazing product nothing negative to say about it!
Date published: 2019-07-12
Rated

5

out of

5
by
Edatron
from
The Most Perfect Charger Ever!
I bought this 6-port supercharger about three months ago. Best purchase I've made thus far. Most of the Ryobi power tools I've been purchasing have come with a battery included. Boy does it make it easier to get the job done. Much easier and faster to charge 6 batteries at once using only one outlet, versus having to use multiple outlets or a power strip with multiple chargers. The supercharger has light indicators on the handle, that let you know once a battery is fully charged. It also has one USB port, incase you want to charge a phone or device. The supercharger also has a slot on the bottom, for easier hanging on the wall.
Date published: 2020-10-24
Rated

5

out of

5
by
larrylinx
from
Very convenient
I keep this unit in my garage to keep all my batteries ready. I have several other single battery chargers that I keep in my tool bags for mobile use. I like the fact that I can keep a variety of batteries charged; I keep 2 - 1.5AH, 2 - 3 or 4AH, and 2 - 6AH batteries charged at all times. I like to keep the smaller, lighter batteries for for working in tight spaces or when working overhead to keep the tool lighter. I use the larger battery packs for the vacuum, circular saw, floor sweeper, and pole chain saw that draw more power.
Date published: 2019-01-14
Rated

3

out of

5
by
GTJ1715
from
Good but could be so much better...
5* - overall ergonomics and ease-of-use (best used as a wall-mount) 3* - if used as a wall-mount, the sequential charging is no problem but if you have this at a job site and you are burning through batteries, don't expect 6-at-once charging. 1* - why not have a detachable power cable? either a standard (PC-like) port or even a two-prong port (like razors, new TVs, etc.) If I just want to grab-and-go, I have to unwind/unlace the power cable from my shelves/outlets or have it hanging there loose... once unwound, now it's like a "tail" on my tool... 1* - for the inconsistent response by Ryobi (in the Ryobi forums) to whether or not one should leave batteries *in* the charger or remove once charged; I thought the whole idea was that you could have 6 batteries all ready-to-go at any given time, not that you would need to remove/track them...
Date published: 2019-07-24
Rated

4

out of

5
by
Sam B
from
Almost Perfect
I bought this charger because I have recently acquired several Ryobi 18V ONE+ tools and batteries. I love the tools and the batteries are solid, but I wanted a charger that could accommodate more than one battery at a time, which this does. Unfortunately, it only "charges" one battery at a time. It will, however, monitor all the batteries inserted and charge each one sequentially, until they are all charged. If it would charge more than one battery at a time, I would have rated it 5 stars. But you can only use one battery at a time. Not so. I use my fan, lantern and saw all at the same time. Now you see why it would be nice to charge more than one battery at a time.
Date published: 2020-11-18