+7
18V ONE+™ 6 1/2 IN. Circular Saw
Model: #P507
+7
RYOBI delivers value and performance with more power and upgraded features than ever before. Introducing the RYOBI 18V ONE+ 6-1/2 in. Circular Saw, featuring a new, 40% more powerful motor that provides cutting performance equivalent to a corded circular saw, but with the portable convenience of a battery operated tool. This new ONE+™ Circular Saw also has 35% increased cut capacity to cut through 2-by material with ease. The RYOBI 18V ONE+™ 6-1/2 in. Circular Saw works with any18V ONE+ battery (sold separately) and is a part of the ONE+™ System of over 50 great tools that all work with the same 18V battery platform.
Features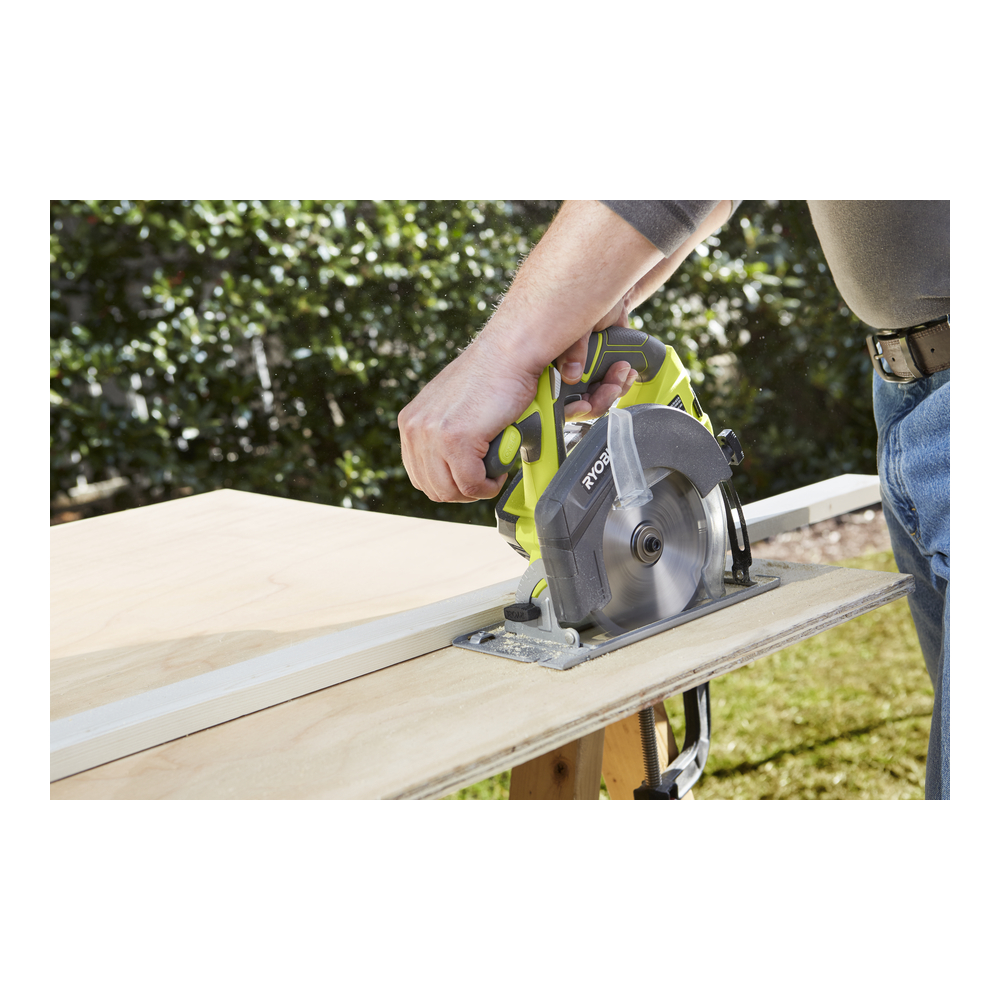 Features
40% more powerful motor provides corded performance with cordless convenience*
24T Ultra-Thin Kerf Carbide-Tipped Blade for fast, clean cuts
0–56° bevel cut capacity allows user the ability to cut the most common angles
Front pommel handle with overmold for 2-handed operation
Left side blade for better cut line visibility
On-board wrench storage for fast, convenient blade changes
New and improved GRIPZONE™ overmold for optimum grip and user comfort
Ergonomic design increases user comfort during prolonged use
Specifications
Battery: 18 Volt
Blade Size: 6-1/2 in.
Arbor Size: 5/8 in.
Speed: 4,700 RPM (No Load Speed)
Depth of Cut: 2-1/16 in. at 0°
Depth of Cut: 1-7/16 in at 45°
Bevel Cut Capacity: 0-56°
Tool Weight: 5 lbs.
Includes
P507 Circular Saw
6-1/2 in. 24T Ultra-Thin Kerf Carbide-Tipped Blade
Blade Wrench
Operator's Manual
Reviews
18V ONE+™ 6 1/2 IN. Circular Saw
18V ONE+™ 6 1/2 IN. Circular Saw
is rated out of
5
by
361
.
Rated

5

out of

5
by
tjd206
from
Very comfortable, excellent power and size
I'm a homeowner that does mainly small jobs around the house. Recently renovated 2 bathrooms and a kitchen, so nothing heavy duty. I needed a circular saw and portability and a small form factor was important to me, as I'm not using the saw daily and I'm not cutting huge lumber where I'd need a 71/4 saw. The 6 1/2in saw is as compact as they come but has no trouble cutting 2 inch material. They sell a 5.5in circular saw that is just adorable, but it's part of a kit and it uses a 10mm shank instead of the more common 5/8in shank like this one. Makes picking up new blades a little easier. This saw has plenty of power with my 3ah+ battery.
Date published: 2019-06-27
Rated

3

out of

5
by
Kalenak
from
Disappointed
I bought this saw to replace my old blue Ryobi 18v circular saw. On my older saw the battery sat in the rear center of the saw, in this new saw the battery sits on the right side of the saw causing more weight on the right side of the saw. My first few time using it all my cuts were off because the saw would tilt to right as I just wasn't use to this saw now being heavier on one side unlike my old Ryobi saw that the weight was centered. I don't understand the design of this and putting extra weight on one side of the saw when the centered battery position seemed to work just fine. I guess just use smaller Ryobi batteries with this and get use to correcting the tilt.
Date published: 2020-07-26
Rated

5

out of

5
by
grahamW70
from
Another Fabulous One+ tool!
Having done something stupid in cutting through the cord on my corded circular saw, I was faced with the decision as to whether to buy another corded saw or go cordless. Since I don't typically do a lot of cutting I decided to add the 6 1/2" cordless circular saw to my growing Ryobi collection. I have not been disappointed! It is a great little tool. Powerful, lightweight, accurate and easy to store. I've used it to cut through decking lumber up to 2" thick with no problems at all and best of all, the battery seems to last plenty long enough for most jobs I'm ever likely to do. I still think the idea of being able to use the same battery in a suite of tools to be a brilliant idea. Bravo Ryobi!
Date published: 2019-06-30
Rated

4

out of

5
by
Ceci
from
Handy Tool, BUT
I got this a while back and it has turned out to be a very handy tool. It's right there when you need to cut something. No fooling with a hand saw, or getting out the big saw and running power to it. It's pretty neat. Only has one draw back. It won't cut completely through a 2 inch board. 2x4, 2x6, 2x8, it cuts with no problem to within a 16th of an inch of being completely through. You have to turn it over or go get the hand saw. You would think they would have made sure it would cut through a 2x4. It would then be an excellent tool
Date published: 2018-04-06
Rated

5

out of

5
by
Leslcoop
from
Older model 18V circular saw
I bought my first Ryobi combo kit over 20 years ago.( drill, circular saw, light) Since then I have purchased a number of other 18 One tools and upgraded batteries. My oldest battery fits my newest tool and my newest battery fits my oldest tool. I recently used my oldest circular saw for demolition work replacing the floor in a 50 + year old house. It has worked great. Almost all the work was done with Ryobi 18 One tools with no complaints on any of them. Circular saws, reciprocal saw, multi tool, drill/driver, impact driver, jig saw and radio to listen to while we worked. I'm impressed with the tools and the price. I will continue to buy Ryobi 18 One tools and recommend them to everyone I can.
Date published: 2018-04-23
Rated

5

out of

5
by
tj85
from
Implements well into workflow
When working on a job using other Ryobi 18V One+ tools this was a natural fit. I'm glad I was able to purchase this without the cost of the battery as I could just use previously purchased batteries from other Ryobi 18V One+ tools, which was an initial cost saving, along with one free blade with the purchase of the saw. Not having an electric cable hanging down from or across the work you are cutting makes using this tool safe and easy to use, and the built-in guard works well. Swapping the batteries to and from this saw and other tools in my collection really speeds up the workflow of the job I'm working on, I just have to make sure all my Ryobi 18V One+ batteries are charged and I'm good to go.
Date published: 2019-05-31
Rated

5

out of

5
by
MM3SS
from
Can't Wrong with RYobi!
I purchased 2 Ryobi hi-cap batteries and selected as my bonus free tool the 61/2" circular saw. Just to be clear I'm not a professional carpenter just a FYI guy and the 61/2 suites all my needs from plywood to 2 x's does not bog down at all although it does use battery pretty quickly, but I have plenty hi-caps so I don't miss a beat doing a project. I can't say exactly how many Ryo's I have from woodworking to lawn and garden. I have purchased them for years and recall ever being disappointed with performance vs cost. I will continue to buy Ryo as far as I can see.
Date published: 2019-08-03
Rated

5

out of

5
by
Elisaulg
from
fantastic product
Regards appreciated ryobi family! I decided to express my satisfaction with the product and, above all, forecasts, since most of the people I work in do not believe or trust the brand! fortunately I have always been the exception of the rules and rule in construction where I develop is to be very inclined to brands of specific products and I did not follow my heart and bought ryobi products which have given me great pleasure for its versatility and performance, so much that some colleagues in the middle have stopped to see and try my ryobi tools and they have been able to verify the nobility of them so much that they even look for me to borrow them! the tools for me are on a good path because of their technology and performance.
Date published: 2019-06-10