+10
18V ONE+™ 4 Gallon Backpack Chemical Sprayer WITH 2AH BATTERY & CHARGER
Model: #P2840
+10
To easily distribute herbicides, pesticides and fertilizer in your yard, the RYOBI 18-Volt ONE+ Backpack Chemical Sprayer is the perfect tool. With no pumping required and a translucent 4 Gal. tank, monitoring fluid levels is simple. This Chemical Sprayer has a nozzle that adjusts for multiple spray patterns. For additional convenience and the tool comes with a 2.0 Ah Lithium-Ion Battery and is backed by a 3-Year Warranty.
Features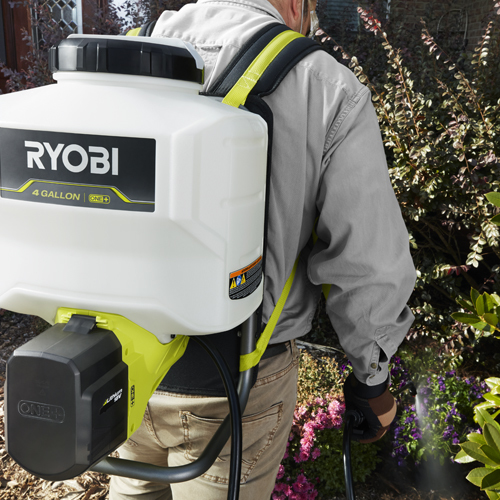 Sprays Up to 10 Tanks Per Charge
No Pumping Required
Adjustable Shoulder Straps
Adjustable Nozzle & Flat Fan Nozzle
Translucent Tank For Easy Fluid Level Reference
Specifications
Power Source: 18V Lithium-Ion Battery
Tank Size: 4 Gal.
Pressure: 60 PSI
Tank Material: High Density Polethylene
Hose Length: 4 ft.
Nozzles: Adjustable & Flat Fan
Weight: 4.5 lbs.
Includes
18V ONE+™ 4 Gal. Backpack Chemical Sprayer
Spray Wand
Replacement Seals
Battery Lid
Adjustable & Flat Fan Nozzles
18V Lithium-Ion 2.0 Ah Battery
18V Lithium-Ion Battery Charger
Operators Manual
Reviews
18V ONE+™ 4 Gallon Backpack Chemical Sprayer WITH 2AH BATTERY & CHARGER
18V ONE+™ 4 Gallon Backpack Chemical Sprayer WITH 2AH BATTERY & CHARGER
is rated out of
5
by
535
.
Rated

1

out of

5
by
Keith T
from
So close to being a great product
I purchased this sprayer for my landscaping company to spray weed control with. The pump itself ran great! I loved the constant, consistent pressure. I felt that we used less product and got better coverage by having consistent pressure. Unfortunately the hose from the tank to the wand ruptured on the second tank completely soaking me with chemical. The hose was a very thin rubber/vinyl material that had no business holding pressurized liquid. I ended up returning the sprayer. I'm sure eventually they'll figure it out and use a higher quality hose but until then you're wasting your time and money buying this sprayer.
Date published: 2018-07-20
Rated

5

out of

5
by
Morrow
from
Great sprayer
I am pleased with the sprayer ,it has good pressure , looks like its built sturdy straps are decent, better than others(competitors) i know the battery should last ryobi has good batteries.the only thing that they could improve would be the pick up tube just floats around. So if your sprayer is not spraying and straining to spray. Its the pickup tube sucking in air. What i did was tie a fishing sinker to the bottom of the pickup tube and it works great. They should fix it to the bottom , or use some kind of clip or suction to keep ot there. Other than that im happy. And it has a 3 year warranty.
Date published: 2019-02-16
Rated

3

out of

5
by
Captain Al
from
Design Flaws reduces rating from 5 to 3 stars
This sprayer would get 5 stars if not for 2 design flaws. 1) the inside diameter of the screw on lid is too small, so the filter basket and seal get stuck in the lid. Every time I use the sprayer the gasket and basket get stuck in the lid. 2) there is no sump in the tank, and the feed tube is not secured so it can move to high spots in the tank. The result is that the feed tube randomly moves to high spots in the tank, and the tool stops spraying even though there is plenty of liquid in the tank. This has been mentioned in many reviews. A chest strap between the two shoulder straps would be really helpful and make the unit more comfortable. Especially since it weighs over 40 lbs when filled to capacity.
Date published: 2018-10-05
Rated

2

out of

5
by
djkennyg
from
Started out great
Worked great for the 1st year that I used it then the wand started to drip and drip and drip. Not a good thing when you're filled with grass killer and it's dripping in areas that you DON'T want to kill!!!
Date published: 2021-06-14
Rated

1

out of

5
by
CyMomus
from
Terrible Product, beware!
I bought one of these backpacks three weeks ago, I really wanted to like it, I owned several other + one products, the backpack worked for about 3 minutes before it failed completely. I returned it to Home Depot the following morning and they didnt really want to accept it. They finally agreed to give me my money back. The next day I gave all of my ryobi tools away as I have lost all confidence in this product. Again I wanted to like the backpack and had several hundred dollars invested in ryobi but this failure and Home Depots response were unsettling at best. I would love to give a rave review but facts are facts. Buyer beware!!!!!!!!
Date published: 2019-03-25
Rated

4

out of

5
by
Unclegadget
from
Getting the job done!
I've used this sprayer on a couple of occasions, and it works great. The only gripe I have is that it works better with the battery that came with the kit. What I mean, is the 2Ahr battery that came with the sprayer, will lock into the sprayer securely, and honestly, it's more than enough power to run the sprayer for hours. I had a fully charged 4Ahr battery from a battery kit that I tried to use the first time I used the sprayer and it didn't lock in, so every time I leaned back, the battery would come loose. I'd have to reach back and push it back into place to get the pump to power back up. with this one minor battery issue, this thing works great!
Date published: 2018-06-11
Rated

4

out of

5
by
Michaelfl
from
Redesign the wand to metal
I like the unit but I wished it had the metal wand and nozzles like the hand held unit.
Date published: 2018-02-22
Rated

5

out of

5
by
Why Pump
from
No Pumping makes me Happy!
Never realized how more often I would use a pump sparyer when I didn't have to pump it. Pest control for my home indoor & outdoor, fertilizer for my yard fertilizer for my plants, pest control for my garden. I just find reason to use it. It's so easy to use, The straps are comfortable. The load is bearable. Not sure if you can use it for stain. I love it. A few thing I would change, because hey there always room for improvements. Make it easier way for the wand to rest when your walking it's kinda hard to clamp it. Place the on/off button in a reachable spot while carting it. Double filter for the filter. Add feet to set on the ground.
Date published: 2020-06-16