+6
18V ONE+™ 4 1/2 IN. Angle Grinder
Model: #P421
+6
The RYOBI® 18V ONE+™ 4-1/2 in. Angle Grinder delivers a powerful 6,500 RPM for fast and precise work. This tool offers a host of convenient features, including on-board wrench storage. A comfortable GripZone™ overmold combined with a 3-position side handle help reduce fatigue. A 4-1/2 in. grinding wheel is included for added value and convenience. The 18V ONE+™ Angle Grinder is sold as a bare tool, allowing you to build on your ONE+™ collection without spending additional money on batteries and chargers with each tool purchase. Best of all, like every RYOBI® 18V ONE+™ blue or green tool, this Angle Grinder works with any 18V ONE+™ battery. Upgrade to lithium-ion or LITHIUM+™ batteries for lighter weight and better performance.
Features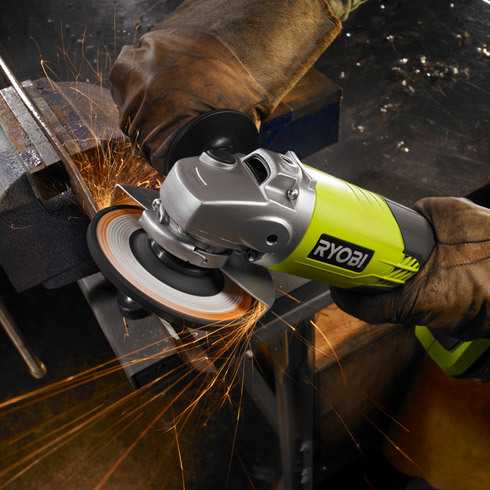 Pro Features
18V tool for high power applications
Delivers up to 6,500 RPM for speed and precision
Convenient trigger switch
Tool-free guard makes guard positioning easy
Works with all Ryobi 18-volt ONE+ batteries and chargers (not included)
4-1/2 in. grinding wheel included
Onboard Storage
Onboard spanner wrench conveniently located in the side handle for easy access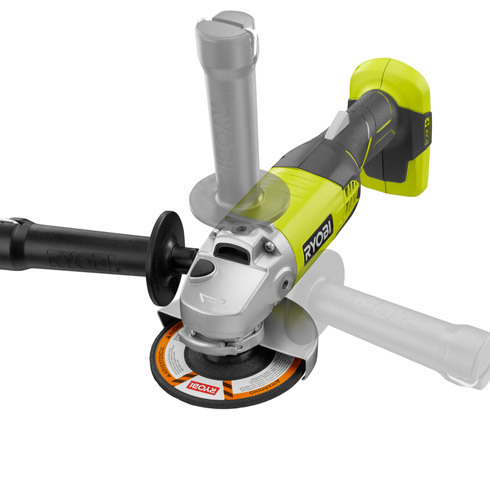 Specifications
RPM: 6,500 (no load speed)
Diameter: 4-1/2"
Weight: 4.8 lbs.
Includes
Angle Grinder
Side Handle
Grinding Wheel
Spanner Wrench
*Battery and Charger Sold Separately
Reviews
18V ONE+™ 4 1/2 IN. Angle Grinder
18V ONE+™ 4 1/2 IN. Angle Grinder
is rated out of
5
by
182
.
Rated

5

out of

5
by
AngrySection8
from
Handy tool
I do a lot of welding gates in several hog barns, with age the gates are rusted and need cleaned up, these buildings are purpose designed and convenience of outlets wasn't in the design feature. This grinder works great for prepping the gates prior to welding, it's got plenty of power and rpm's are more than adequate to grind quickly, I will say it does like to eat batteries, don't expect a days use in a charge. I run the p108 on this and guesstimate total run time of 20 min, which is a lot of grinding but for big jobs make sure you bring extra batteries. Another great tool that after owning I can't live without.
Date published: 2018-04-13
Rated

4

out of

5
by
Jprestonnh
from
Cordless is great!
Works great, gets hot very quick though. Tool did work good.
Date published: 2021-06-20
Rated

4

out of

5
by
Ziggiggles
from
Light Weight, Portable, Easy to Use
I got this angle grinder about a week ago when I bought 2 of the new P108 batteries and charger. I'm a long time RYOBI user and new they wouldn't let me down with this one. I just got to use it for the first time today cutting aluminum head rail for toilet partitions I'm installing in Pigeon Forge. Worked like a charm. My only issue is with the clamp for the guard being in the way and not allowing for a full depth cut with the 4" cutting wheel I had on it. I still was able to work around it without removing the guard. Great product! Loyal RYOBI fan! All the other guys laugh at me with their high dollar Dewalt and Milwaukee, I put them to shame when they see what my tools do that theirs can't.
Date published: 2019-06-26
Rated

1

out of

5
by
bentaxle
from
A one use tool.
I purchased this battery powered angle grinder because of the versatility of no cord. What a mistake. It worked fine the first couple time it was used. Now, after a few seconds under load (that's when tools work) it drops out. It'll restart after a 10-15 second rest and then drops out within seconds of being put to work. The technician at Home Depot says it's a characteristic of this tool and his grinder exhibits the same failure mode. Too bad, so sad. Send it in for warranty repair (an $18.95 charge by Home Depot) but it'll operate the same way when it is returned. Thanks for nothing, Ryobi. I now regret having invested a cluster of your battery operated tools.
Date published: 2020-09-21
Rated

5

out of

5
by
Anonymous
from
Powerful!
I was going to buy the brushless version because I saw that they had one at my home depot and when I got there, of course they didn't! Sold out! Anyways I thought if this one was not powerful enough I'll just get the job done and return it. Let me tell you, this is very very powerful! So powerful that my only complaint is that it eats batteries for breakfast! Lol! I will skip using my 1.3 ah's from now on. It was eating through my 4 ah's pretty fast. Of course I wasn't using it the way it was meant. I attached a round wire brush to rip through the weeds in the driveway. Lol! Putting it to a tough time it handled it like a champ! #bestbangforthebuck #ryobi
Date published: 2020-10-08
Rated

4

out of

5
by
Meatwaffle
from
So close
Just got it last week. Put it right to the test by cutting 1/8" steel posts..tore through 9 of them with no issues at all.. except..it's hard to get flush to the cutting surface due to the battery. Please just flip the battery over and this tool will be absolutely perfect..
Date published: 2018-05-23
Rated

5

out of

5
by
Brandon S
from
Great price, easy to use!
I picked this up for a specific project - removing a cast iron soccer goal post in my backyard - and instead of renting one, I found this for relatively cheap. I did need to purchase a different cut off blade to make this easier, and wound up needing to recharge the battery after the first pole, but I wound up getting the job done and was surprised how quickly this was accomplished. I'm glad I have this now, as I'm sure I'll have a bunch more needs for this.
Date published: 2019-05-14
Rated

5

out of

5
by
Sickbill
from
Excellent
I purchased this to replace my corded angle grinder. It performs just as well, but without the annoying cord. It is especially useful with diamond blade to cut tile and cultured stone.
Date published: 2019-06-29