+5
18V ONE+™ 2 Gallon Chemical Sprayer with Backpack Holster with 2.0 Ah Battery & Charger
Model: #P2830-H
+5
The RYOBI 18V ONE+™ Chemical Sprayer is the perfect union of portability and versatility. With its included 18V battery and a pump optimized for cordless efficiency, it sprays 30 Gal. per charge with no pumping required. An adjustable spray nozzle makes it the perfect tool for a variety of applications and the durable wand detaches from the handle for 1 or 2 handed use. Featuring a 2 Gal. tank and a cap that conveniently doubles as a mixing cup, the RYOBI ONE+ Chemical Sprayer is completely efficient from prep to clean up. Once you are set up, take a load off with the RYOBI 1 Gal. and 2 Gal. Backpack Chemical Sprayer Holster. Designed to fit the RYOBI 18V ONE+™ 1 Gal. and 2 Gal. Chemical Sprayers, your job just got a lot easier. Enjoy comfort and support no matter how long you work, with the easily adjustable shoulder straps and innovative backpack design. Slip your chemical sprayer into the holster, and with the push of a button you are ready to go, no more pumping required. Backed by a 3-year warranty, RYOBI has the solution to all your outdoor needs.
Features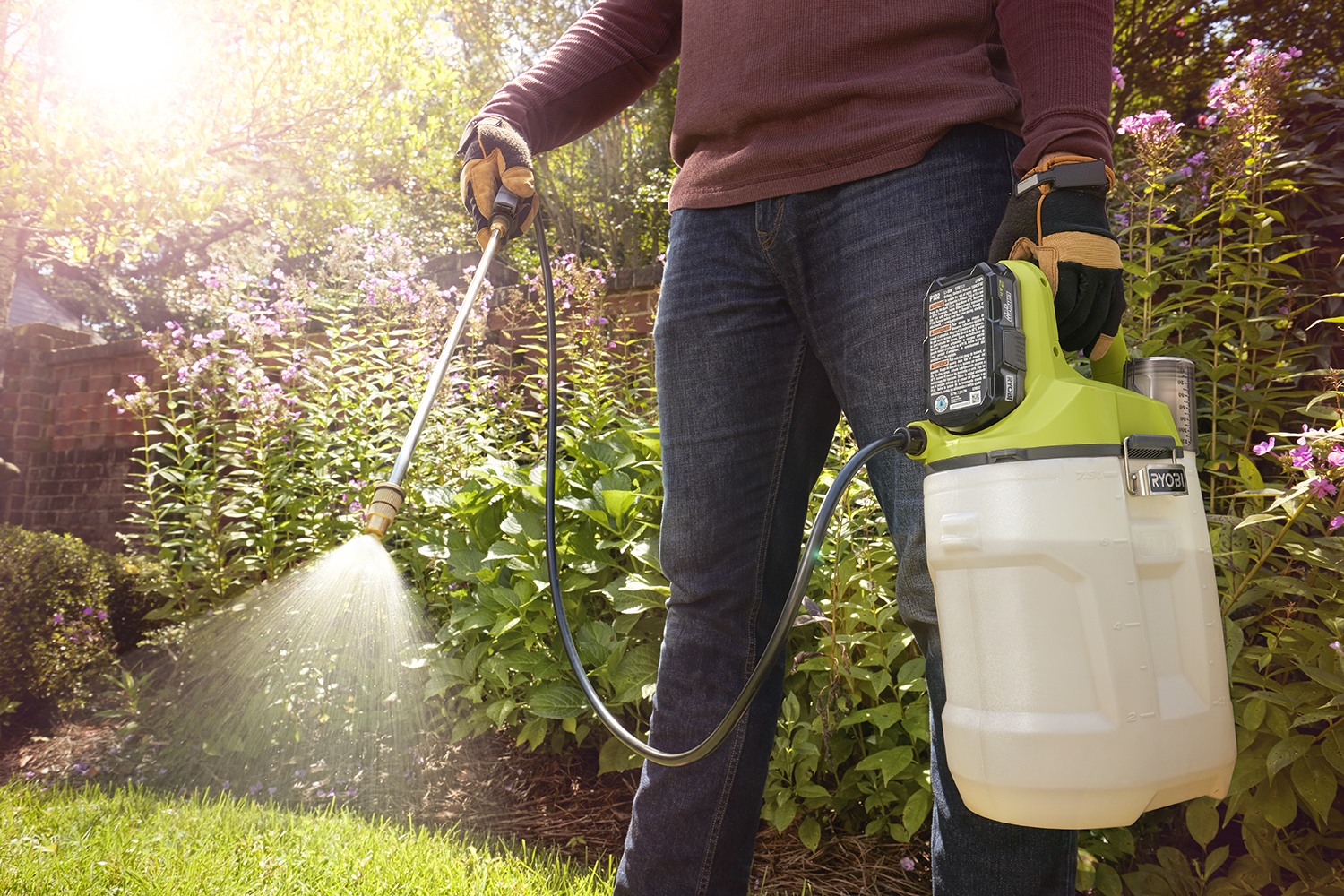 Sprays 30 gallons per charge Efficient pump optimized for cordless performance Adjustable nozzle for customized application 2 gallon removeable tank with on-board measuring cup 1 or 2 handed use Comfortable mesh backpack design Easy adjustable strap
Specifications
Power Source: 18V ONE+™ Battery
Tank Size: 2 Gallons
Tank Material: High Density Polyethylene
Hose Length: 54"
Nozzles: Adjustable
Warranty: 3 Year
Includes
18V ONE+™ 2 Gallon Chemical Sprayer with Backpack Holster
18V ONE+™ 2.0 Ah Battery
18V ONE+™ Charger
Reviews
18V ONE+™ 2 Gallon Chemical Sprayer with Backpack Holster with 2.0 Ah Battery & Charger
18V ONE+™ 2 Gallon Chemical Sprayer with Backpack Holster with 2.0 Ah Battery & Charger
is rated out of
5
by
16
.
Rated

4

out of

5
by
Fat Thor
from
Cordless and easy to use
handy and easy to use. Wish the Black tubing from the container to the trigger handle was more flexible. NOTE TO RYOBI: It would be nice if the fill cap, once used, could be screwed back on and drain back to container and not drip down the side of the sprayer. (yes, You can wash the cap out and then screw on, but it still drips down the side)
Date published: 2020-12-31
Rated

5

out of

5
by
RickMo
from
Great Sprayer !
Purchased in November 2020, this is by far the best sprayer I have ever had the pleasure of using for all of my garden needs. Nice even pattern, powerful battery, and I love the fact that my combo kit came with an extra 2 gallon container. What a blessing ! I'll never go back to manual spraying again. What a time and effert saver this sprayer has been for me. I highly recommend this sprayer for ease of use and convenience !
Date published: 2021-02-01
Rated

5

out of

5
by
emcable
from
Easy to use
Very handy tool for weeds, insect control, and general chemical application.
Date published: 2021-04-11
Rated

5

out of

5
by
VernM
from
More useful than I thought!
I was a little reluctant to try this sprayer which I received as a gift. When I did, I was pleasantly surprised. Holds just the right amount of liquid, easy to fill, adjustable nozzle, excellent sprayer power, easy to clean. More user-friendly than my 4-gal manual backpack sprayer from Stihl. Thinking about getting another for my vacation home.
Date published: 2020-10-12
Rated

4

out of

5
by
zman419
from
Makes things a little easier
Definitely beats walking around with a hand pump sprayer. If you've got a big area to spray (for me, a gravel driveway) it's definitely worth it. Battery lasts quite a long time. 4 stars instead of 5 because the wand head requires you to swap out pieces to switch between fan and cone spray, where as other sprayers just let you turn a dial.
Date published: 2021-01-21
Rated

5

out of

5
by
Bozner
from
Great price, well constructed
Just purchased it and immediately tried it out. Couldn't be happier. No more shoulder and arm pain from the constant pumping of my older manual. With all my Ryobi tools and batteries, I never have to worry about having enough juice to finish any job. Love it.
Date published: 2020-10-22
Rated

4

out of

5
by
cdtipton
from
Great Sprayer
I am happy with the product the back pack is super comfortable, power switch is not located where you can turn on and off comfortable with unit on back- sprayer is nice but on mist it actually has larger droplets then I expected when letting go of trigger
Date published: 2020-11-22
Rated

5

out of

5
by
StmBullard
from
What a work and money saver!
My wife and I live on a rather large lake property. It has a very long driveway and the battle against grass/weeds overtaking the driveway is ongoing. I have been using a pump sprayer for the weed killer and it was a long process to complete the job. Saw this product on a Home Depot email. I have already used numerous Ryobi products with the 18V One+ batteries and have never had an issue with any of them. From blowers to hand tools to the Ryobi mower I use to mow the bank by the lake, these products are dependable and efficient. I didn't think this sprayer would be any different in quality. Used today for the first time and am so glad I made this purchase. I would estimate I sprayed weed killer in the areas I typically spray in 1/4 of the time it took me to do with a pump sprayer. Loved how easy it was to set up, the 2 AH battery lasted me throughout my job, and I was able to adjust the spray width easily. The mixing cup/cap was so easy and convenient for diluting the concentrated weed killer. I rounded up those weeds in no time.
Date published: 2020-10-03