+19
18V ONE+™ AirStrike™ 18GA Brad Nailer
Model: #P320
+19
The 18V ONE+™ System introduces the next generation in cordless convenience. This 18 gauge brad nailer features AirStrike™ Technology, which eliminates the need for noisy compressors, bulky hoses or expensive gas cartridges. This means faster setup and easier maneuvering on the job site. Tackle virtually any trim job with the capacity to drive up to 1,700 nails per charge using the new and improved P108 4Ah High Capacity LITHIUM+™ battery (sold separately). The 18V ONE+™ 18GA Cordless Brad Nailer is sold as a bare tool, allowing you to build on your ONE+™ collection without spending additional money on batteries and chargers with each tool purchase. Best of all, like every RYOBI® 18V ONE+™ blue or green tool, this AirStrike Brad Nailer works with any 18V ONE+™ battery. Upgrade to lithium-ion or LITHIUM+™ batteries for lighter weight and better performance.
Features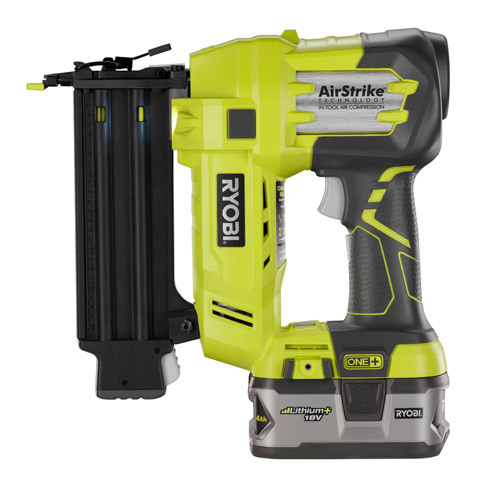 AirStrike™ Technology
AirStrike™ Technology provides cordless convenience, eliminating the need for a compressor and bulky air hose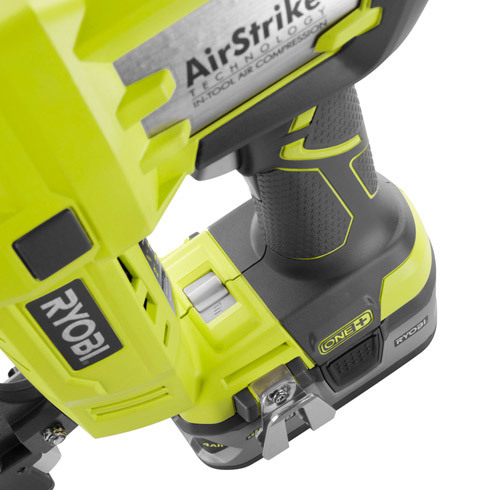 Mode Variability
Selectable drive switch with single sequential or contact actuation mode; Single sequential actuation mode is used for precision placement and contact actuated mode
Adjustment Applications
Tool-less depth-of-drive adjustment helps protect work surface and allows proper setting of nail heads, and convenient adjustment dial regulates air pressure for optimum results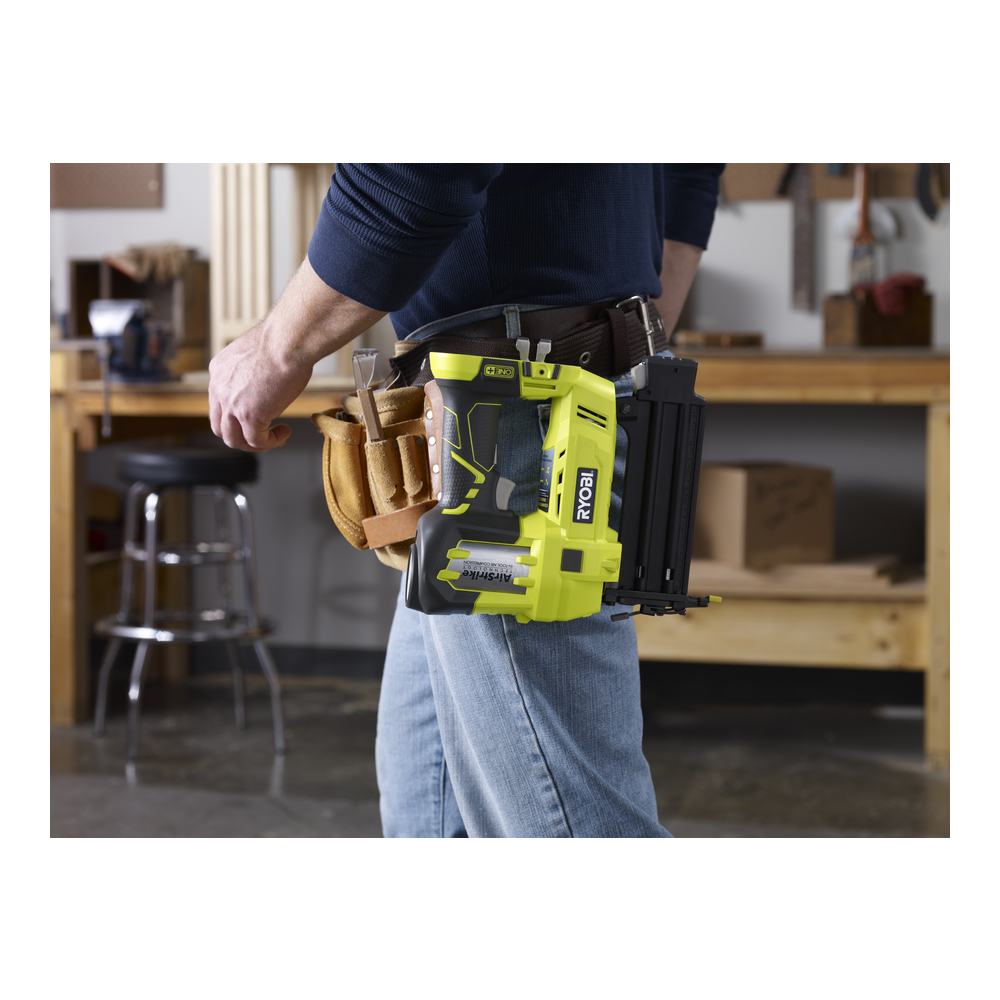 Belt Hook
Belt hook mounts to right or left side for added convenience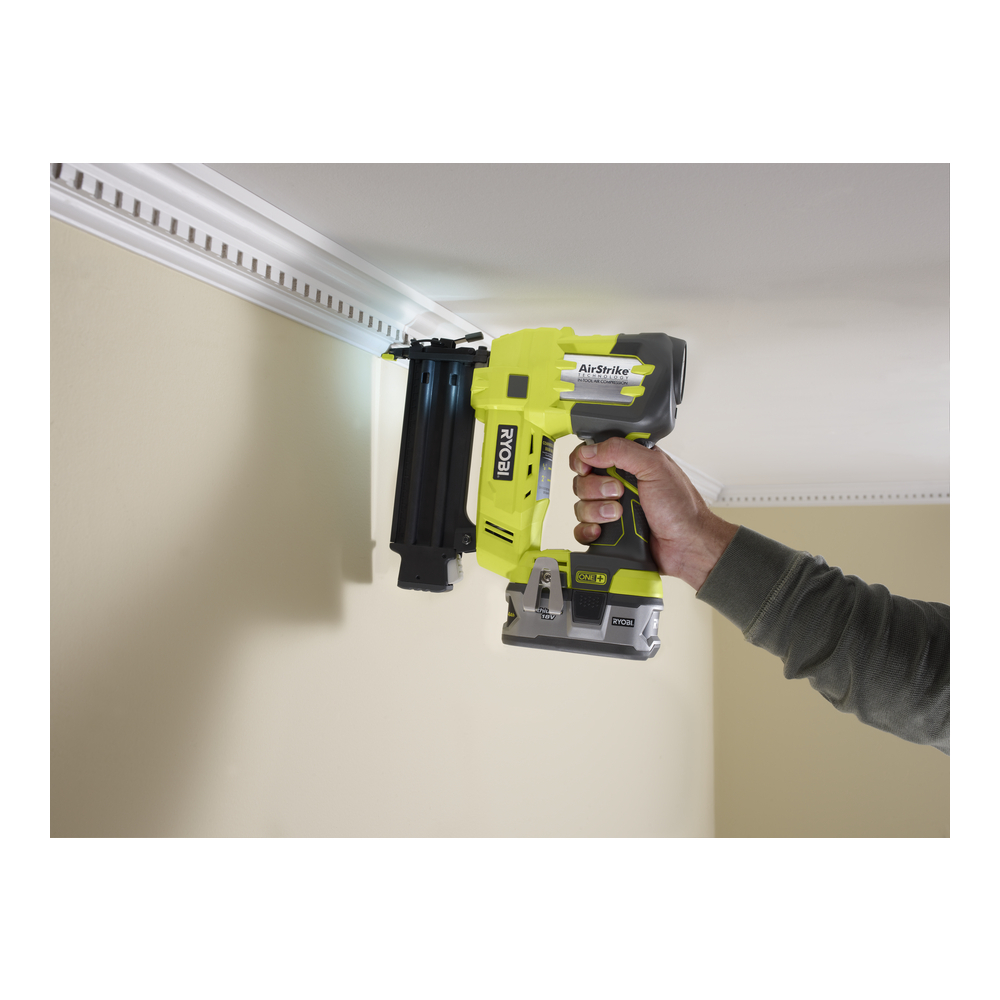 Grip-Light technology engages LED by grasping the tool handle
Toolless jam release for easy access to clear nails
Low nail indicator to quickly and easily see when it is time to re-load
2 non-marring pads to keep work surface free of tool marks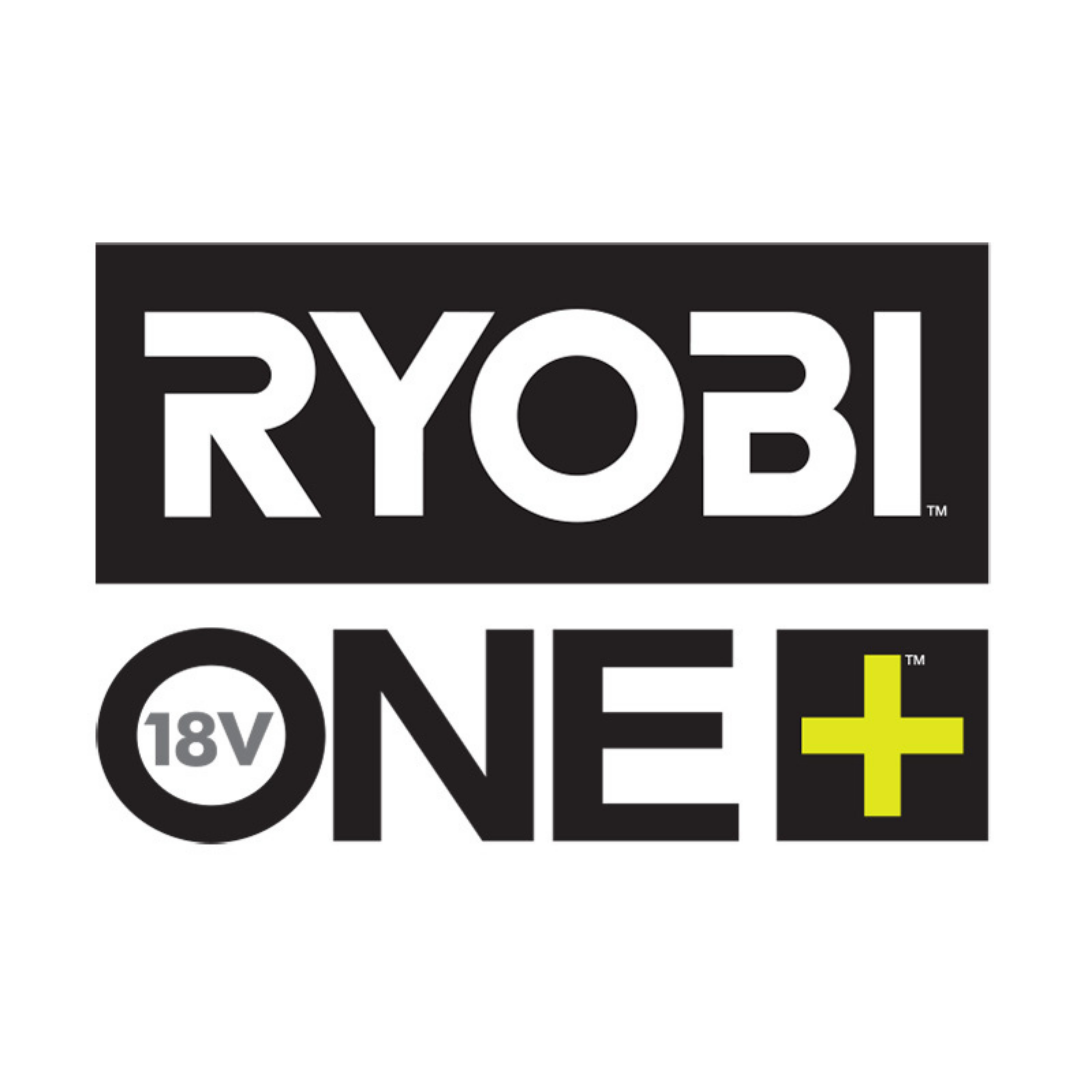 All RYOBI 18V ONE+ tools work with all RYOBI 18V ONE+ batteries.
Specifications
Battery: 18V
Nail Gauge: 18 Gauge
Magazine Capacity: 105 Brand Nails
Nail Range: 5/8" to 2"
Nails per Charge using P108 Battery: 1700
Fastener Collation: Glue Strip
Tool Weight: 5.0 lbs
Includes
P320 Brad Nailer
(500) 1-1/4" 18 Gauge Brad Nails
Belt Clip
Operator's Manual
Reviews
18V ONE+™ AirStrike™ 18GA Brad Nailer
18V ONE+™ AirStrike™ 18GA Brad Nailer
is rated out of
5
by
872
.
Rated

5

out of

5
by
larryst5
from
Great Brad Nailer
My wife went to Home Depot and purchased this Brad Nailer for a wall remodeling project. Boy was I surprised when she came home with this nifty Brad Nailer. We were attaching reclaimed fence boards, from our old back yard fence, to our entry area wall. Well I got excited and immediately took it out of the box, loaded it up with brads and did a couple of test shots in the garage. It was easy and smooth to use. It is an excellent product. My wife had no problem with it. She's not normally a "handy" person, who has an experience with power tool. But she sure took to this "Brad Nailer". I highly recommend this. It is an excellent product.
Date published: 2018-07-11
Rated

4

out of

5
by
Dayzzgoby24
from
Not just for home owners anymore!
I have had many different types of power tools over the years and none have treated me as good as the ryobi brand. I have always been a Mak tools lover, but ever since I purchased my first ryobi impact, I will not be going back. It is a little larger than other brands, but that is ok. It takes a beating seeing I am a general contractor, but it keeps sinking screws like it was new. I have not tried all ryobi battery operated tools, but what I can say is, I love the ones I have. I was always under the impression that ryobi tools were a home owners took, not to be used by construction workers. However, I now challenge that and say they are not just for home owners anymore.
Date published: 2019-06-23
Rated

5

out of

5
by
Justin B
from
Great Brad nailer
I bought this three days ago and it has been fantastic. I have been wanting a brad nailer for the longest time and finally decided to purchase one. The ryobi line has been stellar in manufacturing tools. I especially like them because they have a lot of cordless options. I built a barn door with this nailer and it performed well. I wasn't sure if there would be enough power sense it was battery operated but I was wrong. If you are looking for a great brad nailer this one is hands down the best and the best bang for your buck. I will never buy another brand of tools!
Date published: 2018-11-03
Rated

1

out of

5
by
Trstag
from
Not happy with this one!
I bought this to replace one I had been using for five years which I loved but was starting to give me misfiring problems. Talked to the repair people and was told it would be cheaper to buy a new one instead of repairing this one. So I ordered one online from reputable dealer, used for 6 weeks and the same thing happened to the new one. It would cycle but not fire. Could not send it back because return policy limit had lapsed. Talked to Ryobi tech and went through the trouble shooting checklist with no luck, and was advised to take to warranty repair shop. At the shop I was told could be up to 6 weeks pending any repairs needing parts. So it's back to the old compressor and air nailer.
Date published: 2020-03-07
Rated

5

out of

5
by
noesayhey
from
Robust and Easy to Use and Extremely Portable
I was hesitant to buy a brad nailer but finally when the Ryobi cordless version came up for sale I jumped on it right away. I knew I didn't want to be dealing with hoses and and air compressor. Even though those models are cheaper, the convenience of cordless far outweighs the price in the long run. I used the nailer right away to put up a shelf and found it had more than enough power and was very easy and safe to use with many adjustments. It is heavier than a CORDED version because everything is on board and you also add the battery to it. But not something that any person could not handle. I look forward to many more projects with this bad boy.
Date published: 2020-12-09
Rated

5

out of

5
by
NBH40
from
Convenient and well made
Save dragging around a compressor and hoses. This is just perfect. I flip houses for a living now...a plumber by trade. Having used yellow, red and orange tools for the past 20years, I have now turned green! Cost effective, well made, 2 year warrantee, and so innovative. If you are doing a lot of different trade's work, then the 18+ range is a no brainer as they have it all covered. But Ryobitools.com please bring me a Framing nailer in 18 plus!
Date published: 2018-04-10
Rated

5

out of

5
by
Thinner Bob
from
Great tool!
My latest project involved 300 ft of Crown molding and mold 100 ft of molding for a new laminate floor. In the past it was predrill holes for nails and then nail with a hammer. No matter how careful I was it was hard not to miss and mar my finished product. I saw this Brad nailer at Home Depot and decided to buy it for my molding. Am i ever glad i did. It has worked perfectly and saved not only time but the finish of my molding. Great product and I wish I would have bought a long time ago. Thanks Ryobi!
Date published: 2019-04-23
Rated

1

out of

5
by
Ferry87
from
Poorly made
I bought the 18 volt nailer and after I did the base boards in my sons room I moved to my daughters room. After laying new floor in there I went to nail the base boards and the nail gun won't work now the depth control on the back fell into the unit and ever since then it won't work.
Date published: 2018-05-02