+7
18V ONE+™ 16" MOWER
Model: #P1100A
+7
Take back your lawn with the RYOBI 18V ONE+ Lawn Mower! This mower offers convenience that gas mowers just cant, starting with the push of a button. With it's 16" deck, this mower is perfect for maintaining small yards and will fold up for compact storage when finished. The 5-position single point height adjustment easily adjusts the cut from 1.25 in.-2.75 in. and the 2-in-1 system allows for mulching or bagging based on preference. Compatible with all RYOBI 18V batteries, and backed by a RYOBI 3 year limited warranty.
Features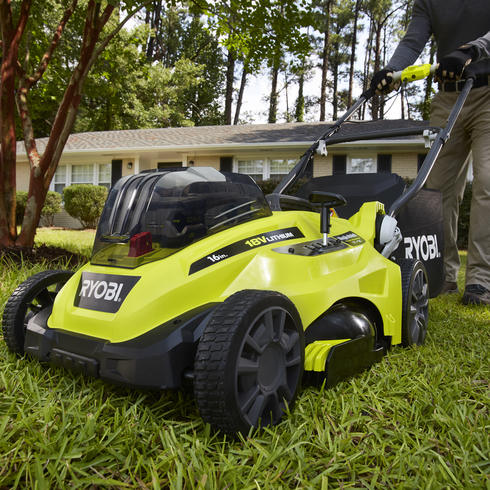 16 in. cutting deck with 5-position, single-point height adjustment (1.25 - 3.5 in.)
Compact and lightweight design
Carrying handle for easy transport
Folding handle with quick-release knobs for easy, compact storage
Push button start
3-year limited warranty
Specifications
Battery:
Cutting Height 1.25 - 2.75 in.
Deck Size: 16 in.
Deck Height Adjustments: 5
Recommended Yard Size: Up to 1/4 acre
Mowing Function: Mulching or Bagging
Warranty: 3 Year Limited Warranty
Weight: 40 lb
Includes
16" Cordless Lawn Mower
Grass Bag
Start Key
Mulching Plug
Operator's Manual
Reviews
18V ONE+™ 16" MOWER
18V ONE+™ 16" MOWER
is rated out of
5
by
146
.
Rated

5

out of

5
by
Rcsj
from
Best gift ever
My sons gave this to me for a Father's Day gift. This mower may be small but it does the job. I love how light weight it is and the fact that I can charge it instead of filling up with gas like my old mower. It's so lightweight my wife can mow the lawn with ease. It looks like a toy but i love it doesn't take up much room in my garage. I have a knee problem And I have severe asthma that made it difficult to start and push my old mower.This is so easy to operate and I'm not exhausted nor does my knee bother me after mowing the lawn. Whoever invented this is a genius. I'm 63 but when I mow the lawn using this mower I feel like a young man again.
Date published: 2020-07-16
Rated

4

out of

5
by
Chris99
from
Good machine, wish I had gone bigger and stronger.
I purchased this mower at the beginning of the summer, changing from a gas mower. I have a smaller yard, both front and back, so I thought it would be perfect. First, I should have gotten on with a wider range, then maybe I could finish quicker. Which brings me to next "issue", the battery and overall power. If grass is too tall, this mower really struggles and uses up the battery pretty quickly. There have been a few times where I was only able to complete the front yard, then recharge the battery to do the back yard. I ended up buying a second, more powerful battery. Overall, I am pleased with this mower; just wish I was able to have a test drive first.
Date published: 2020-11-17
Rated

5

out of

5
by
Gregorian
from
Terrific Coverage 1 Charge!
My wife bought me a new 13" 18V ONE+ Lithium-Ion battery powered lawnmower model P1140-S for a gift soon after we moved into our home this year June. At first I laughed because it was so small AND it was battery powered! I have been used to gas powered lawnmowers my whole life, and I didn't believe I was going to like using this! After using it just one time, I was sold! The battery and lawnmower was so powerful and easy to use! It did a perfect job on my front lawn, and the battery charge lasted for the entire cut.
Date published: 2020-08-30
Rated

4

out of

5
by
SnarkyMcWiseguy
from
Very Good Mower at a great price
I bought this about 2 months ago and used it for the first time last week. Its very light, it cut somewhat tall, wet grass easily, and was easy to maneuver. I generally don't use the bag and the mulching worked well, and the deck underside was easy to clean. Very surprised to discover that the new 9ah ONE+ battery fits into the battery compartment with the door closed. I give it 4.5 stars. 2 minor things to improve: the blade height adjustments are weird. The #4 setting is approx. 2.93". The other thing is the way the handle folds for storage. Seems there s/b a better way to make it easier to fold. All things considered, I'm very happy with this mower and would recommend buying it.
Date published: 2020-04-16
Rated

5

out of

5
by
Azalia26
from
Perfect Size!
We live in a garden home with a "medium" sized front yard. Not too big and not too small. This 16" mower is perfect for the job. Not only is it super light weight to use, it is super effective and convenient to store. We are using two, 2.0amp batteries and I still have enough juice to use one of the two batteries in the weed eater to edge AND then to use into the blower to clean up our leaves. I absolutely love Ryobi ONE+ and how easy it is to use all of their compatible products! This mower is great, our next door neighbor bought one too the following week!!
Date published: 2020-09-19
Rated

5

out of

5
by
TreyTX
from
The perfect mower
I have never owned a battery-powered mower, but because I had such a small yard, I thought I would give it a try. I AM COMPLETELY SOLD! In addition to its compact size, this model and the battery that comes with it lasts exactly as long as it takes me to mow the entire property in one cutting. It is also easy to clean. An excellent choice for a small property owner!
Date published: 2020-06-24
Rated

4

out of

5
by
geoff on kings
from
Nice little mower
I recieved this as a chrismas gift and have now used is several times. The mower is nice and light and reasonably maneuverable. The bag attachement is very well designed making installation and removal easy. I use with the two 4AH high capacity bateries recomended in the manual. They provide enough power to cut my relatively small lawn but need a recharge afterwards (about 25 minutes continuous run time). Additional batteries would be needed if you have a larger lawn. Overall quite happy with it.
Date published: 2021-01-27
Rated

5

out of

5
by
GBS022
from
so far so good
I purchased the P-1111 16" 18 volt battery operated mower on 09/08/2020. After bringing the batteries to a full charge I used it for the first time this morning in our dog yard which is about 16' x 24'. The grass was high as well as wet and the mower performed extremely well, the battery power was still at 3/4 power when I finished. Much easier to push as well as start than my old 22" gas mower. After cutting the grass and cleaning the mower and catch bag I stored it easily under my work bench in our shed . I would strongly recommend this mower if you have a small area to mow
Date published: 2020-09-09