+4
18V ONE+™ High Capacity LITHIUM+™ Battery
Model: #P108
+4
RYOBI® 18V ONE+™ System introduces the next generation in lithium-ion performance. LITHIUM+™ batteries improve the performance of RYOBI 18V ONE+ power tools beyond simply extending the runtime. This high capacity LITHIUM+ battery improves the performance of RYOBI 18V ONE+ tools by increasing torque up to 35%. This battery provides up to 4X runtime, holds a charge 4X longer and is 20% lighter weight than Ni-Cd batteries. LITHIUM+ batteries have extreme weather performance to continue work in harsh conditions and an on-board fuel gauge to "Check Your Charge"™ before the work begins. LITHIUM+ batteries provide fade-free power for maximum performance throughout the charge. Best of all, like all 18V ONE+ batteries, LITHIUM+ batteries work with every RYOBI 18V tool ever made.
Features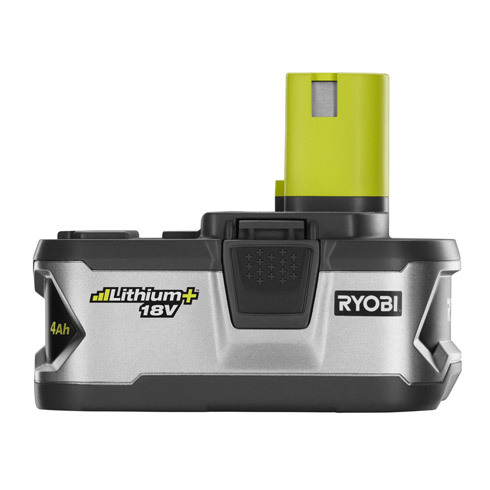 High Capacity LITHIUM+™ Battery
Compared to 18V ONE+™ Ni-Cd (P100):
Up to 4X the runtime
Improves the performance of RYOBI® 18V ONE+™ tools up to 35%
On-board fuel gauge to "Check Your Charge"™
Holds charge 4X longer
Extreme weather performance
Fade-free power for maximum performance
Charge only with 18V ONE+™ Dual Chemistry chargers
All RYOBI 18V ONE+ tools work with all RYOBI 18V ONE+ batteries.
Specifications
Battery: 18V LITHIUM+ Lithium-ion
Includes
P108 18V High Capacity LITHIUM+™ Lithium-ion Battery
Reviews
18V ONE+™ High Capacity LITHIUM+™ Battery
18V ONE+™ High Capacity LITHIUM+™ Battery
is rated out of
5
by
338
.
Rated

5

out of

5
by
Pcarlson317
from
Worked extremely well.
I brought this to trim a hedge that was about 8ft tall and 50ft long that had over grown. I purchased this unit because I already had another Ryobi tool (18gauge nailer) with 4.0aH battery. I didn't want to have another vendor battery and charger (already have 2 others). The unit worked extremely to trim back the hedge even on branched about 3/4" thick. I was able to complete about 90% of the trimming with this unit. The rest required a Bypass Lopper to cut back. I didn't even have to recharge the battery. I completed the task on a single charge. Overall I'm very pleased and will use the unit to keep the hedge from becoming over grown again.
Date published: 2019-05-03
Rated

1

out of

5
by
Dave5151
from
Short runtime
I purchased a brushless weed trimmer last fall and only used it once with the Battery that came with it. Did not hold a charge at all. They sent me the p108 as a replacement. Used for the first time this spring and the runtime was horrible. It wouldn't even last trimming my front yard which, is a normal sized front yard. I have two of the p108's and neither one held a charge for very long. Maybe I expected to much. Ran the trimmer on low the whole time. I have other ryobi tools that work just fine, except the circular saw goes out fast. My old cordless trimmer, different company, lasted twice as long. Guess I should have went with the 40v.
Date published: 2021-03-30
Rated

5

out of

5
by
Tony K
from
Impressive!
I am currently operating as a home remodeler and have already used and abused my ryobi tools and have yet to replace a single one. I was already very happy with 1.5 Ah batteries until I started using my circular saw and Brad nailer. I bought this 4 Ah battery 2 pack and it is amazing! It last a long, long time. Its pretty rare if I see it below 4 bars because I charge them every night. I will be buying more, I would recommend them to anybody looking to buy cordless tools. Ryobi all the way!
Date published: 2019-05-07
Rated

5

out of

5
by
LeviC
from
Keep it up
the battery is better and powers especially the stronger tools like the brushless skill saw and Rotery hammer much better, RYobi, keep giving us affordable alternatives to the big names and keep on surprising me.
Date published: 2018-04-15
Rated

5

out of

5
by
Bike Thief Brian
from
Awesome bats !
I bought them along with my 6 peice combo set. I am very happy with them. They get the job done !! I even named them. The 4aH are called Thor and Odin. The two 2aH are called Sif and Freya. Oh, yeah...
Date published: 2018-06-20
Rated

5

out of

5
by
OSGOrmond
from
Run Time to Weight ratio is excellent
I have 3 of these, and they really hold a charge well. They mostly stay in my brushless hammer drill and 1/4 impact. I honestly can't remember the last time I've needed to charge them, and they get used several times a week for a few minutes each time, even some Serious concrete drilling. The blowers tend to eat one up in about 15 minutes of continued use, but that is a Lot of blowing. They are a bit heavy compared to the smaller batteries, but balance well in the tools I use them in. Compared to my old craftsman C3 stuff, runtime is at least 50% better. And the 'fuel gauge' comes in handy on large projects.
Date published: 2019-05-18
Rated

5

out of

5
by
Jacob1716
from
Great battery life
I bought the ryobi push mower to help eliminate some trimming around my house and to get under trees where I can't with my zero turn. Granite its not a lot but the mower is very light,easy to use, and I cant use the mower a few times before I have to charge the batteries. I bought it mainly for my wife to use because she enjoys push mowing a few times around our house. We use to have a gas push mower and she didn't like using it because of how heavy it was. Now she really enjoys using the ryobi push mower because its easy for her to maneuver around and use. I'll definitely be buying a trimmer or blower next!
Date published: 2019-05-05
Rated

5

out of

5
by
Audio Hound
from
The beating heart of a great line of products
I Currently own at least 10 lithum batteries and even the smaller batteries are amazing I do projects around the home ad have built a deck for a hot tub what I love is that I can charge my batteries in my large multi charger and 2 months later pick a battery and use it, I also like the fact the batteries continue to give full power untill they need recharging so saw blades run at 100% untill it Quits then I grab another battery and off I go, with my extremly busy work schedule it can be months between opportunity to work on projects and I dont have time to wait and charge a battery so I can get started
Date published: 2019-05-24