18V ONE+ 320 PSI Power Cleaner (Tool Only)
Model: #RY120350 | Home Depot Sku #: 1005141011
The RYOBI 18V ONE+™ Power Cleaner is the perfect addition to your RYOBI tool collection. Powered by a ONE+™ Battery to deliver 320 PSI, embrace cordless convenience and portable power for on-the-go cleaning. Simply connect to a garden hose or use the 20ft. siphon to pull water from a bucket or nearby water source and easily clean off your outdoor furniture, windows, boats, campers, and other motor vehicles. The 3-in-1 nozzle allows you to quickly switch between turbo, 15° and rinse nozzle options. The water-resistant battery enclosure keeps your ONE+™ battery safe while cleaning. Packed with portability and versatility the RYOBI 18V ONE+™ Power Cleaner is an ideal choice for cleaning whenever and wherever you need it most.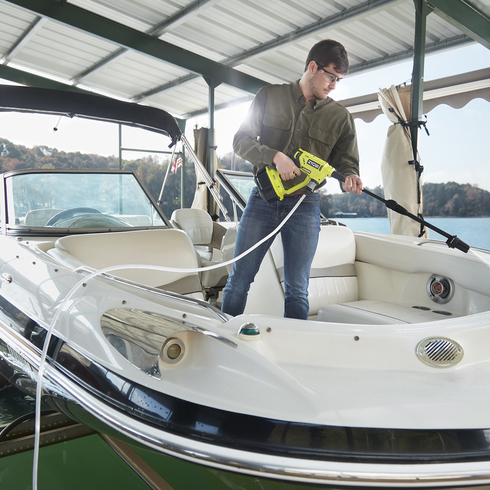 18V ONE+ 320 PSI Power Cleaner
Lightweight design for portable use wherever you need it
Delivers 320 PSI for cleaning windows, outdoor furniture, boats, campers, and motor vehicles
3-in-1 interchangeable nozzle (turbo, 15° and rinse) for versatile cleaning options
20 ft. siphon hose to pull water from a bucket or any nearby freshwater source
Water-resistant Battery enclosure for added protection
Motor: 4 Amp
PSI: 320
Flow Rate: 0.8 GPM
Suction Hose Length: 20 ft.
Weight: 8 lb.
Power Cleaner
Siphon Hose
Operator's Manual's
18V EZ Clean Power Cleaner - Model ry120350, ry120350vnm, ry120352k, ry12035kvnm
Click the link below to access outdoor products replacement parts schematics and order parts online.
For those customers that prefer ordering by phone, simply contact the RYOBI master parts distributor at toll free 1-877-634-5704, and place your order over the phone.
Visit Ryobi Lawn & Garden Parts Store
---
---