+2
1800 PSI Electric Pressure Washer
Model: #RY141820
+2
The RYOBI 1800 psi pressure washer is lightweight and compact, making it convenient to carry or store in small spaces. The 13 Amp electric motor delivers 1800 psi for performing quick cleaning applications like windows, decks and patio furniture. The RYOBI 1800 psi Pressure Washer comes with 3 quick-connect nozzles, 15°, soap and turbo. Use the turbo nozzle for up to 50% more cleaning power.
Features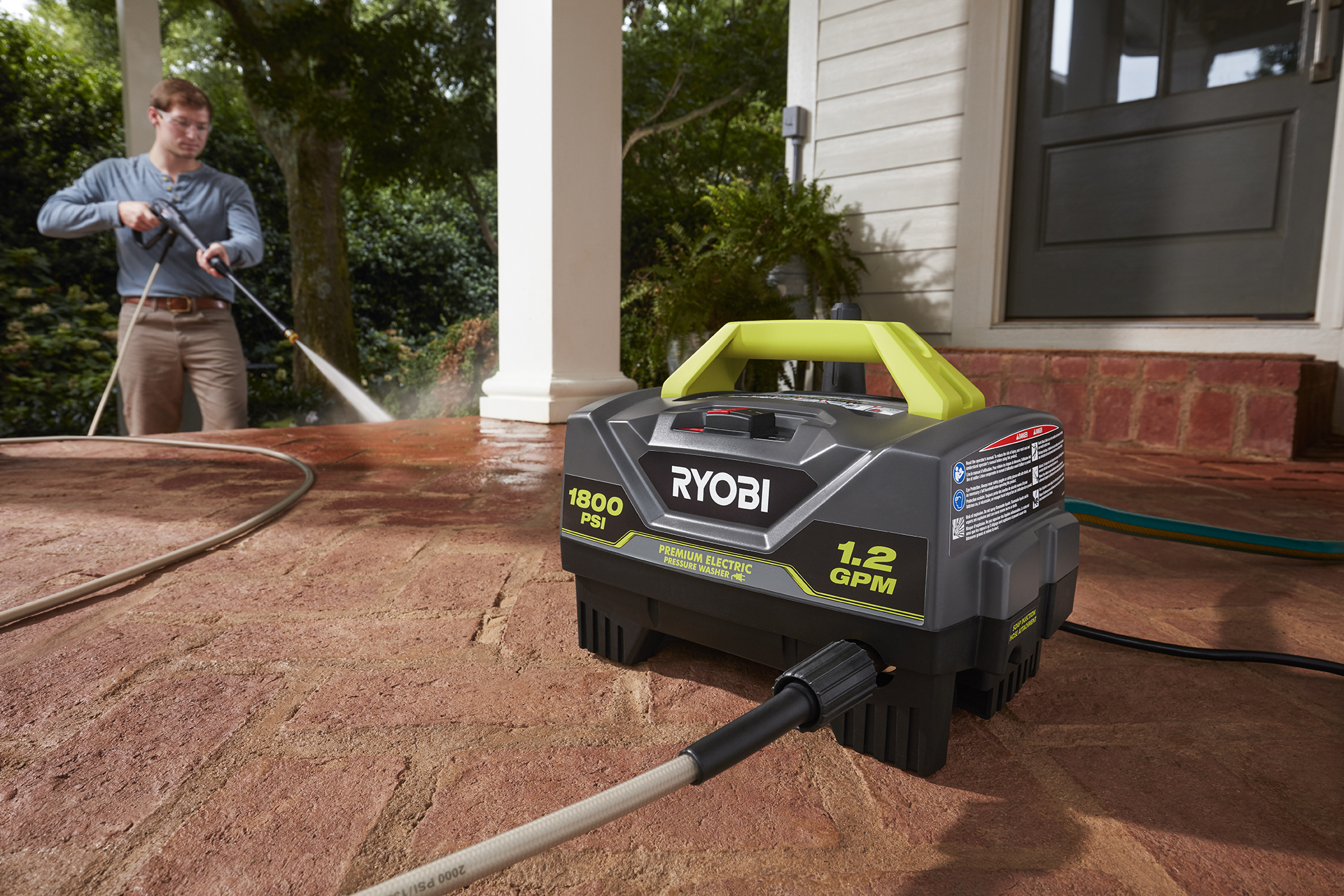 1800 PSI Electric Pressure Washer
Performance tested and rated in accordance with PWMA standard PW101 1,800 psi 1.2 GPM for efficient cleaning of windows, decks, patio furniture and more 13 Amp electric motor Lightweight, compact design Turbo nozzle for up to 50% more cleaning power 20 ft. high pressure hose Includes 3 quick-connect nozzles (15°, soap and turbo) for cleaning a variety of surfaces
Specifications
Motor: 13 Amp Motor
PSI: 1800
GPM: 1.2
Cord Length: 35 ft.
Hose Length: 20 ft.
Weight: 16 lbs.
Includes
1800 PSI Electric Pressure Washer
Trigger Handle with M22 Connections
Spray Wand
15 Degree Nozzle, Soap Nozzle & Turbo Nozzle
Operators Manual
Reviews
1800 PSI Electric Pressure Washer
1800 PSI Electric Pressure Washer
is rated out of
5
by
147
.
Rated

5

out of

5
by
Bryan201136
from
A little giant
I just purchased this electric pressure washer two weeks ago to clean our patio tiles in front and rear of our house. I did a lot of research prior as I wanted a light weight machine with features that could tackle any task easily. Took a chance on this one based on the reviews and everyone was right. Though it looks small and is lightweight it is a little giant and does a superb job. It cleaned our patio's really well of all the grime and next I am going to try to strip the paint off our wooden deck prior to coating it again. This machine has all the safety features, comes with necessary pressure tips and all in all has a quality feel to it.
Date published: 2020-08-15
Rated

4

out of

5
by
StuffedBunny
from
Compact
I purchased this product a few days ago and quickly put it to use to see how well it works. As I had already recently cleaned my concrete steps, it was difficult to determine just how effective it will be at getting the job done, but the kick-back from the trigger wand seems to indicate that the power will be as expected. It was easy to assemble. The nozzle locks are helpful, as well as the docking stations for the nozzles. I have not yet tried the soap feature, as I am not sure what type to use. A detergent product sample with the washer would be helpful. It takes up a lot less space in my shed and is less cumbersome than my old pressure washer.
Date published: 2020-07-20
Rated

4

out of

5
by
I5L4ND3R
from
Excellent tool, great price
Excellent tool, capable of doing anything others can. I have used several similar pressure washers from other brands. I love the compact nature of this one. My only deduction for points is storage. It comes with one extra bit with no storage attachment, hose and electric cord just hang off side and the wand comes apart to be compact but only one half actually clips into the handle. If they made side or end mounted coils for hose and cord and had clip in storage for wand and one more nozzle this would be a no brainer 5 star. Functionally this is the best product, for the best price.
Date published: 2020-07-28
Rated

5

out of

5
by
Nashty27
from
A must have
I bought this pressure washer a couple weeks ago and I am amazed at how great this little machine is. The size and the price are not at all a reflection of the quality and power. I have a bigger gas powered pressure washer that I use to wash the house driveway landscaping stones ect. So I figured I would get this little guy and use it occasionally when I wasn't doing a heavy duty cleaning instead of dragging out the big one and dealing with gas and starting it. I have now cleaned my house, my driveway and all my landscaping and I have only used this Ryobi pressure washer. It's powerful and unbelievably easy to operate.You will not be disappointed with this product.
Date published: 2020-09-07
Rated

5

out of

5
by
Anonymous
from
Little beauti
Even though it's been a month since I bought it, it has done all my pressure washing better than I had expected. I had at different times owned 2 Karcher washers, first one worked fantastically. I than bought I thought a top of the line Karcher with water cooled motor because the price was goog. Not having to use it for a couple of year's it leaked all over, apparently some plastic parts had corroded. Upon trying to use my old faithful other Karcher that I still kept. I was shocked to find the same corrosion here too. Now that's an over $500.00 shock.
Date published: 2020-11-01
Rated

4

out of

5
by
Mb40
from
Good little machine
Great for what it is. Small little electric pressure washer. Takes up hardly any space. Used to wash up my deck and patio. The deck looks great the patio looks brand new. Had plenty of power to clear the dirt and weeds right out from between the patio stones. Took the grime of the stones, bricks and deck boards too. The different nozzles allowed for appropriate pressure for bricks and boards.
Date published: 2020-07-29
Rated

4

out of

5
by
Quarantina
from
Was in Home Depot for something else, saw this on sale in center display. Remembered I had put off a project because I didn't have a pressure washer, and the price was great. Love all my Ryobi One+ so figured it'd be same quality. Correct. My one complaint is the wand is about 6 inches short. I'm only 5'8", but found myself stooped to get the most use on deck.
Date published: 2020-11-12
Rated

4

out of

5
by
Raine
from
Works Well
I bought this a few weeks ago and it works really well. Enough power to clean my cement stairs and brick path which hasn't been cleaned in many many years. I was so happy with the result. The cost of this power washer was great, much more economical than getting it done by a professional. It is also nice and small, so easy to store.
Date published: 2021-03-24