+2
18-Volt ONE+ Lithium-Ion Cordless String Trimmer with 1.5 Ah Battery and Charger Included
Model: #P20130
Shaft rotates for convenient edging function
10" cut swatch for easy trimming of smaller yards
Simple press-and-turn conversion to edger mode
+2
Lightweight, Easy to Use and Easy to Store
Features
Compact and Lightweight Design
For User Comfort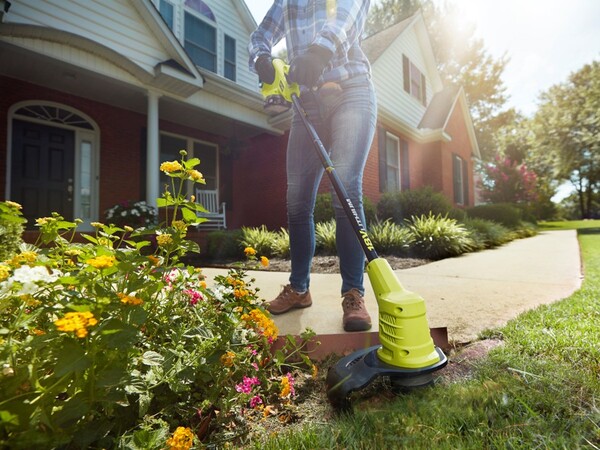 Cutting Width
10" cutting width that is ideal for light-duty jobs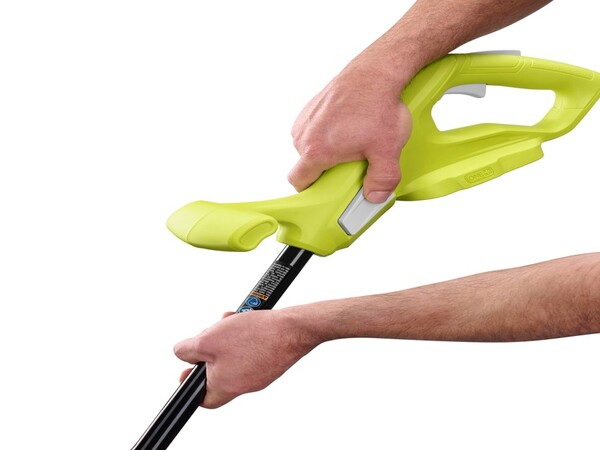 Rotating Shaft
Easily switch between trimming and edging
System Compatibility
Over 175 ONE+™ Tools – All work with any RYOBI ONE+™ 18V battery
Specifications
Dimensions
Battery

18V ONE+™ 1.5 Ah Battery

Cutting Swatch

10"

Line Advancement

Auto-Feed

Weight

6 lbs.

Warranty

3 Year
Includes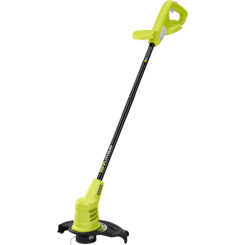 18V ONE+™ Cordless String Trimmer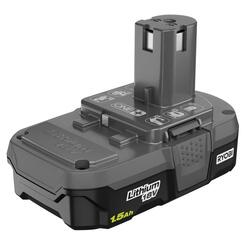 [#<ProductFeature id: 2975, title: nil, content: "18V ONE+™ Cordless String Trimmer", photo: "a33c9c4c-d7b4-41b7-8d5c-a2fdc890f27f.png", created_at: "2020-09-09 20:54:31", updated_at: "2020-09-09 20:54:31", product_id: 1408, sort: 0, enhanced_type: "included_item", enhanced_group: nil, enhanced_icon: nil>, #<ProductFeature id: 2976, title: nil, content: "18V ONE+™ 1.5 Ah Battery", photo: "47e7b92d-7f91-40ae-892b-29f26cc9b990.jpg", created_at: "2020-09-09 20:54:33", updated_at: "2020-09-09 21:01:44", product_id: 1408, sort: 1, enhanced_type: "included_item", enhanced_group: nil, enhanced_icon: nil>, #<ProductFeature id: 2977, title: nil, content: "18V ONE+™ Charger", photo: "a81cdcd9-5ddd-4c4a-a522-5a4c868fb3e7.jpg", created_at: "2020-09-09 20:54:34", updated_at: "2020-09-09 20:54:34", product_id: 1408, sort: 2, enhanced_type: "included_item", enhanced_group: nil, enhanced_icon: nil>]
Reviews
18-Volt ONE+ Lithium-Ion Cordless String Trimmer with 1.5 Ah Battery and Charger Included
18-Volt ONE+ Lithium-Ion Cordless String Trimmer with 1.5 Ah Battery and Charger Included
is rated out of
5
by
270
.
Rated

5

out of

5
by
Summertime
from
Perfect for beginners!
I am doing my yard for the first time in a long time. I don't have a lot of upper body strength and this trimmer is sooo light weight! It's easy to assemble and start using right away. Perfect if you have any physical limitations due to the long handle and incredible light weight. From unboxing to using was about an hour because we had to charge the battery. Assembly took about 5 minutes. Love the easy switch from trimmer to edger with one rotation of the handle. cant go wrong with this trimmer. (Full disclosure we have a medium sized yard less than 1/2 an acre. Loads of fence line trimming and many borders.)
Date published: 2020-09-13
Rated

5

out of

5
by
Anonymous
from
Amazingly lightweight and hard working
I am a Ryobi consumer and have several tools. I will say when I opened the box and noticed a spring was not here it should have been and the small size of this trimmer I was skeptical. So I put the spring in the handle connection, charged the battery and decided to see if this was a good purchase or not. This trimmer is amazing and the battery life is exceptional. I was able to trim my double lot size yard and even starting chopping the high grass down. Still had power left over and my arms, back and neck were not sore from packing and operating the trimmed. I only stopped because I had somewhere to go. Great value at $70 and no pull rope to start it like my DR Trimmer.
Date published: 2021-04-05
Rated

5

out of

5
by
mreaves59
from
I LOVE these tools!
I am not good with the old-timey oil-and-gas mixture types of yard tools. I always get too much of one or the other. So I thought I'd try the Ryobi - never liked"cordless" power tools b/c they're weak - and figured what the heck, worst-case scenario I'd bring it back to Home Depot if it was unsatisfactory. Let me tell you, I was so impressed with the Ryobi trimmer I went right back to the store and bought the leaf blower, and we love both of them! Lightweight and easy to use for my wife, no mixing up fuel like a chemist for me - we are Ryobi customers for life!
Date published: 2020-09-11
Rated

5

out of

5
by
BoiseIsAState
from
Done with Gas Weeding For Good
I grew up watching my dad rip his shoulder out trying to get the weed eater to start. I eventually learned firsthand how much it sucked and often felt like my arm was being yanked by a Saint Bernard at full sprint. My wife bought this for me as a gift to travel easily and not spill gas in our car when I would mow some family members' lawns and I was skeptical. First try was quick and easy, the results were perfect and I swore from then on I would never get a gas powered trimmer/weed eater again. If you like carrying heavy equipment, ripping your shoulder blade to pieces and gassing up a wobbly, unstable-unless-held-or-hung hunk of old-school garbage, have at it. I'll take the lightweight, easy-to-use trimmer.
Date published: 2021-04-16
Rated

5

out of

5
by
CameronZ
from
Super lightweight and easy to use
Weighing in at an astonishing 4lbs! The easiest, lightest, trimmer I have ever used! Just plug the battery in and go!
Date published: 2020-09-12
Rated

4

out of

5
by
Eddgz
from
Excellent Trimmer
I bought this product about a month ago since we recently moved to our new home and I have to do little landscape myself, I choose this Ryobi tool since I'm pretty familiar with the brand and I had batteries already but I wasn't expecting to be such a good tool, as always getting impressed with the quality and easy to use even for first timers. I had to say the edging feature on this tool is amaizing
Date published: 2020-11-19
Rated

5

out of

5
by
DaleSoCal
from
Perfect Trimmer
I bought this one a couple days ago from HomeDepot on sale for Thanksgiving. The unit includes Lithium battery and charger. After fully charged, I took it out to trim my large front yard that I have delayed trimming from the last mowing. The trimmer is super light unlike my electric corded one that I have for years and very powerful. Perfect ergonomics. Completing the trimming in about 45 minutes and that's when the battery is out. If you have an average size lawn, this is more than enough and fits anyone to use. I'm impressed.
Date published: 2020-11-26
Rated

5

out of

5
by
SandiBurnaby
from
Excellent trimmer!
I bought this cordless trimmer recently to go with my Ryobi cordless mower. I was so done with the cords on my lousy trimmer. This machine is small and so amazing, I cannot believe how easy and efficient it is to use. I highly recommend this trimmer, life is grand!
Date published: 2021-05-04