+5
1700 PSI Electric Pressure Washer with Surface Cleaner
Model: #RY14122SB-ECOM
+5
The Ryobi 1700-PSI Pressure Washer is engineered to handle even your toughest jobs. With a powerful 13 Amp Electric Motor, this Ryobi Pressure Washer delivers 1700-PSI of force and comes with an 11 in. Surface cleaner, to knock out those large cleaning projects faster. Featuring a durable and compact roll-cage frame design this pressure washer is designed for easy transport. The On-Board Detergent Tank offers hassle-free cleaning by eliminating the need to drag a bucket and hose behind you. For added convenience, the Ryobi 1700-PSI Pressure Washer is equipped with on-board accessory storage and a bonus Turbo Nozzle for up to 50% more cleaning power. The Ryobi 1700-PSI Electric Pressure Washer is backed with the Ryobi 3-year limited warranty and is guaranteed to deliver results for years to come.
Features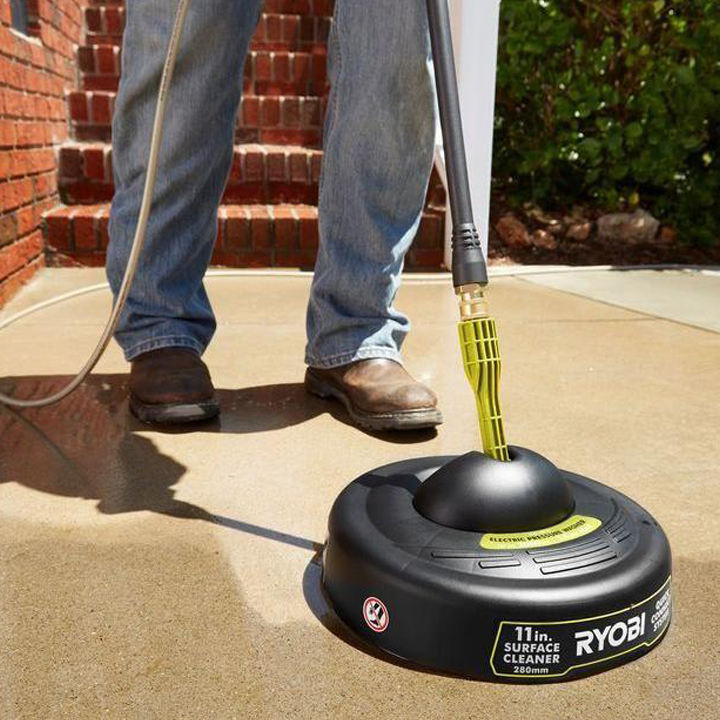 1700 PSI; 1.2 GPM
Powerful 13 Amp Electric Motor
Rugged Roll-Cage Frame Design
1 Gallon On-Board Detergent Tank for Hassle-Free Cleaning
Includes 2 Quick-Connect Nozzles (15°, Soap) and Turbo Nozzle
On-Board Accessory Storage for User Convenience
3 Year Limited Warranty
Specifications
Motor: 13 Amp Brush Motor
PSI: 1700
Flow Rate: 1.2 GPM
Pump: Aluminum
Hose Length: 25 ft.
Wheel Size: 7 in.
Weight: 34 lbs.
Includes
Electric Pressure Washer
11 in. Surface Cleaner
25 ft. High Pressure Hose
Handle Trigger Handle
Spray Wand Nozzles (3)
Operator's Manual
Reviews
1700 PSI Electric Pressure Washer with Surface Cleaner
1700 PSI Electric Pressure Washer with Surface Cleaner
is rated out of
5
by
412
.
Rated

5

out of

5
by
Crappieflopper
from
What a STEAL!
I have always owned gas pressure washers, in the past. I wanted to try an electric pressure washer to eliminate the need to use gas. I chose this washer to try. I am SHOCKED!!! This washer not only is convenient, but it is JUST as powerful as ANY gas washer I have ever owned! I read reviews before buying anything... And when I read reviews like this one, I automatically think 'This is someone from the company (or someone paid) putting this on there to boost sales. I will assure you, I am NOT affiliated with ANY company or industry related to this trimmer. It is just THAT good. PLUS!! It comes with a VERY good surface cleaner! Just a great value!
Date published: 2020-07-18
Rated

5

out of

5
by
MikeK125
from
The Works for Me RYOBI 1700 Pressure Washer
After using RYOBI Products for the last 5 years I decided to add another Great Unit to my collection of tools. I went and bought a 1700 PSI RYOBI Electric Pressure Washer. Let me say that this is the Best pressure washer I have ever owned. A snap and put together. Easy to run, even the Wife will use it. Just flat out cleans everything I put in front of it. Got it mainly for cleaning the motor home. Was worried at first that it would take up too much room. But with a handle that can be easy removed it stores nicely. The only draw back is don't show your wife, she now thinks it's hers. I might have to get another one! Keep on making COOL Products!.
Date published: 2019-04-25
Rated

5

out of

5
by
Melbell
from
Ryobi Product rules.
I bought my power washer about 2 to 3 months ago and it was the best investment that I could of done. Ryobi products are amazing anyways and that's why I always stick with it. Great warranties, great products and they always work when you need them too. I also bought the Ryobi air pump for my on the go activities and of course it gets the job done in no time flat. I'm like a kid in the candy store every time I go to the Ryobi section of the store. I always end up buying something Ryobi. The power washer is in my opinion just as good as the gas and oil ones. Gets the job done just as fast and if not better. Keep up the good work with the Ryobi product.
Date published: 2019-03-20
Rated

5

out of

5
by
Lloryck
from
Super easy residential pressure washer.
I have a Trex composite deck. I also have Oak trees. The deck is on the north side of the house. This means I get schmutz from the trees. Moss from being in shadow too much... and a bird feeder which brings additional deposits. It's been 4 years since the last cleaning which was done over 2 days using brushes and buckets. With the Ryobi 1700psi we did it in 4 hours ( 32 x 14 deck ) using a spray bottle of Simple Green (to loosen the grime) and the 11 in surface attachment, it was a breeze. The best part.... my wife wanted to do it all! Well she did let me squirt some stuff! Solid piece of equipment. I'm happy I bought it. BTW it's nowhere near as loud as a gas pressure washer.
Date published: 2017-09-17
Rated

5

out of

5
by
Jimbo2
from
Perfect for the Price
I bought this a few weeks ago as my old one broke down. The price was right and I needed it quickly. I love all the features on it compared to my old one. It is much easier to set up and take down. In Portland we are getting a lot of smoke and ash from the forest fires around us. My pickup is sitting on the street and covered with the ashes the wind is blowing in. The Ryobi Pressure Washer is perfect for cleaning all the forest fire ashes off my pickup. It did an excellent job. I used it to clean my cedar deck off so I could stain it. I highly recommend this product for general around the house use.
Date published: 2017-09-07
Rated

4

out of

5
by
97420
from
Does most jobs well
My wife purchased this for me as a birthday gift because I had told her that our house really needs a good exterior wash every year. I told her that I didn't want to deal with gasoline anymore, so electric was the way to go. This works prettt good, however we have a 2 story and it doesn't really work for that, despite any modifications I have bought. The surface washer is good for light duty, such as driveway cleaning; unfortunately it was no match for our mossy back patio. I had to remove the surface washer and use the concrete "massage jet" attachment for good results.
Date published: 2018-06-13
Rated

5

out of

5
by
JawshPardee
from
Fantastic unit and fun too!
I had no idea that my drive way and entry stoop were as dirty as they were before I used the pressure washer to clean them! The washer is simple to set up and even easier to use - in fact, my daughters (both under 10) also had a blast blasting the dirt and grime away from our backyard deck. All told, the washer worked well for over 2 hours of straight use and my concrete and wooden deck are positively gleaming! My only very minor complaint is that I had to bend over slightly to get the tip of washer's gun at an adequate distance for optimal washing, otherwise it's superb.
Date published: 2018-09-25
Rated

4

out of

5
by
Marcus S
from
Needs an adjustable spray pattern tip nozzle.
I recently purchased this machine to replace my old (brand X) pressure washer which was destroyed by hurricane Irma. My old washer had a wand with a built on variable spray pattern tip nozzle which made it very convenient, both quick and easy to adjust the spray pattern without having to change the nozzle itself. I was disappointed to see that this unit does not have that feature. This would be a quick and easy fix for Ryobi to include that type of variable spray pattern nozzle or at least make it available as an accessory that you could purchase separately. As long as you don't mind taking the time to change nozzles and still have limited spray patterns, this is a great little unit for the money and I would recommend it!
Date published: 2018-01-18