The RYOBI 1700 PSI Pressure Washer is engineered to handle even your toughest jobs. With a powerful 13 Amp Electric Motor, this RYOBI Pressure Washer delivers 1700 PSI of force for quick cleaning of driveways, decks, windows and other areas around the house. Featuring a durable and compact roll-cage frame design this pressure washer is designed for easy transport. The On-Board Detergent Tank offers hassle-free cleaning by eliminating the need to drag a bucket and hose behind you. For added convenience, the RYOBI 1700 PSI Pressure Washer is equipped with on-board accessory storage and a bonus Turbo Nozzle for up to 50% more cleaning power. The RYOBI 1700 PSI Electric Pressure Washer is backed with the RYOBI 3 Year Limited Warranty and is guaranteed to deliver results for years to come.
Features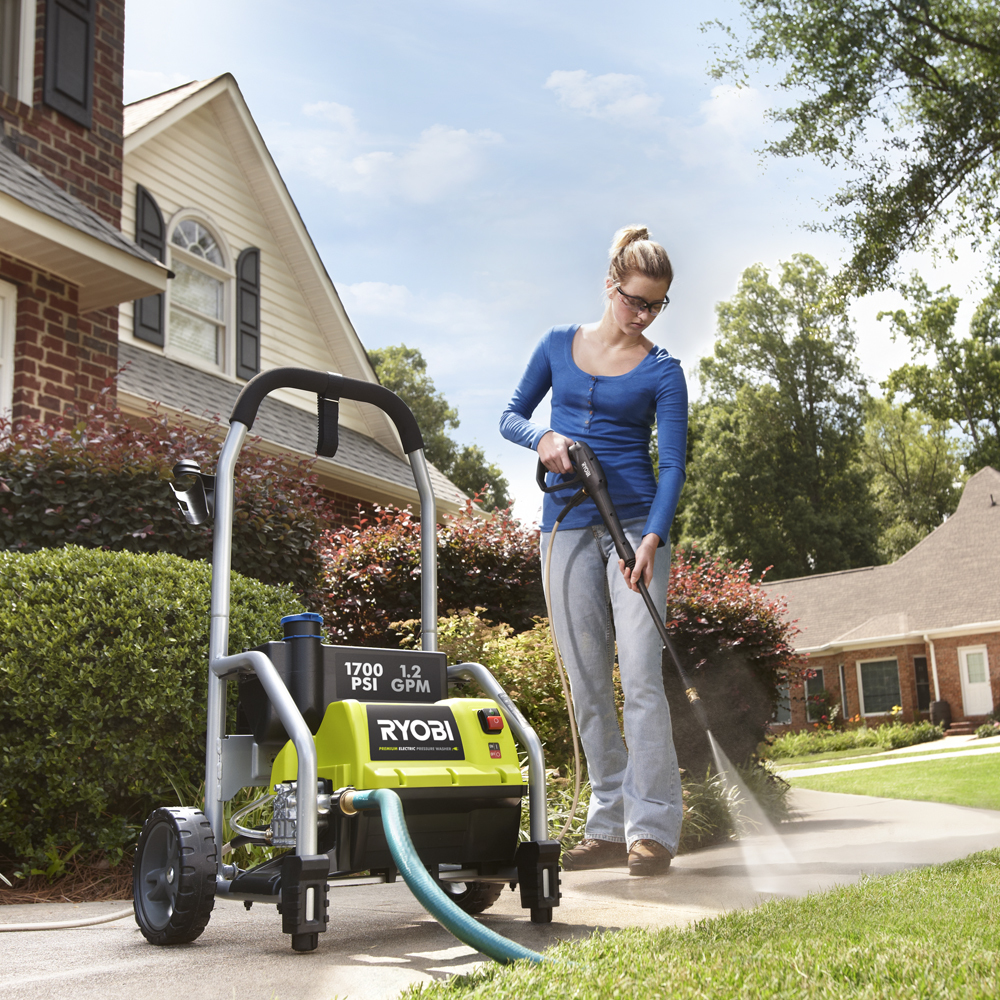 1700 PSI; 1.2 GPM
Powerful 13 Amp Electric Motor
Rugged Roll-Cage Frame Design
1 Gallon On-Board Detergent Tank for Hassle-Free Cleaning
Includes 2 Quick-Connect Nozzles (15°, Soap) and Turbo Nozzle
On-Board Accessory Storage for User Convenience
3 Year Limited Warranty
Specifications
Motor: 13 Amp Brush Motor
PSI: 1700
Flow Rate: 1.2 GPM
Pump: Aluminum
Hose Length: 25 ft.
Wheel Size: 7 in.
Weight: 34 lbs.
Includes
Electric Pressure Washer
25 ft. High Pressure Hose
Handle
Trigger Handle
Spray Wand
Nozzles (3)
Operator's Manual
Reviews
1700 PSI Electric Pressure Washer
1700 PSI Electric Pressure Washer
is rated out of
5
by
1888
.
Rated

5

out of

5
by
thermob
from
First Class Ryobi Engineering and Quality
We bought this power washer in 2015 when our previous one died as we were washing the house. We chose this Ryobi electric powered unit based on previous successful experience with our other Ryobi tools. Typically, the power washer engineering is innovative with attention paid to field application for the customer. The product quality is first class which I pay attention to after running three manufacturing corporations. The unit is relatively light and the power more than sufficient to reach the top of the house. We've already recommended this unit to others.
Date published: 2016-04-19
Rated

1

out of

5
by
JPHouston
from
Only used 3 times
I bought this product and only used it three times. Once for my driveway, once for my back patio, and a third time for my mom's driveway. I went to use it a month ago and it wouldn't start. I tried again last week and it's the same issues. It was not damaged in the recent flooding of Harvey. We have tried all the trouble shooting and am told that even if it is under warranty it would be at my expense to take it to a center or ship back for repairs. I might as well buy a new one and different brand. I have never had a Ryobi product before and I can't say that I will ever buy one again. Very disappointed.
Date published: 2017-09-12
Rated

3

out of

5
by
Tbone
from
Seems very useful!
I received this pressure washer as a Christmas gift, so I won't be using it until spring (in Ohio). It certainly seems like a well-made washer, but the docs are extremely Spartan. I learned how to use it through youtube. Seems like Ryobi could do a better job of explaining and directing the consumer. For example, how do I use the soap dispenser? Do I just dump detergent into the reservoir then turn on the washer with the appropriate tip installed? What do I do when the item (like a car) is washed with soap? How can I rinse it with soapy water? Your washer seems just great, the directions are pathetic.Certainly you can do better.
Date published: 2017-01-16
Rated

5

out of

5
by
TomBob
from
Just what I Needed
I bought this pressure washer to 'wash off the 13 years of dirt accumulation' on my driveway. I finished OFF the driveway (it did a great job) and then: a) washed the landscape stones b) the leaf gutters c) 1/2 of the house (I'll finish off in a month) d) my sister-in-law's 40 ft. sidewalk e) my sister-in-law's gutters and the entire front of her mobile home I will eventually clean off the sidewalk in front of my house, BUT, when I do that, it will make my neighbors sidewalks..........look bad. ( I think that they will ask to borrow my Ryobi washer. It has already: PAID for itself in the amount of work that I have done.
Date published: 2019-05-30
Rated

5

out of

5
by
BLS1
from
Highly Satisfied and Would Recommend
Bought this as a new homeowner to clean my garage floor and outside concrete areas of my front and backyard. Great instruction manual that is very clear and made set very quick. It took me about 20 minutes to set this up ready to use. Great power and I love that I don't have put any gas in it to power it since I it is sourced by electric plug in. The electrical cord is very long and doesn't hinder how far you want to use this to clean areas. I plugged it into an outlet in my garage and was able to clean my entire driveway. Perfect size for storage in the garage and the wheels are great. Highly recommend and will buy from Ryobi in the future.
Date published: 2017-10-02
Rated

5

out of

5
by
dave
from
Great pump, very minor flaws
There are 2 items that need to be fixed, first the hose connection is next to the frame, it is very hard to tighten the hose connector. The three wells for holding the spray heads DO NOT DRAIN, so the water stays in these causing the spray heads to rust. I fixed this by cutting holes in the bottom of these. The rest of the unit works as advertised, but I would really like to be able to buy and additional metal 3 foot extension, then I would not need a ladder to clean the fascia.
Date published: 2016-04-18
Rated

5

out of

5
by
BeachLife4Margie
from
Perfect for My Chores!
I'm getting my house ready to put on the market and wanted to freshen up the curb appeal without spending a lot of money. Keep in mind that I'm a widow with no children and have never done outside work. I was terrified of the idea of tackling this, but this pressure washer is absolutely perfect. My sidewalk, driveway and curbs are now white instead of black. My wooden siding, three porches and brick steps are now algae free and ready for fresh touch-up paint. This pressure washer was so easy to use, light weight and actually a pleasure, something I never thought to say about outside equipment. I've already recommended this to two friends.
Date published: 2018-10-08
Rated

4

out of

5
by
beachrunner
from
Cleans very well
I purchased this pressure washer 2 weeks ago and the pressure washer works nicely. I did have 2 issue, that Ryobi needs to look at and fix. Issue: I filled the cleaner container up (holds almost 1 gallon) and immediately cleaner started leaking out of the nozzle holders on top of the tank. I drained a little out to stop it from leaking, but once I started moving the sprayer around, on its wheels, more cleaner fluid leaks. Issue: I used the pressure washer to clean my driveway which took about 1-1/2 hours. Hardly and cleaning material was pulled from the tank. Had to put washer fluid on the ground to have enough soap to clean the driveway.
Date published: 2018-11-22