+2
1600 PSI ELECTRIC PRESSURE WASHER
Model: #RY141612
+2
The RYOBI 1600-PSI Electric Pressure Washer features a lightweight, portable design with on-board storage for user convenience. It also includes three nozzles: 15°, soap, and turbo for 50% faster cleaning. Great for use on bikes, campers, grills, patio furniture and more, the RYOBI 1600-PSI Electric Pressure Washer combines portability with convenience for a unit that can go anywhere to get the job done.
Features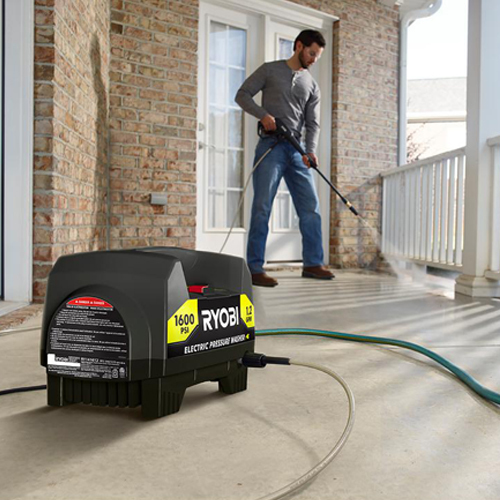 RYOBI 1600 PSI Electric Pressure Washer
Performance tested and rated in accordance with PWMA standard PW101 Light-weight portable design Compact for easy storage Turbo nozzle for 50% faster cleaning Spray wand with quick connect nozzle coupler
Specifications
Motor: 13 Amp
Pressure Rating: 1600 PSI
Flow Rate: 1.2 GPM
Hose Length: 25'
Cord Length: 35' with GFCI Protection
Weight: 16.39 lbs.
Includes
1600 PSI Electric Pressure Washer
Quick-connect Spray Wand
20' Hose
15°, Soap and Turbo Nozzles
Operator's Manual
Reviews
1600 PSI ELECTRIC PRESSURE WASHER
1600 PSI ELECTRIC PRESSURE WASHER
is rated out of
5
by
3197
.
Rated

5

out of

5
by
Tony H
from
Compact and Powerful.
I have used the power washer a couple of times already and my wife and I just love the results. My first project was the driveway. It removed the dirt, oil and algae so well the driveway looks like new! The difference is incredible. And this was all done with no soap. The compact size makes storage extremely easy too. That was one of the selling points that convinced us to purchase this product. Operation of the power washer is easy enough that my wife used it to clean the porch. She does not like complicated operations and I think she will use this again. Maybe I can get her to do the deck!!!! A guy can hope.....
Date published: 2017-06-28
Rated

5

out of

5
by
JimEvanston
from
Perfect for small jobs and easy to store
5 min after opening box I was using it. I first cleaned a patio table with the medium nozzle and then moved on to using ONLY the Turbo nozzle on 20 yr old deck, a basement stairwell and some newish concrete steps. The Turbo nozzle was not powerful enough to remove some rust stains or the painted black stripe on the ends of the stair treads but that's fine. I didn't buy this for stripping paint. So far it cleans everything I need without using any soap, and I don't have to store another large tool when I am done with it. The unit itself is incredibly lightweight, my back thanks you!
Date published: 2017-06-24
Rated

5

out of

5
by
ecoman
from
Works Fantastic
I bought this to replace a larger gas powered unit. This small unit that is so much easier an lighter to use did just as good a job as the gas powered one. super easy to clean up and store away for next use. i put it in a utility closet inside my house. no worries about gas going bad or making sure water is all out to prevent freezing during winter. also uses less water than the old one which is great when you have a well. see attached photos. back of house has not been done in a couple years, i have a side draft furnace which puts a lot of soot on the house. very happy with my purchase. P.S. also washed my cars with it and aluminum rims have never looked better.
Date published: 2019-07-15
Rated

5

out of

5
by
George in Sacramento
from
Small, lightweight and really powerful!
My last pressure washer was gas-powered, loud, heavy and clumsy. I hated it and eventually gave it away. That was about 15 years ago and since then our back concrete and brick patio has grown a thick skin of moss and grime. I picked up this little Ryobi today on a whim as I walked past a display at Home Depot. I was doubtful that such a small machine could cut through years of crud, but based on positive reviews I picked one up. This thing is about as loud as a kitchen blender and you can carry it with one hand while spraying with the other. It is fun and really powerful! Our patio looks new again.
Date published: 2018-02-10
Rated

5

out of

5
by
EddyRR
from
Fits Anywhere
Second pressure washer I buy, nothing wrong with the first one, if you have dogs you will understand. Why I bought it again when I could try a different brand you may ask?, well I was very please with the first one I had . It's not a daily use so I can't say how durable this machine is but I think It can last. it is small and it gets the work done. I use it for different chores around the house. I already recommended this product to my co workers, I had it in my trunk and they all wanted to see it. They thought It was too small and weak. They got amazed after I showed them how beautiful this machine worked. Same week, 3 of them bought one as well.
Date published: 2018-03-25
Rated

5

out of

5
by
Carlos V
from
A True "Game Changer!"
We purchased this pressure washer about a month ago, and it has had a significant impact our our home! We've used it to clean the siding on our house, and the siding now looks brand new. We've also used it to clean our back deck. The washer easily removed the grime and muck that had built on the deck, and has actually helped to reveal a deck that we now want to keep. Prior to washing it, we were thinking that it was something we would tear down and rebuild. The washer is super-simple to use, and is an AMAZING value for the price. If you are thinking of getting a pressure washer that is powerful, dependable, and effective - look no further!
Date published: 2019-07-04
Rated

5

out of

5
by
jgm104
from
Easy to use
This was my first pressure washer purchase so I wasn't sure what I was in for. It worked great for our deck, cleaning off years of grime and pollen buildup. I found the fold out instructions were very helpful and easy to follow. I was a bit aggressive, using the 15 degree nozzle (partly because I didn't want to introduce soap for my first use). I learned to keep a fair distance from the wood since that's an abrasive tip and can tear at the wood (human error). Once I found a sweet spot for distance I was able to make quick work of the cleaning, a couple passes for each plank. Very happy with the purchase, now on to the patio and driveway.
Date published: 2020-03-31
Rated

5

out of

5
by
Anonymous
from
Excellent performance
I bought this pressure washer on Friday evening and used it Saturday morning to clean two decks and the fence. It was simple to set up, simple to use, and surprised me by cleaning the decks/fence to perfection. I didn't even use any cleaner/soap. The only problem: my outside electrical outlets are installed on a faceplate and they have a cover over the plug-in receptacles. I had to use an extension cord to plug the power washer in. Not a big issue, but maybe the next design could include a better solution - the current plug is too long to fit all receptacles. I've used other power washes in this category and this one is the best and easier to use.
Date published: 2019-06-10