+3
16 IN. Variable Speed Scroll Saw
Model: #SC165VS
+3
Introducing the RYOBI 16 in. Scroll Saw with maximum cutting capacity and tool free blade changes. Its cast aluminum table tilts from 0-45° and integrated blower dust blower keeps the cutting surface clear of debris for maximum visibility.
Features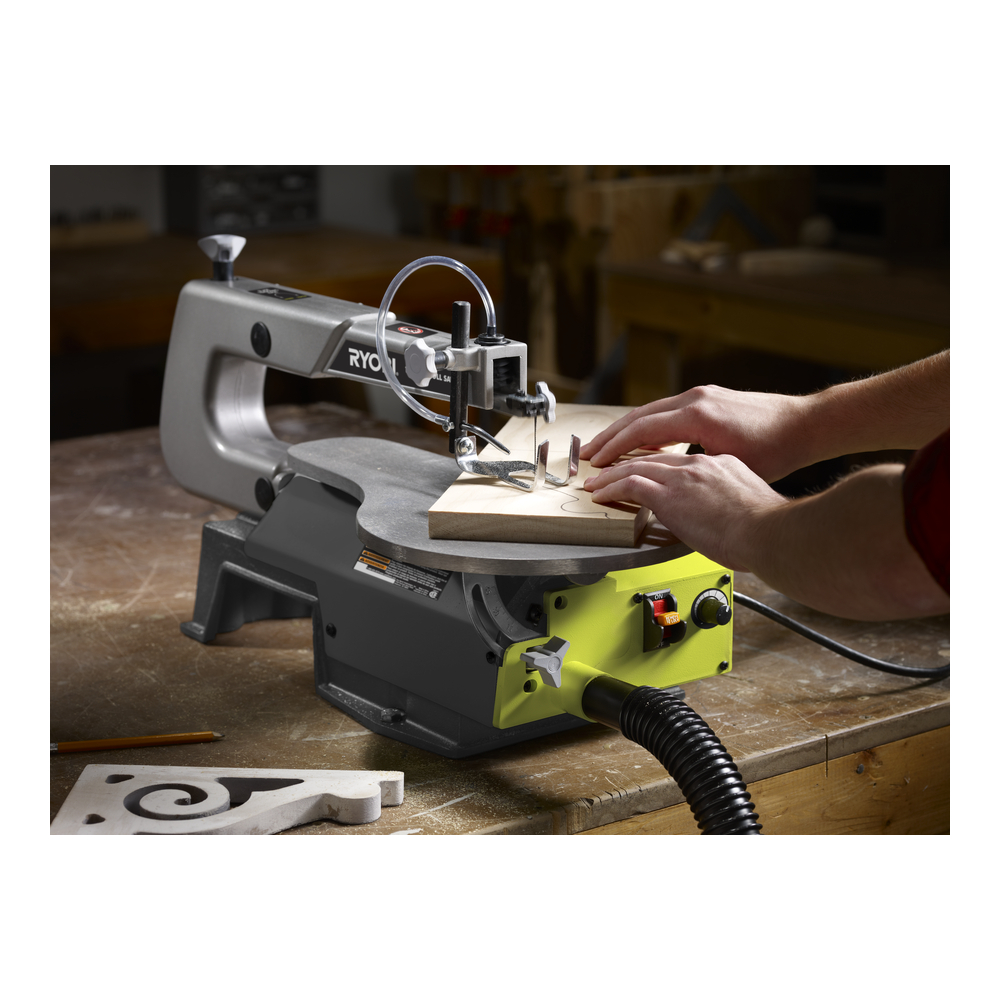 16" throat depth allows for maximum cutting capacity
Tool-free blade clamp accepts plain and pin end blades
Tilting cast aluminum table tilts tool-free from 0–45°
Integrated dust blower keeps the cutline clear for maximum accuracy
550–1,650 SPM electronic variable speed for a variety of cutting applications
Induction motor for long tool life and consistent performance
Cast iron base reduces vibration for a more accurate cut
Integrated dust port can be combined with wet/dry vac for a cleaner work area
Easy access blade tension knob makes adjustment quick and easy
Specifications
Max throat cut capacity: 16"
Max depth of cut: 2"
Speeds: 550-1,650 SPM
Motor: 1.2A, 60Hz, 120v
Stroke length: 3/4"
Includes
SC165VS Scroll Saw
(3) 15 TPI Pin End Blades
Blower Tube
Hex Wrench
Operator's Manual
Reviews
16 IN. Variable Speed Scroll Saw
16 IN. Variable Speed Scroll Saw
is rated out of
5
by
46
.
Rated

4

out of

5
by
Robzbrz
from
For the price, you cannot beat it
I purchased this as my first scroll saw a few years ago. The 16 inch was more than enough for what I needed at the time and for the price, how could I go wrong? The saw is great. Easy blade changes, cut through everything I put through it thus far including MDF, 3/4 inch ply, 1 1/2 inch glued up pine, and more. Another important tool in my arsenal, paid it off 20 fold in the amount of money it has made me. The only reason I give it 4/5 stars it because it tends to jump around a bit when not bolted to the work surface, even on low speed settings. When it is bolted, there tends to be a vibration that affects the work surface.
Date published: 2019-04-02
Rated

4

out of

5
by
HAS JR
from
Good for the price.
I got this saw for Christmas from my wife, prior to that I had a old craftsman model that was a challenge to use. For a beginner to the hobby I found to be a good choice. I had very few problems with my saw, but over all it works well. Perhaps I will up grade to a different tool later but for the price it good for now. The only thing that I would do not like is replacement parts are not readily available ie; screws for the blade clamps , plates for the work surface.
Date published: 2018-08-13
Rated

5

out of

5
by
Tim8890
from
Nice bandsaw!
After comparing many small bandsaw with similar size, I chose the ryobi because it had better build and features. Largest table size, lever tension lever, better tires on wheels, no vibration during operation, and better build quality were the reasons I went with ryobi. I had originally bought porter-cable, but when I started it there was a lot of vibration on table and lower quality build even with steel doors. I did need to square base to saw and there is movement in the blade guide that you have to pay attention to keep guide in correct position.
Date published: 2019-06-02
Rated

3

out of

5
by
cashew22
from
A good beginners machine
I purchased this scroll saw after my last one broke. I think it's a really good beginners saw that will get me by until I can afford to up-grade. The new clamps you're using are miles better than the old caliper style. The only drawback I've found with it (besides some vibration) is that the table needs to be lowered or the bottom arm raised because the reverse tooth blades only catch one or two teeth into the wood from the bottom - and only if I don't insert the blade completely into the bottom clamp.
Date published: 2019-07-29
Rated

4

out of

5
by
larry o
from
does what you'd expect from a scroll saw
Only used 3-4 times thus far but love it. I especially like that you can use the spiral blades with it.
Date published: 2019-04-09
Rated

1

out of

5
by
RKH Krafters Inc
from
Piece of Junk
I bought this saw three days ago. Blade broke second day while cutting a 1/4 MDF. Then after the blade clamp screw broke inside the holder. Called several times the number mentioned but no answer. Website says product is back ordered. Want to return back and will go for some other brand. Can't wait so long as it is harming my business.
Date published: 2021-01-28
Rated

5

out of

5
by
Navypcc
from
More than enough power
Bought this to replace a 40 year old Craftsman that I couldn't get blades for. This one is so much more powerful, wish I'd bought it much sooner.
Date published: 2019-04-03
Rated

3

out of

5
by
harpolemond
from
Excellent dust removal; Worked fine
Just purchased a couple days ago. It works fine, and had some issues that I was able to address. This is a longer review, as I am an advanced user looking for a machine for rough cuts and sanding. I am a semi pro as well as advanced user and a blue ribbon state fair winner. So I decided to take some time with this: My main machine right now is a new Excalibur. I have also used the Dewalt dw 788 and its similar Delta models. I bought this as a smaller footprint to use for sanding only since I use pinned blades with adapted sanding sheets on the scroll saw. This will be used for sanding only and perhaps some rough cuts only. So I am looking at this from that perspective. This is very detailed. I know of other reviews on this saw. Some good some less so. I read one where the blower did not work. Mine does, well .....etc... Saw another review where a motor control arm broke on first use. Mine didn't and works fine. Both pros and cons are intermixed here as I found fixes for some issues. NO MOUNT HOLES ON BACK OF SAW I am going to drill some. Saw was packed well, and no damaged parts. Was in original packaging. Saw is lightweight and has what appears to be Aluminum table. Cast Iron base. Tested on a low cost wood top work table. Placing on a permanent work bench may yield better results regarding vibration: Using a pinned blade at medium high pitch, low speed shows low vibration, with the blower working well. Increasing speed as expected did increase vibration, and on high speed vibration was somewhat pronounced but manageable. Deck size adequate for use on smaller pieces. Though a sixteen inch throat on this machine I would probably keep my work with blades at 5-10 inches due to vibration. Material hold down, which the manual calls a drop foot is connected to the blower feed. I don't use the hold downs at all so that was not tested, but since it must be lowered to the work-piece it required the blower to be adjusted each time a different thickness of wood was needed. [Not as easily done as with higher end saws.] After testing I removed the hold down. Both the blower and hold downs use Phillips screws so they were adjustable. Blower works well Tension knob works well and is easily accessible on back of saw. On off switch has a safety feature and the variable speed seems to work fine, and I noticed only a small amount of lag around the higher end. Sweet spot for speed about half way. Pinned blades easily attached. Note: In order to attach any blades to the bottom clamp there is a cover on the left of the saw covering the entire lower arm assembly. It has two screws that must be removed or the lower blade camp cannot be accessed. I looked the saw over well, and there is no way my hands will reach that lower clamp without removing that cover. I chose to leave it off, but keeping in mind the moving lower arm during use. I found no reference to this cover in the manual. I have found no other way to reach this lower blade mount. The table will tilt and this feature works well. Blower is very functional but I could see dust floating from it, and decided to wear a mask in its use, HOWEVER If you have a shop vac or a larger vac system it can be used with this saw. and is a front mount, which is directly under the blade and out of the way. I estimate more than 90% of dust was controlled with the vacuum outlet. I raised the blower tube all the way up, pointed the blower directly at the top of the blade. This allowed enough blow down the blade to keep the front of it uncovered for cutting. Should work that way for sanding as well. So the vacuum system for it does work and actually I was impressed. [Dust is one of my major concerns and I try to control that in all of my work.] The deck is very rough and appears stamped. But, even if not, it is far to rough for use with any delicate wood. At least I would not. To Ryobi- I ask: Can this deck be worked with as I state below? My fix? I am considering sanding this deck down to 1000 grit and then buffing with Johnsons paste wax All this said, it is a keeper. I will be using it for rough cuts and sanding. Which is why I bought it. So do keep in mind what you intend to do with a scroll saw and get what you need, Ryobi makes some good equipment, I own other pieces, they do some good work. I would not recommend this machine as a learning one as attaching non pin blades is somewhat difficult, and higher end machines are much easier to work with in that regard. I recommend it as a back up for other uses. I am a high end user that was looking for a low end machine to sand with, so I am used to simply fitting a non pinned blade and going to work in a flash. no image attached do to large files. All in all for the money this is a good machine. But not for heavy use, or making intricate cuts. photos are of the side plate removed and the lower blade chuck and screw upper right, and the lower arm ..the other pic is of the vac port which when attached to my shop vacuum worked very well. A nice feature.
Date published: 2020-01-07