+5
2 CYCLE 16" CHAIN SAW
Model: #RY3716
+5
The RYOBI 2-Cycle 16" Chain Saw is the perfect saw for any homeowner. With it's powerful 37cc engine and 16" bar, this saw is built to handle the toughest jobs. The anti-vibe handle will ensure a comfortable cut from start to finish. This tool also comes equipped with an automatic oiler to help prolong the life of the chain! As with most chain saws, safety is a huge concern. That is why this unit comes with an inertia-activated chain break and a safety tip to protect against rotational kickback.
Features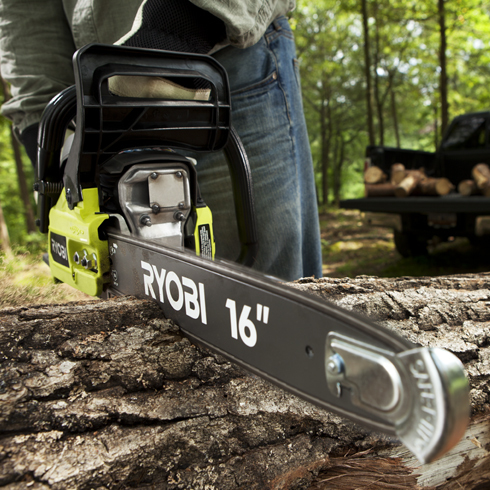 RYOBI 16 in. 2-Cycle Gas Chain Saw
Powerful 37cc engine
Anti-vibe handle for increased user comfort
Adjustable automatic oiler for longer bar and chain life
Tool-less air filter cover for easy service
Side access chain tensioner for easy adjustment
Inertia-activated chain brake stops chain automatically
Safe-T-Tip protects against rotational kickback
Includes heavy-duty carrying case
3-year limited warranty
Specifications
Engine Type: 2-Cycle
Weight: 10 lb
Engine Size: 37cc
Bar Length: 16 in.
Includes
16: Fully Assembled Chain Saw
2-Cycle Engine Lubricant
Carrying Case
Combination Wrench
Operator's Manual
Reviews
2 CYCLE 16" CHAIN SAW
2 CYCLE 16" CHAIN SAW
is rated out of
5
by
1506
.
Rated

4

out of

5
by
SteveB12
from
Not bad ...
I bought this saw to replace an old 16" electric chainsaw that had given up the ghost, to be used to take down a fairly large tree in my yard. This Ryobi worked well and did the job - started easily and repeatedly. My only reservation was the operation of the chain brake - it required some fiddling to get it to release. Simply pulling/pushing the handle would not work; I needed to move my hand down toward the pivot point and coax it off. Maybe I just got a stubborn one, but it was annoying to have to play with it to get it to release. The ultimate question for me was: do I spend and extra $40 to get a Stihl from Tractor Supply. In the end, I kept my $40 and went with this saw from Home Depot.
Date published: 2020-09-22
Rated

5

out of

5
by
Mz Nece
from
Great Saw
I bought this saw 2 months ago works great and gets the job done
Date published: 2020-09-22
Rated

5

out of

5
by
tr3y003
from
Great value, best case!
Amazing value! We had a storm that toom down a lot of trees! Chainsaws were flying off the shelf! We needed one, i almost compromised and bought a different brand. Luckily home depot got a new stock in! I snatched it up! The case is perfect! It has space to store the bar/chain oil (1quart bottle!) and the 2 cycle oil (16oz!) the scabbard also remove from the case to transport the chainsaw without the full case. The case is square not custom molded so its stackable with other items and not awkwardly shaped. The chainsaw itself is light but doesnt feel cheap. And it cuts through wood like butter! Following the easy steps to start from cold start it started up easy! Ive never had a problem with Ryobi products, and im positive with the proper care and maintenance this will last. Couldnt be more happy with this chainsaw!
Date published: 2017-05-06
Rated

5

out of

5
by
terrygh
from
Great features, easy to use
I had a chainsaw that was way outdated. Hard to start and, really lacked a lot of features to make it useable and, safe. It was very heavy and, hard to handle. This Ryobi is a dream come true and, very nice priced, love the hard case it came with, works well to store the tool and, accessories needed to have when operating. Simple operation, excellent safety features and, ease of use is great, perfect for my home use. Everything about this saw suits my needs for a chainsaw. I would recommend this saw to anyone looking for a tool with simple operation great features and, ease of use plus excellent performance at a price that is very affordable!
Date published: 2020-08-23
Rated

5

out of

5
by
Duncan
from
Great saw. great value
I have a lot that is just under an acre and have several trees. I got tired of trimming and thinning trees with a hand saw, so in March of 2018 I purchased this saw. I have used the saw on several occasions for small jobs and it has performed very well. One of the trees in my yard was a 50 foot Globe Willow that I planted in early 92. in recent weeks it had sustained some wind damage in the canopy of the tree that made it dangerous to keep because of the potential for branches falling on the house or possibly a family member. So this past week I cut all branches out of the tree that the saw bar length could handle. The saw performed flawlessly.
Date published: 2019-11-12
Rated

4

out of

5
by
DonaldBri
from
Great chainsaw for the price
To be honest I wasn't really expecting too much from this little saw. I guess I got caught up in the fact that its not one of those big expensive brand name saws. Right out of the box this thing has been chewing up the wood. I have used it a ton as I rely on my wood stove to heat the house. It is also pretty easy on the fuel and bar & chain oil as well. My only complaint, if I had any, would be that I have to sharpen the chain more often than I would like. Other than that this has been a great chain saw especially considering how much I paid for it.
Date published: 2017-03-12
Rated

4

out of

5
by
ChuckENJ
from
Good Chain Saw for Home Owner
I bought the Ryobi 16 chain saw about a month ago for cleanup for down branches and trees after hurricane Isaias came through New Jersey in August. The chain saw easy to use. The instruction is conveniently displayed near to handle. It was easy to cold start as instructed. The engine is good enough for cleanup purposes and served it's purposed. Occasionally, the chain bar get struck in the tree trunk and the engine hums, and had to pull the bar out of the tree trunk. If the engine was a little bigger/more powerful, it probably would not get stuck. Cleaning it up after use was easy. Overall, I would say is a good home owner's chain saw.
Date published: 2020-09-13
Rated

4

out of

5
by
s15s
from
Does the Job. Perfect for a homeowner.
I bought this one because as a homeowner, when you need a chainsaw, the power is often unreliable. I recently needed to cleanup after a storm and this machine works! It worked right out of the box. Be sure to purchase some bar and chain oil, as the package only includes 2 cycle oil and not chain oil. It's easy to take apart and clean and easy to replace the chain. The only reason I'm giving it 4 stars is because I wish it was easier to start, but I won't knock it too much since that's common with pull to start 2 cycle engines. If you're just a homeowner and need to cleanup some trees around your property, look no further than this!
Date published: 2020-08-11