+5
38" Electric Riding Mower 100 AH
Model: #RY48111
Low maintenance: no belts, spark plugs, or filters
Battery operated: no gas or fumes, charge and go
Up to 2.5 hours of runtime: up to 2.5 acres per charge
+5
Goodbye gas. Hello convenience.
Features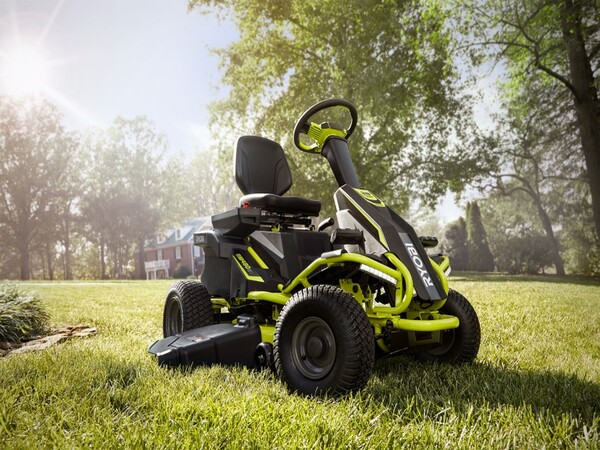 Low Maintenance
No belts, spark plugs, or filters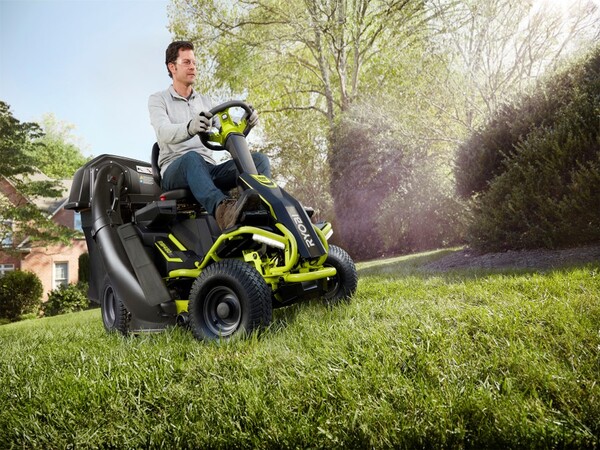 Battery Operated
Fully electric mower with zero emissions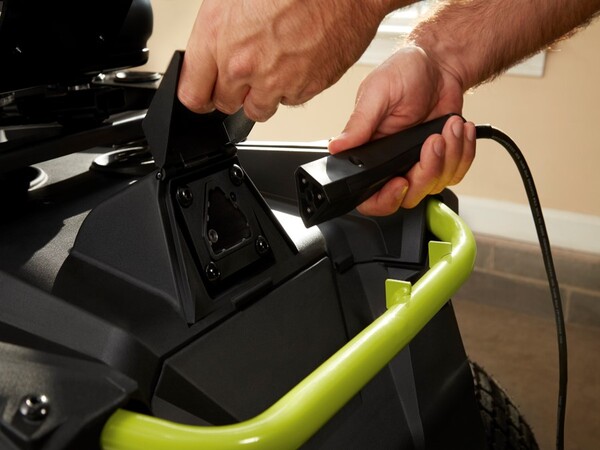 Up to 2.5 Hours of Runtime
Up to 2.5 acres per charge
3 High Powered Brushless Motors
Deliver GAS-LIKE POWER™
Cruise Control and Quiet Cutting
For user convenience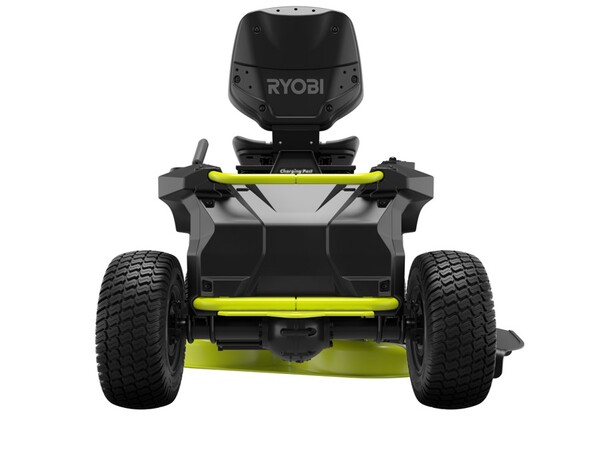 Cutting Options
Mulching, side discharge, and bagging (bagger sold separately)
Specifications
Dimensions
Cutting Height

1.5" - 4.5"

Deck Size

38"

Weight

678 lbs.
Details
Battery

48V 100Ah

Charging

Standard 120V Outlet

Cutting Area per Charge

2.5 Acres

Deck Height Adjustments

12 Position Manual Deck Adjustment

Max Speed

8 mph

Replacement Battery

Leoch model LPC12-100
Warranty
Warranty

3 Year Limited Warranty
Includes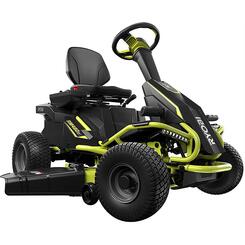 38" ELECTRIC RIDING MOWER 100 Ah
[#<ProductFeature id: 3074, title: nil, content: "38\" ELECTRIC RIDING MOWER 100 Ah", photo: "6db7012c-f890-4dd3-a522-b2d7fc2ca242.jpg", created_at: "2020-09-10 20:37:38", updated_at: "2020-09-10 20:39:06", product_id: 897, sort: 0, enhanced_type: "included_item", enhanced_group: nil, enhanced_icon: nil>]
Reviews
38" Electric Riding Mower 100 AH
38" Electric Riding Mower 100 AH
is rated out of
5
by
489
.
Rated

5

out of

5
by
happyman
from
Make a chore a joy
I purchased this mower to reduce the time that I had to spend mowing the lawn...in a sense, buying time. I had no idea that I would have so much enjoyment using it. I hop on with my music playing on my headphones and go. The mower is quiet enough that I don't have to turn my music up too loud and it isn't invasive on everyone else in their outdoor time. The best part of this mower is that when I get off, I can literally go and do whatever else I want since I don't smell like exhaust from a small engine! And, if you are unsure of whether it can do the job or not, I assure you that this mower delivers just as great of a trim to the lawn as a gas rider.
Date published: 2017-11-02
Rated

3

out of

5
by
Dlagro
from
Prefer the feel and foot operation of hydrostatic
Purchased a new Ryobi 100ah Riding Mower. I like the thought of electric, but this machine could use some more refinement. You have to flip the switch constantly to go from forward to reverse. The mower will not switch directions until completely stopped, so when mowing back and fourth, it becomes more of a chore operating the accelerator, the brake and the direction switch all simultaneously. I've also experienced one time in the last few uses where the mower lurched forward at full speed without pedal input and I ended up running into my enclosed trailer, leaving a nice neon green dent in it. Hopefully this doesn't happen again.
Date published: 2019-10-05
Rated

4

out of

5
by
RJL1
from
Great electric riding lawn mower
Great mower. It has strong power and cuts nicely. Assembly of the mower went smoothly because the instructions were clear. Operation of the mower was also easy because the instructions and the design were clear. We have a 1 acre property and the mower cuts the lawn with time left on the battery to spare. The only issue was that on the second time using the mower the front tire received a puncture from a plant shrub and the steering wheel started to squeak when turning. We were able to patch the tire with a repair kit. Maybe the tires need to be more durable, otherwise it is a great mower and we highly recommend it.
Date published: 2017-06-27
Rated

1

out of

5
by
Mike128
from
Really wanted to Like it but got a LEMON instead
Bought at the end of last summer...mowed twice before parking it for the winter...went to mow for the first time at the start of the mowing season and the machine was dead...it was stored in a garage and plugged in. Sent away for repair which took months and was happy to finally get it back but only used it twice before the electronic brake switch had issues. Now I gotta find a way to haul this expensive machine that won't move and has only been used a total of 4 times over the past 2 mowing seasons back to the repair shop...figure the rest of the season is shot but I am a little hopeful that maybe I can double the total amount of times used next season...we'll see
Date published: 2019-08-16
Rated

5

out of

5
by
Greg804
from
Awesome
Bought this from Home Depot and it was delivered on Monday, May 8th. To my great surprise, the Home Depot had completely assembled the mower so all I had to do was connect the battery and the safety seat switch and wait for the overnight charge. Mowed today and absolutely loved everything about this mower!! Fast, clean cut. no bogging down in high slightly wet grass, tight easy turning radius for super close trimming. My wife said I am like a little kid! I am a really big gut ( 6'3" 330LBS.) and the mower didn't even hiccup with weight and the adjustable seat gave me plenty of legroom. I wonder if there is a seat with armrests or add on armrests? Because my backyard slopes so much it feels as if I might fall out of the seat!!
Date published: 2017-05-10
Rated

4

out of

5
by
MasonGA
from
Nice quiet mow
I've had this mower for about a month and I have about 5 hours on it. So far it has performed very well for me. It's definitely pricey but I sure hate changing oil, so I'm happy with the purchase. I also purchased a Brinkly trailer from HD and it works great. It came in very handy after some big storms left my yard full of tree debris. I even helped my neighbors with their yards. I read a lot of reviews, watched videos and went back and forth on buying this mower over a gas rider. I don't regret the purchase. If I do run into any problems, I will try to update the review. Overall I like the mower and would recommend it.
Date published: 2018-06-22
Rated

4

out of

5
by
CharlieD
from
No Gas, mows good
I have been looking at this machine for a year. No sure about "wet cell" batteries. Not happy I had to buy it from HD. Wanted a "sales and Service" dealer. I have 2 acres just wanted this machine to mow 1 acre. Use my gas mower for the rough 2nd acre. Really believe in the battery powered yard tools. This unit runs good and mowed my 1 acre of real, some high, grass. Turns tight, maybe I need a seat belt to not fall off. Rate it a 4 because I hope Ryobi will keep improving this machine. Better batteries, control panel around steering post. Some suspension. Selling at a real lawn mower "sales and Service".
Date published: 2018-06-06
Rated

4

out of

5
by
Mike8493
from
Cool Factor 100%... Effective rider 80%
I have has this rider about a month now. I have had 2 previous gas powered riders and was more than frustrated dealing with repairs and spring / fall maintenance only to have them fail mid season. I love the battery power and almost no maintenance to speak of. Extremely quiet to cut, no hearing protection needed. I have a full acre that is a rough in spots, this rider can be jarring (more than my others) but you get used to it and cut slower in the rough areas. Overall I'm very satisfied and actually look forward to cutting grass now.
Date published: 2017-07-20