+2
10 IN. 15 Amp Table Saw with Folding Stand
Model: #RTS11
+2
The RYOBI 10 in. Table Saw with Folding Stand is a great option for homeowners and professionals alike! It has a powerful 15-amp motor, and features a steel roll cage design for added durability and frame strength. The folding stand on this saw is detachable, allowing the user complete customization of their work space. This saw provides a built-in extension table and integrated push stick storage, making it another great option for anyone in the market for a table saw. See below for more information.
Features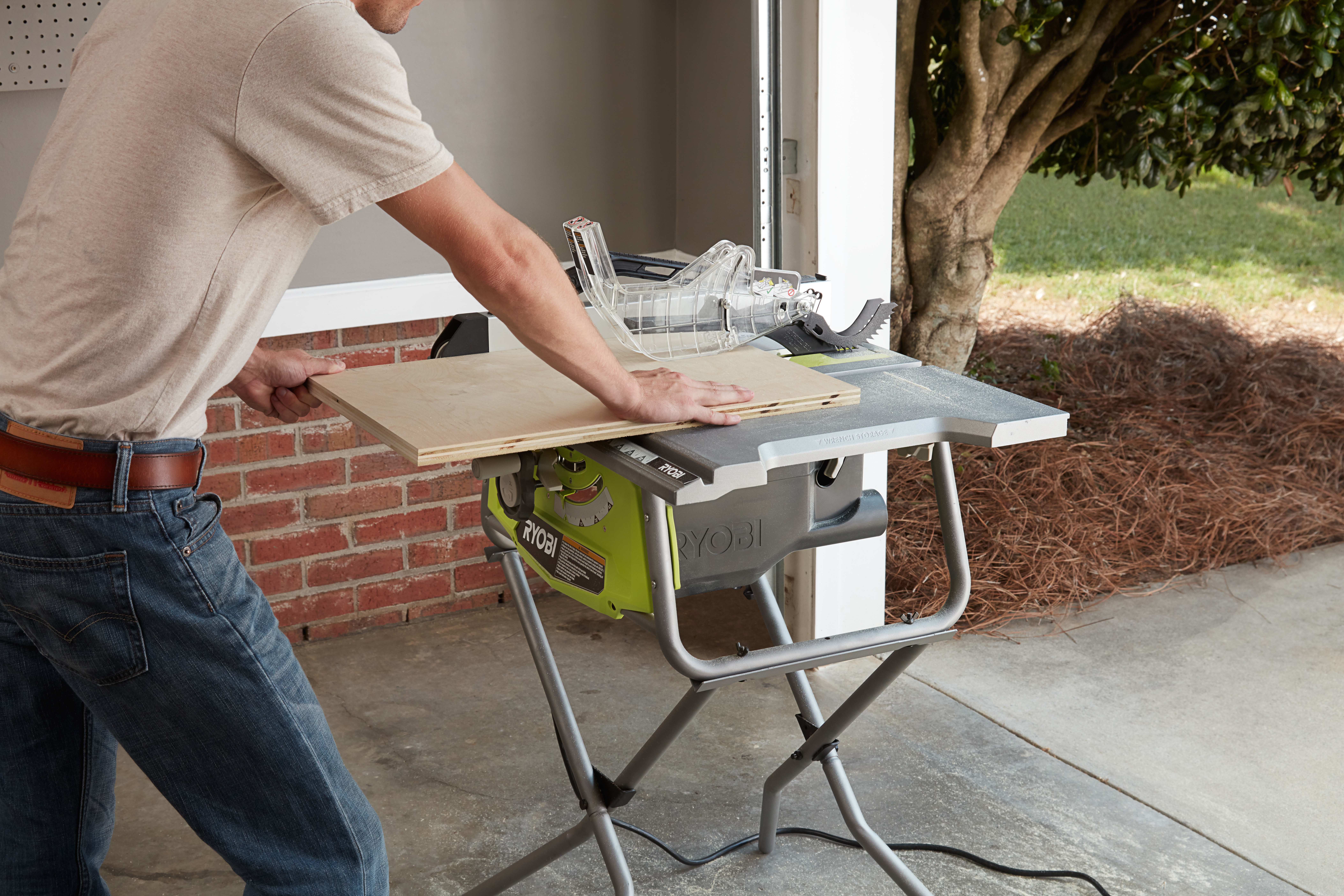 Features
Steel roll cage design for added durability and frame strength
Detachable folding stand for ease of use and storage
Cast aluminum table top for a flat, durable, and lightweight work surface
Integrated dust chute accepts all common hoses
Tool free guard for ease of use
Integrated push stick storage onboard rip fence for accessibility
Specifications
Motor: 15 amps, 120v
No Load Speed: 4,700 rpm
Blade Diameter: 10 in.
Cutting Capacities:
Depth of cut at 90°: 3 in.
Depth of cut at 45°: 2-1/2 in.
Dado width: ½ in. with dado throat plate
Rip Capacities:
12 in. right of blade
8 in. left of blade
Weight: 50 lbs.
Includes
RTS11 Table Saw, folding stand, and mounting hardware, 10 in. blade, push stick, miter gauge, rip fence, guarding assembly, anti-kickback pawls, and operator's manual
Reviews
10 IN. 15 Amp Table Saw with Folding Stand
10 IN. 15 Amp Table Saw with Folding Stand
is rated out of
5
by
57
.
Rated

3

out of

5
by
throwaway3245352345
from
Not accurate cuts
The miter gauge on this thing is so loose that it wanders side to side a couple of degrees, so you basically have no idea whether your cut will be accurate. You also can't easily make a new crosscut sled, because the channels for the miter gauge have these stupid bent-in channels that locks the miter gauge slider down, so you can't just cut some material to make new sliders because they won't fit right. The fence is also often inaccurate. Honestly it's the cheapest table saw, and considering that it works fine, but don't expect accuracy. You get what you pay for. Look into what kind of jigs you might need to make, andwhat work you will be doing before you buy one.
Date published: 2020-09-06
Rated

5

out of

5
by
Jay G
from
Great Cutting
I purchased this saw after purchasing several other Ryobi products that I have been very satisfied with. This saw is a great value for its price. It does not vibrate, the blade does not wobble at all, it cuts smoothly and very square. The fence is easy to adjust and does not bind up at all. I have never had any material kick back and feel very safe while operating this saw. I highly recommend this product as well as many others produced by Ryobi. I used to be dedicated to Dewalt, Hitachi, and Milwaukee now I am dedicated to Ryobi and own several products. Will be purchasing more Ryobi products in the future as they keep improving their product line. Very very hsppy
Date published: 2018-09-28
Rated

5

out of

5
by
rocko107
from
My first table saw and I have no compliants
Bought this when I knew I was going to take on a project of ripping out a rugged floor and redoing it via laminate wood planks. I knew I was going to have to do some stripping cuts and I wasn't going to do that with my skill saw. More recently I just rebuilt a 20x16 deck and had to use the table saw to strip cut the last couple boards as wel. Use the correct blade for the job in everythign cuts like buttter. Never any power issue. On/off button seems to be in a very convenient position. The unit overall is quite light so its easy to pick up and move to your working area, yet sturdy enough that you can be under control when cutting. If I had to do it all gain, I'd buy this same unit all over.
Date published: 2020-07-02
Rated

3

out of

5
by
Rodg68
from
Nice Saw
This ia a great entry level saw; I found it very easy to calibrate fence and blade. Unlike some others, I found it easy to remove/insert riving knife. Disappointed with design of miter slots; to make jig runners you need to make some intricate-precise cuts.
Date published: 2019-07-13
Rated

5

out of

5
by
Tim F
from
10 IN. 15 Amp Table Saw with Folding table
This last winter in Seattle area we had over 20 inches of snow accumulate on my building roof over my Hottub. It collapsed breaking apart. I bought the Ryobi 10 In. 15 Amp Table Saw with folding stand to cut the wood I needed to rebuild the roof. What a great tool this was to rip 10' 2x4's. The guide on the saw was terrific keeping the board in a straight line. The project went a lot faster then I expected and was easy to handle the portable saw moving it around my building. Thank you, Ryobi for making a all in one saw and table for an amateur like me.
Date published: 2019-06-28
Rated

5

out of

5
by
Ezed
from
Perfect saw for garage shop
Purchased this a few days ago after returning a Skil table saw. So far so good. The first thing I made for it was a picture frame miter sled. Then ai made a few picture frames. I couldn't be happier. The 28 tooth blade that came with cut surprisingly fine. This is my fourth Ryobi tool. Ryobi gives you great value for your money. Ryobi nailed it with this saw!
Date published: 2018-10-21
Rated

5

out of

5
by
KB_112
from
Very powerful saw!
I needed a new saw as my old one (different manufacturer) had a recall. I figured it was a great risk to switch to Ryobi and I am very happy in doing so. This saw is a lot of bang for your buck. First off it's extremely powerful and cuts like butter through everything I've thrown at it. The setup was super easy and the table is sturdy and sets up easily. The added dust collection port is great. The power and added features are fantastic at this price point. You can even run dado stacks on this saw. Hard to beat.
Date published: 2020-01-06
Rated

4

out of

5
by
brain drain
from
good value for the money
I am retired now, s I am learning new tools to do little projects around the house that I have put off for years. This is my first table saw. I decided to start with the smallest and cheapest table saw, mostly because I am cheap, but also I could not conceive of any need for anything larger. This saw was a little tricky to assemble, but not too bad. It works really great and is a great value for what it can do. I quickly realized that the 12" ripping surface is great for MOST cuts, but that is simply is too small for some of the cuts I had to make. I removed the ripping fence and slid the longer pieces of wood across the saw freehand. Fortunately the saw cut the wood really easily and straight so the results came out okay. I should have purchased a larger model or the one with a table extension for ripping at longer lengths. Nonetheless, I do recommend this saw - for smaller projects where you are absolutely sure you do not need to rip anything longer than 12 inches.
Date published: 2018-09-22