+5
Quiet Compact Garage Door Opener
Model: #GD126
Powerful 1-1/4 HPs* motor for excellent lift performance
Features steel reinforced belt drive for longer life
Quiet Drive System opens quieter than other garage door openers
+5
OPEN THE DOOR TO POSSIBILITIES
Features
Wi-Fi hub for ultimate control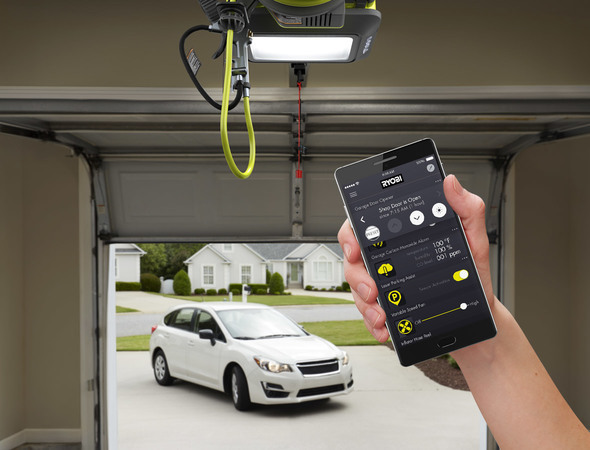 RYOBI Garage Door Opener App let's you monitor and control your garage
Faster installation with fewer parts and easy to assemble 4-piece rail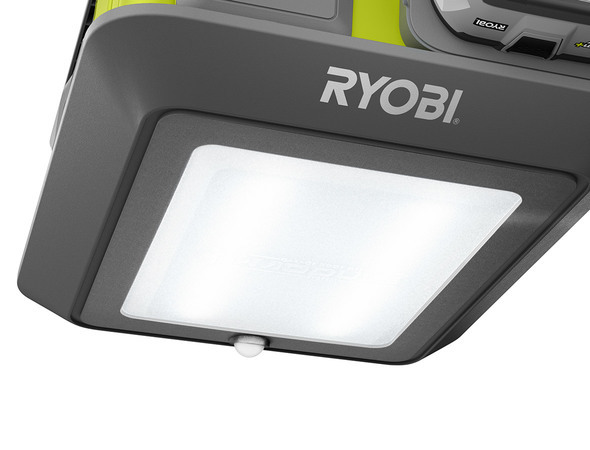 Long lasting LED lights so you're never left in the dark
Specifications
Details
Input

120V, 60HZ, 85W

HorsePower

1.25 HPs

Accessory Ports

4
Warranty
Warranty

3 Year tool warranty/limited lifetime for motor and belt
Includes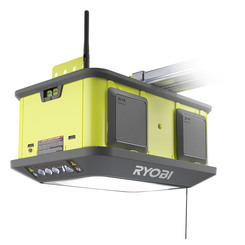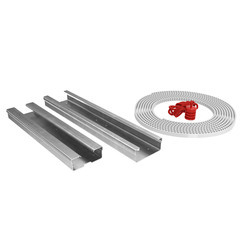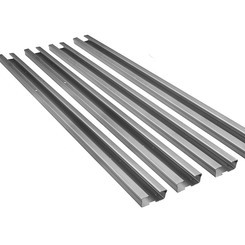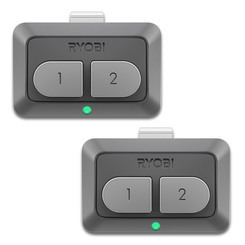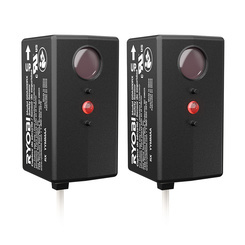 [#<ProductFeature id: 1398, title: nil, content: "Garage Door Opener", photo: "1fa8ff8a-9cd1-4df2-94f9-301f7840eee7.jpg", created_at: "2018-03-26 19:16:09", updated_at: "2018-03-26 19:16:09", product_id: 972, sort: 0, enhanced_type: "included_item", enhanced_group: nil, enhanced_icon: nil>, #<ProductFeature id: 1399, title: nil, content: "Mounting Hardware", photo: "b03e99c3-58b3-4727-b39c-1cf5f7849a6b.jpg", created_at: "2018-03-26 19:16:10", updated_at: "2018-03-26 19:16:10", product_id: 972, sort: 1, enhanced_type: "included_item", enhanced_group: nil, enhanced_icon: nil>, #<ProductFeature id: 1400, title: nil, content: "4-Piece Rail", photo: "b69efb58-6c6a-42ee-9fd4-4c1c10c05241.jpg", created_at: "2018-03-26 19:16:11", updated_at: "2018-03-26 19:16:11", product_id: 972, sort: 2, enhanced_type: "included_item", enhanced_group: nil, enhanced_icon: nil>, #<ProductFeature id: 1401, title: nil, content: "2 Car Remotes", photo: "3558e05c-5a71-495e-a78c-75ee2ed48a40.jpg", created_at: "2018-03-26 19:16:11", updated_at: "2018-03-26 19:16:11", product_id: 972, sort: 3, enhanced_type: "included_item", enhanced_group: nil, enhanced_icon: nil>, #<ProductFeature id: 1402, title: nil, content: "Wireless Indoor Keypad", photo: "0055c9fa-dc76-497d-9cda-218ab1ede1ee.jpg", created_at: "2018-03-26 19:16:13", updated_at: "2018-03-26 19:16:13", product_id: 972, sort: 4, enhanced_type: "included_item", enhanced_group: nil, enhanced_icon: nil>, #<ProductFeature id: 1403, title: nil, content: "Safety Sensors ", photo: "e5e7ddfa-13b1-48c1-a323-fed06d2d90ae.jpg", created_at: "2018-03-26 19:16:13", updated_at: "2018-03-26 19:16:13", product_id: 972, sort: 5, enhanced_type: "included_item", enhanced_group: nil, enhanced_icon: nil>]
Reviews
Quiet Compact Garage Door Opener
Quiet Compact Garage Door Opener
is rated out of
5
by
46
.
Rated

1

out of

5
by
smilee03
from
Powerful lift unit.....POOR wireless wall unit
I am definitely NOT impressed with this garage door lift system. I came from a 30 year old Stanley unit that worked flawlessly until it finally gave out a month ago. Replaced it with this unit. BIG MISTAKE. I live in the UP of Michigan. This unit has failed to lift multiple times in our cold winter climate. The wireless wall unit is 100% unreliable in cold temps. It beeps and beeps as it goes up....and coming down. Neighbors hate the noise. If this thing wasn't mounted to my garage already and I hadn't invested HOURS and HOURS troubleshooting this idiotic thing, I'd return it in a heartbeat. They sure don't make things like they used to. Avoid this unit at all costs.
Date published: 2020-02-06
Rated

1

out of

5
by
Army dude
from
Maybe the bigger one is better
Sadly this is not great design. I love the concept and love ryobi. But there are flaws. Right out of the package mine had a bad relay system and the wifi button on the unit didnt work. But the largest flaw in design it the fact that the attachment system is cut in half due to it being directly under the belt rail system after it is installed. Basically if you want the extension cable system and the air inflator you cant. You can have 2 smaller attachments under the rail but nothing that will poke up above the rail. Maybe the 2hp one is better but sadly this unit is what most people can afford.
Date published: 2019-12-06
Rated

2

out of

5
by
TomH
from
Quite, slow, and annoying alarm when lowering
I bought 2 of these and am happy with them, but have some install issues. First off, the batteries in both remotes in one of the units were dead. I wasted hours trying to connect them thinking it was an install issue. Never thought they'd ship expired batteries. You need both the youtube video and the manual to install, using only one will be incomplete. Some of the steps are out of sequence, they tell you to plug in the unit after it is needed in a prior step. also, every time you lower the door,an annoying alarm goes off.
Date published: 2019-03-12
Rated

4

out of

5
by
fischet5
from
SUPER SILENT OPENING- NOT SO MUCH CLOSING
I bought this opener for the silent feature, which from in the house, you can't hear it opening. However, when it closes, an annoying high pitch tone sounds while it closes, which I understand is a safety feature for WIFI controlled doors, but this totally ruins the quiet feature. I'll look into disabling that. The app is sub par and freezes and isn't that user friendly or visually appealing. The 2nd reason I bought this opener was that is Homelink compatible, which refuses to work with my 2010 Volvo which is irritating to the point that it may cause me to sell this unit since I can no longer return it. I'm not sure if there's something different about RYOBI, or maybe I can use the Homelink Compatibility Bridge that's advertised for other door openers to address the issue.
Date published: 2019-04-12
Rated

1

out of

5
by
Wags
from
Horrible.
I've had this for a little over a year. Nothing but problems. The functionality is great. When the openers work it's nice. But when you're in a hurry and have to go manually close your door. It's not worth it whatsoever. The support is awful. The app is awful. I use to have to reconnect/reinstall the door through WiFi to get to work for a day or maybe a week. But now it won't even connect to server. I wish I could return it. I'd buy any other brand. Constant lag, lag, lag! Did I say horrible yet?
Date published: 2020-03-11
Rated

1

out of

5
by
JSprawls
from
The security of your home may be at risk
The opener may work as expected but, the APP to control the garage door opener does not work and risks the security of your home and family. I installed the Ryobi GDO Systems APP on an iPhone, Samsung Galaxy and my IPAD III (device OS current) and can control the door but, the APP DOES NOT alert me when the door has been opened, closed, or left open. The BUI ALSO does not update when the door status changes. Without the Alerting to let me know of my door status, I cannot be assured that someone was able to hack my opener and gain access to my home. I will have to wait to hear it in the news that the device security has been compromised. If you buy this opener for the WIFI/Alerting feature DO NOT WASTE your $'s and time on this unit.
Date published: 2018-06-18
Rated

1

out of

5
by
47107
from
Stops working constantly
I have had this opener for a while now. At the time of purchase it had good ratings. Now I have to constantly reset it to get the app to work. The app is a piece of junk. Tried to install again and now won't let me. Wish I would have gotten a different one. The whole purpose of getting this one was so I didn't have to purchase so many openers and the app would have taken care of that if it worked. Unfortunately 8t only works when it want to and then opens the door all by its self and then you realize it when you get up or get back home. Ryobi needs to fix this but they don't. Buy a different one that has better reviews.
Date published: 2020-06-07
Rated

2

out of

5
by
Capt
from
So mamy setup issues
Wanted this to work but still has bugs to be worked out. Installed after 20 different attempts you have to connect each separate piece to Wi-Fi independently which means you have to restart your setup from scratch over and over again every time you reach a component or add-on that fails. the phone app is cool but it still doesn't work correctly after three phone calls to customer service they tell me their server is the issue and that should be fixed within a day or two it's been 2 weeks and it still doesn't work correctly sometimes the remotes and wall buttons don't work other times the app is the only way to open or close but it says the garage is closed but shows that it's open. lots of issues not a very good execution of product does not work as advertised disappointed.
Date published: 2018-04-30