+1
Power Tracer
Model: #ESV1000
+1
RYOBI Power Tracer is the industry's first all-in-one residential circuit tester and tracer. It allows you to instantly diagnose an outlet's wiring, as well as trace a circuit breaker with the push of a button. It fits into standard 3-prong, GCFI, and AFCI outlets. Power Tracer has an onboard diagnostics chart and neon indicators that tell you if an outlet is wired correctly or not. But it doesn't stop there, it can also easily identify unlabeled or mislabeled breakers and trace outlets up to 100 ft. from the breaker box.
Features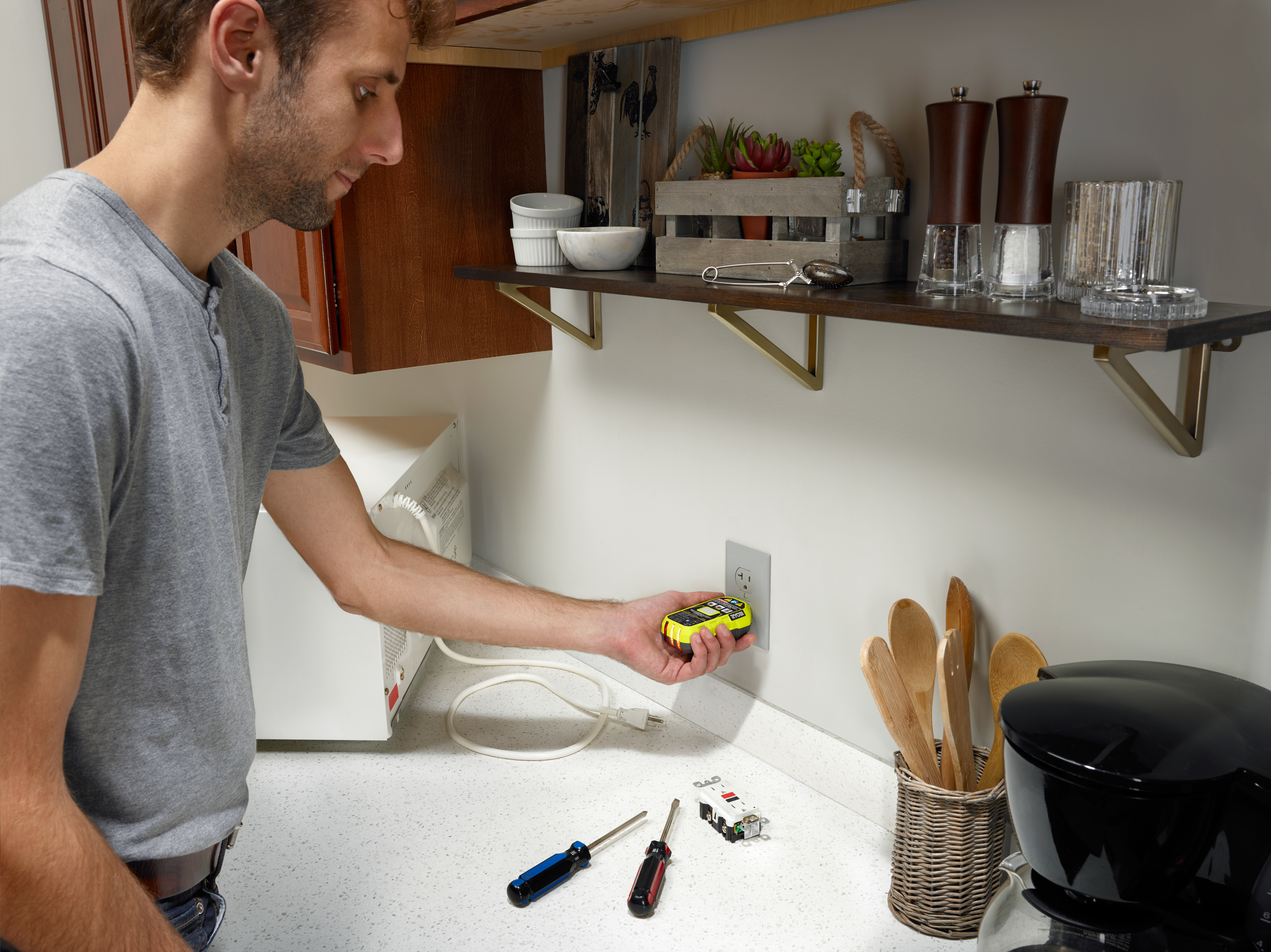 Features
Power tracer is equipped to operate in most commonly sized single-family homes
Safe and easy solution to begin electrical work
2-tools-in-1: circuit tester and power tracer
Can be used on standard 3-prong, GFCI or AFCI outlets
Takes the guess work out of finding the corresponding breaker when plugging into an outlet
Specifications
Depth: 1.34 in.
Height: 5.12 in.
Width: 2.56 in.
Weight: 0.5 lb.
Control Type: Manual/Analog
Reviews
Power Tracer
Power Tracer
is rated out of
5
by
16
.
Rated

5

out of

5
by
rdh601
from
Couldn't Be Simpler
For such a simple tool, this thing is great. I've had an outlet I've wanted to replace purely for aesthetic reasons for a while now. Attempts to find the breaker it was on did not work so well. I picked this up at a great price, plugged it in and it worked as promised. My breaker box had some mislabeling (and the house is weirdly wired anyways) so I never would have thought to flip the breaker this device tripped for me. Got my outlet replaced, powered up and tested good with this thing. For the price I would recommend this to any homeowner as an assistant for figuring out old wiring that may not make sense.
Date published: 2019-04-13
Rated

5

out of

5
by
Al007
from
Where has this been all my life!
The Power Tracer has in only a few weeks, become an indispensable item on my kit. First, the functionality of it's ability to trip the breaker is an amazing timesaver and improvement on safety. No guessing, and a solid verification that the outlet you are testing is connected to that breaker. No yelling down to the basement, no trips back and forth. Just push the button and voila! The form of the device is ergonomically sound. The lights easy to read, and the guide printed on both sides so you can take a look no matter the orientation of the outlets. Its comfortable size and shape makes it easy to operate with gloves on, which is a feature often overlooked except those working in cold houses. This is now on my gift list for friends.
Date published: 2019-10-18
Rated

5

out of

5
by
TimDIY
from
Awesome convenience
I used the tracer twice now to change a light switch in upstairs bedroom and a garage GFI outlet used for the freezer. It saves so much time looking for a breaker by trail and error since mine are not marked in the panel box. One just pushes the button and the breaker is tripped saving calls out to a partner or trips down to the panel box. The other features are convenient if helping a friend out or customer at an unfamiliar location to trouble shoot wiring problems
Date published: 2019-05-25
Rated

5

out of

5
by
Dukes3039
from
Ryobi Nation Continues to Stand Strong!
My grandmas house was built in the 1950s, been struggling with updating & fixing aging electrical issues through an electricians book & multiple electrical accessories but then came Ryobi Power Tracer and SIMPLIFIED MY PRECIOUS TIME!!! So Glad I have added it my toolbox. Definitely Recommend to any new home owner or novice handyman.
Date published: 2019-05-16
Rated

5

out of

5
by
KCChiefsFanatic
from
Great tool for many needs
I bought this with good expectations, but also wasn't sure if it would fit my needs. It did that and then some! It has helped me identify different circuits and areas where it was not captured on the utility box and helped me map out my home with the benefits this tool provides! Well done Ryobi!!!
Date published: 2019-06-12
Rated

5

out of

5
by
Ed Lindler
from
Easy to use
I've used this for several months now to check the wiring of outlets & trace circuits in Habitat for Humanity-built houses & it has worked great! Very easy to use.
Date published: 2019-07-15
Rated

5

out of

5
by
Jdi721
from
Easy to read
Bought this product about 3-4 weeks ago and used it several times since. Works great come late with good instructions and easy to read and use
Date published: 2019-04-05
Rated

3

out of

5
by
Dehawley
from
Great Idea!
This is a great tool when it works! Not for every application and has not worked in every try. When it works, it's great!!
Date published: 2020-03-30