Garage 16GA 30 ft. Retractable Cord Reel
Model: #GDM330
Get more out of your garage with the RYOBI Garage Door Opener Accessory System. Introducing the Garage Retractable Cord Reel Accessory. This unit is compatible with the RYOBI Ultra-Quiet Garage Door Opener (GD200). Tired of your extension cords getting stuck under your tires. This cord hangs overhead from the Garage Door Opener (GD200) and extends up to 30 ft. with 3 outlets. When you are finished, the cord reel retracts back into the unit. Get more control by downloading the RYOBI Garage Door Opener App. Visit RYOBITools.com/GDO
Features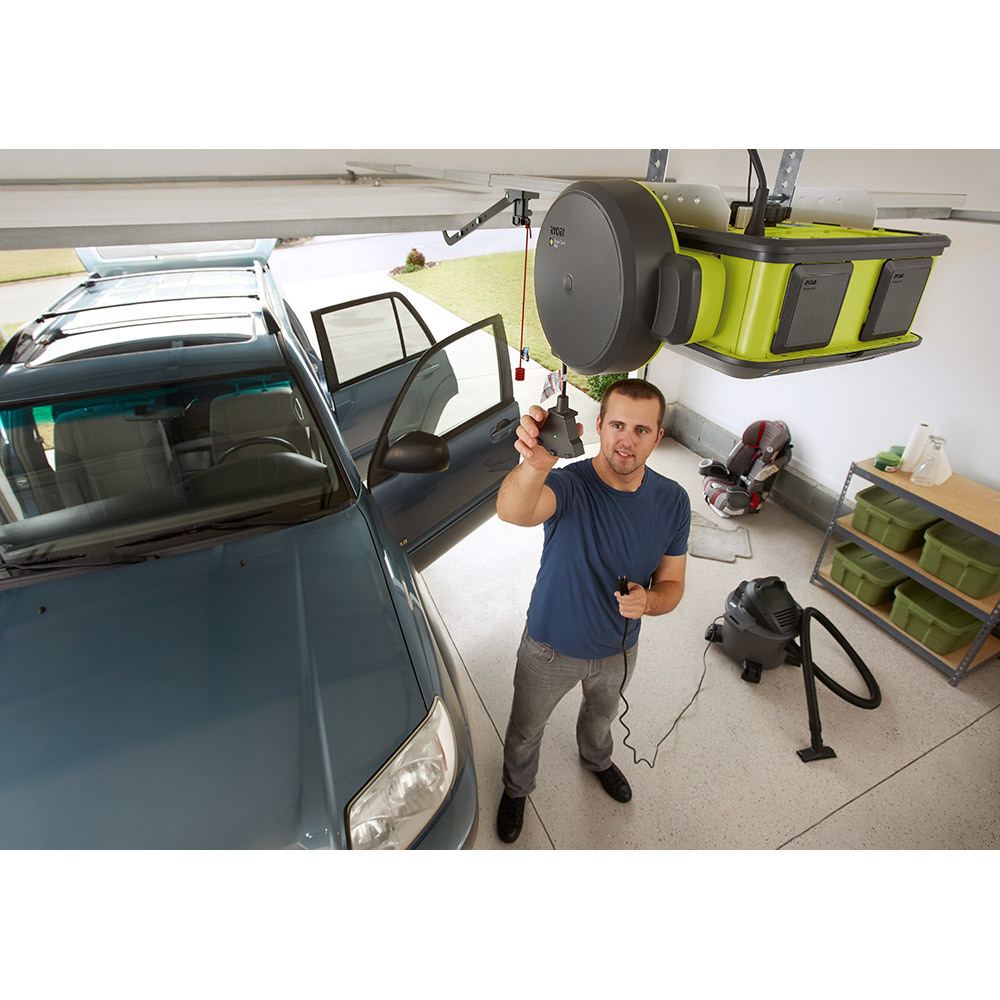 Features
30 ft. Retractable cord
3 Outlets with LED live-wire indicator
Adjustable auto-stop for varying height
Easy installation, simply attach to your RYOBI garage door opener (model# GD200)
Compatible with RYOBI garage door opener (model# GD200 containing GFCI protection and 10 Amp breakers against hazardous shock from damaged cords or exposure to water)
Download the RYOBI garage door app for personalized settings
Reviews
Garage 16GA 30 ft. Retractable Cord Reel
Garage 16GA 30 ft. Retractable Cord Reel
is rated out of
5
by
15
.
Rated

4

out of

5
by
x1111003
from
Essential space saver
Bought this a year after having installed the GDO. This is the second module I have purchased for the GDO. Bluetooth speaker and now the extension cord reel. Craftsmanship is superb. When it clicks into the port openings, you hear and feel it click in. Solid. Only thing I would change if I could would be to not have the 3-way plug hand down like it does. I would much rather have the plug up more towards the middle of the reel. I don't want to worry about the possibility of a car or truck roof rack catch that low hanging plug and rip the entire GDO down.
Date published: 2020-02-06
Rated

5

out of

5
by
Palliso1
from
A must have addition
I have had the extension cord module for a few months now, this is a must have. It makes vacuuming cars, using an electric snow shovel or general garage tasks easier by keeping the cord out of the way.
Date published: 2019-05-08
Rated

4

out of

5
by
FlawedLegacy
from
Great item, incredibly handy
Love this tool but in my very low clearance between ceiling and opener had to take down the opener to modify the brackets for it to fit.
Date published: 2019-07-28
Rated

1

out of

5
by
Stopped making
from
Stopped naking
I can't believe ryobi stopped making accessories for their garage door opener, that's why I bought ryobi. Makes you think what else ryobi will discontinue and leave you high & dry
Date published: 2020-07-07
Rated

4

out of

5
by
ColinL
from
Handy garage opener but with complications
Very convenient that you can add accessories, especially the extension cord to keep the garage tidy. I've had some issues with the remotes and have given up on it. It does the trick and is quiet so I'm. Or complaining too much. If there was better instructions, I think it would help someone who may not be as handy.
Date published: 2019-06-23
Rated

5

out of

5
by
Stevie24
from
Amazing add-on
I bought this over a month ago and it was worth every dollar. I can now grab the extension go where I need to use it with no cables all over the place. Pulls out easy and returns just as easy. I have 2 GDO's and considering adding another extension.
Date published: 2020-08-26
Rated

1

out of

5
by
Slorek
from
Useless
I am currently on my third one . It keeps tripping the GFI no matter what I plug into it. It's about as useless as the fan accessory to be honest.
Date published: 2018-12-19
Rated

5

out of

5
by
Iking
from
Great features
One of the most useful accessories that i like a lot, i dont have to grab a cord , its just very convenient available overhead.
Date published: 2019-05-31