+3
7 - 1/4 in. sliding miter saw
Model: #TSS702
+3
RYOBI introduces the 7-1/4 in. Sliding Miter Saw. This saw is compact and lightweight, making it portable and perfect for DIY jobs around the house. The heavy-duty 10 Amp motor delivers up to 5,350 RPM for the power to make difficult cuts or a variety of small cuts in wood. It features a 1-1/4 in. dust port to help keep your work area clean. The 40-tooth Carbide-Tipped blade provides improved performance for fast, clean cuts and cross cut up to a nominal 2 in. x 10 in. Backed by the RYOBI 3-Year Manufacturer's Warranty, the 7-1/4 in. Sliding Miter Saw includes a 40-tooth Carbide Tipped Blade, a blade wrench, a dust bag, a work clamp, two carrying handles, and an operator's manual.
Features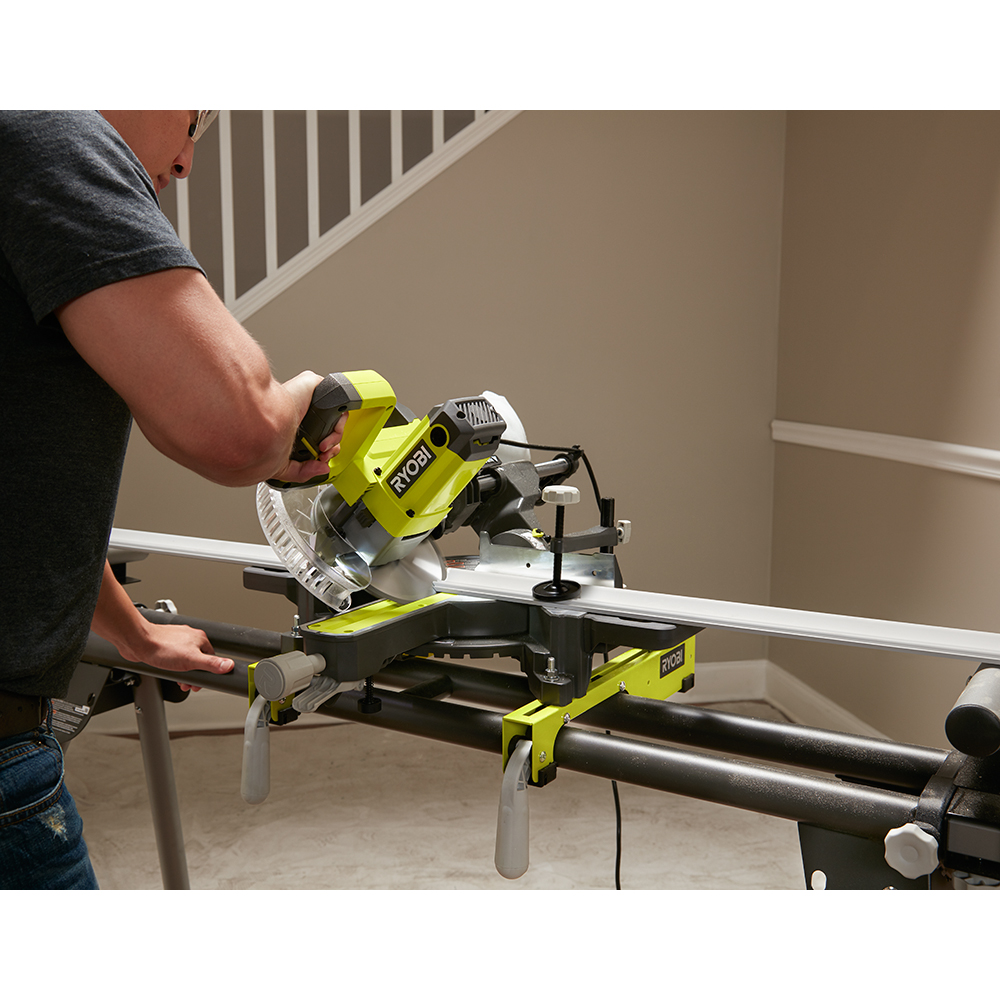 Cross cut up to a nominal 2 in. x 10 in.

Adjustable bevel from 0° – 45° left

Miter detent override for bypassing miter detent i

ndex points with one simple motion
Miter stops located at the most common crown molding angles 0°, 15°, 22.5°, 31.6°, 45° left and right for quick cut settings
Machined cast in miter scale for accurate table alignment
Miters 47º left and right to accommodate a variety of cuts
LED cutline indicator and work-light projects cut line and illuminates material for increased accuracy
Horizontal "D" handle for improved comfort
Spindle lock for easy single wrench blade changes
Electric blade brake stops the blade in seconds
Specifications
Motor: 120v - 60 Hz 10 Amp
Motor Speed: 5,350/min. (RPM)
Dust Port: 1-1.4 in.
Blade Arbor: 5/8 in.
Blade Diameter: 7-1/4 in.
Cutting Capacities:
Baseboard against the fence: 3-3/8 in.
90° miter cut (nominal): 2 in. x 10 in.
45° miter cut (nominal): 2 in. x 6 in.
45° bevel (nominal): 2 in. x 10 in.
Nested crown molding: (45°/45°): 3-3/8 in.*
Cord Length: 6 ft.
Tool Weight: 25 lbs.
*using sacrificial fence measuring 2-1/2 in. high by 3/4 in. thick
Includes
TSS702 Sliding Miter Saw with 40T Carbide-Tipped
Blade
Blade Wrench
Dust Bag
Work Clamp
(2) Carrying Handles
Operator's Manual
Reviews
7 - 1/4 in. sliding miter saw
7 - 1/4 in. sliding miter saw
is rated out of
5
by
61
.
Rated

5

out of

5
by
PatIndpls
from
A fine saw for this beginner
I've been using my saw for about two months and enjoy it more every time I use it. I'm a beginning woodworker, so my projects are fairly simple, but I work comfortably with this and faster and more accurately than a handsaw or circular saw. The size is great since I have limited garage space, but I can easily move this outside in decent weather. It was easy to setup out of the box, no adjustments needed. The slider is smooth and it's easy to adjust for angled cuts, so it's enough saw for me. The dust collection isn't perfect, but more goes in the bag than not.
Date published: 2019-11-23
Rated

5

out of

5
by
RenoJoe
from
Unbelievably great saw for the price
I bought this saw only because I needed a lightweight chopsaw I could abuse for hardie board siding (cement dust) and use in all weather. As a Carpenter and renovation contractor, I had very low expectations considering the price was under $150. This saw has performed amazingly, and accurately in all conditions and various materials, and I now LOVE it. My only complaint after a month of using it is that in the cold weather the cord has cracked at the point where it has a plastic strap screwed to the end of the rails. Other than that, it's held up fantastically, and if/when it dies, I'll buy another one.
Date published: 2021-01-25
Rated

5

out of

5
by
ashirtale
from
Great for a beginner doing DIY!
This was my Christmas present to myself and I finally tried it out today. After going thru' the operating instructions to familiarize myself with all the features, I started to experiment with basic straight cuts to sliding cuts to mitred cuts with scrap 2×4s. The dustbag is great, although you still have to shop vac up some sawdust. I would highly recommend this mitre saw to anyone like myself - a retired beginner with time on her hands and DIYs to do!
Date published: 2021-02-22
Rated

5

out of

5
by
Wolf55
from
Easy to use
I bought this about a month ago and I'm glad I did. I had some trim work to do in the basement and this made the job a whole lot easier. The unit did a really nice job on cutting the corners of the trim. No problem in getting them to line up. The unit itself was easy to use, especially for a beginner. Now, I think this unit is really only good for trim or other light cutting. It's not meant to do a 4x4. You'll need a bigger blade for that. Oferall, I'm very satisfied. It did what I bought it for.
Date published: 2020-03-04
Rated

4

out of

5
by
Kabe0
from
Pretty much exactly what I wanted
Bought the saw to do a bunch of trim work. As designs go, it's really easy to set to the right angle, and the handles make it easy to move around. The light helps a lot when cutting at night! Glides well and was easy to install new saw blades. Two comments I would say that would make it even better would be providing a laser guide, and providing a quick access door at the bottom so that wood chips that happen to fall into the void in the middle of the saw can be removed, otherwise you have to unscrew the top plate to remove the chips manually.
Date published: 2021-01-11
Rated

3

out of

5
by
Typhoon
from
Motor is too weak
I bought this saw so I didn't have to carry around my 12" saw as often. Problem is that this saw while having some good features like a light & sliding, the motor is too weak. I get heavy chatter while cutting through 2x, 1x material. I checked the blade thinking it was the issue, but it's not. The dust collection is almost useless, (as most are), but this bag is too porous & what ever small amount of saw dust it collects tend to sift out with transport. I'm a very loyal purchaser of Ryobi tools but this one isn't what I hoped it would be.
Date published: 2020-07-10
Rated

5

out of

5
by
beth242
from
Love this saw!
I bought this on sale before Christmas for $98. I have been so very happy with it. Cuts beautifully and it's not super heavy to move around. For the home handyman (or in my case, handywoman!) it's perfect!
Date published: 2020-01-25
Rated

5

out of

5
by
Seabass
from
Light, compact and better than a 10" non-slidng.
I bought this a month ago and I'm so happy I did. At first I was hesitant in buying a miter saw with a small 7 1/4'' blade but I noticed on my first cut that I had no reason to be. I would put this saw against any 10" non-sliding compound miter saw. This saw can cut 2x10's without slowing down. Do like I did and don't listen to the people who think this saw is too small. I've been doing woodworking as a hobby for 25+ years building furniture and this small saw impressed me.
Date published: 2020-12-14