+3
4V QUICKTURN™ SCREWDRIVER
Model: #HP44L
+3
RYOBI™ introduces the new 4V QUICKTURN™ Screwdriver. This cordless screwdriver is designed with a rotating handle so you can take it from a standard screwdriver to a stick screwdriver with one quick motion. And for extra versatility, this screwdriver features 2 speeds to perform a wide variety of applications. With a ¼" hex collet, the QUICKTURN™ screwdriver allows you to make quick and easy bit changes and it's powered by an internal 4V lithium-ion battery for steady, fade-free power. All backed by a 3 year warranty, you can get the 4V QUICKTURN™ Screwdriver exclusively at the Home Depot.
Features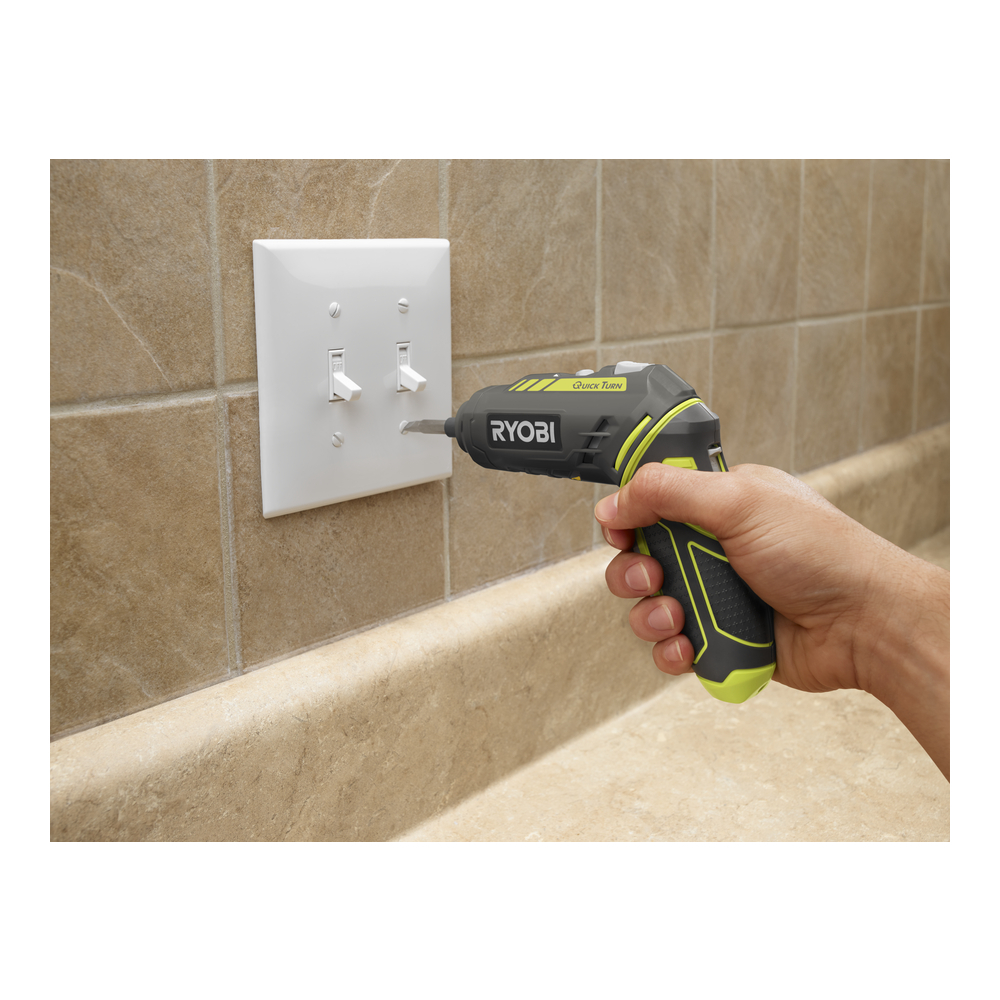 QUICKTURN™ allows for easy change between standard driver to stick driver
Two-speed gearbox (200 /600 RPM) (no load speed) for a wide range of applications
1/4 in. hex collet for fast and convenient bit changes
Two-finger trigger for added speed control
New and improved GRIPZONE™ overmold for optimum grip and user comfort
Specifications
Battery: Internal 4 Volt
RPM: 200/600 (No Load Speed)
Chuck Type: 1/4 in. Hex
Tool Weight: 0.5 lbs.
Includes
HP44L Screwdriver
Charger
(2) Screwdriver Bits
Operator's Manual
Reviews
4V QUICKTURN™ SCREWDRIVER
4V QUICKTURN™ SCREWDRIVER
is rated out of
5
by
99
.
Rated

5

out of

5
by
klossfam
from
Great versatile driver with surprising torque
I've had the Quickturn for over a year and put it through a lot. Battery life is excellent and I like that the LED on the driver and the charger both go out when fully charged. We drove over 100 screws (but in and out) when changing screens on a 7 ft x 11 ft porch and it never needed a charge. I also use for removing panels on vehicles for oil changes, etc. Very flexible tool and I'm say I use it in the 'gun format' 75% of the time. The two speeds (200 rpm and 600 rpm) are great. At 600 rpm, you can even use for light drilling jobs. Overall, a great value and one of the most used tools at home and at our cottage.
Date published: 2019-08-28
Rated

4

out of

5
by
Dcgem
from
Great household driver
This driver works great and i would give it five stars if it had a bit holder on it. For some reason these little drivers never have a bit holder which leaves the "other" bit somewhere else and not always with the driver. Frustrating when you want to use it for a quick job and cant locate the other bit quickly. Another issue I discovered through use is the fwd/rev switch does not seat or click into position fully at all times. This leaves the driver in a neutral position without being able to operate. Overall, i like this driver really well and would buy it again. I spend the $1.48 for a 1/4" clip for the other driver. Come on designers, get with the program!!!
Date published: 2019-07-14
Rated

5

out of

5
by
Jrey1084
from
Great small project screwdriver!!!
I wanted to have a screwdriver to put together furniture and to help me around the house with projects. A drill is nice but they are to big and heavy for small things. This has 2 speeds. I use low most of the time. It's nice to have that higher speed though for the times you have the longer screws with tiny threads. The fact that it can change from stick style to pistol is great to. I mostly use pistol but there are times where it's a tight area and being able to switch is a lifesaver. I would definitely buy this again and have recommended it to friends and family!!!
Date published: 2019-07-24
Rated

5

out of

5
by
TICTOC
from
4V Quickturn Screwdriver
My wife got me this for Christmas 2018. Had a similar unit by Black & Decker that stopped holding a charge. This one by Ryobi is perfection. Being able to use it in two different positions; straight or drill style, makes it very versatile. All my other tools are also Ryobi, including 2 weed trimmers, a lawn mower and snow blower. When I need a new power tool, I always go Ryobi. I love the 4V so much that I want at least 2 more so I always have one available for my use or my wife's use. We are a Ryobi house forever.
Date published: 2019-06-16
Rated

5

out of

5
by
CTWsr50
from
Just What I Need - Every Family Should Have This
I'm not the guy who will ever be accused being "Mr. Handyman". If you had to have a license to buy tools based upon proficiency, I wouldn't be writing this review. Everyone needs one of these. The Quickturn" feature is great for changing angles for best leveredge. I bought it a couple of days ago and did this last night. (One problem, -I have an extra screw and washer!! - HELP!!)
Date published: 2018-04-17
Rated

4

out of

5
by
Bkrmon
from
LOVE THE 2 SPEEDS
I purchased the RYOBI 4v to replace my four year old SKIL 4v that finally died after many household minor chores that I just didn't need my 20v Dewalt for. Both 4v's seem to have the same amount of torque when using as a power screw driver. I am impressed with the two speeds my new RYOBI has. Now I can drive screws on level #1 and drill holes on level #2. Great feature. I like using the pistol grip but like the versatility of switching quickly to a straight driver when needed. The location of the forward and reverse switch is much better than my old SKIL 4v. The SKIL is designed so that I accidentally bumped it before and during operation even after four years use. Not so with my new RYOBI 4v. The only reason I stopped at 4 stars is I was spoiled with the light my SKIL had. Despite the lack of a light, I am very happy with this gem. It is a great compliment to my 20v Dewalt, more so than my old SKIL 4v.
Date published: 2020-03-18
Rated

1

out of

5
by
Saddened RYOBI tool User
from
Missed Engineering
I bough this with anticipation that it would hold up to all my previous great examples with RYOBI tools!! I was very quickly disappointed. When using any typical bit, I soon learned that there is no way to lock the bit in. If you lower the gun down, the bit falls out. Sorry RYOBI, but someone missed the boat on the design of this one!!
Date published: 2020-12-01
Rated

5

out of

5
by
GWS1
from
Tought little Tool
I bought this screw driver to replace a Black and Decker screwdriver that had broke back in July or August 2018. Right away I was impressed with the torque and speed this little unit had, nothing extraordinary but a definite improvement over what I had before. Where this little tool shines is in its durability! On November 27th, my Father had a heart attack. I was out in one of the pastures on our Ranch about 1/4 mile from the house when I got the call. The Quick Turn screwdriver was in my jacket pocket and fell out as I hurried to the house. When I realized I had dropped it I went to look for it later and could not find it. On March 13, 2019 I was back in the same pasture and lo and behold there was the screw driver!! I picked it up, pull the trigger and to my amazement, the tool STILL HAD A CHARGE and functioned. Took it back to the house, cleaned it up and you cannot tell it had been sitting out in the elements for 3 1/2 months. I don't normally do reviews but this little tool deserves some accolades.
Date published: 2019-03-16