+1
25 FT. Tape Measure
Model: #RTM25
+1
With this RYOBI 25 ft. Tape Measure, accuracy and durability are everything. It features a measuring range of 25 ft., making it perfect for all of your larger projects. It's reinforced rubber overmold housing fits comfortably in your hand while also making it impact resistant and heavy duty. The blade features fractions markings for superior accuracy and a nylon coating for wear resistance and durability. It also features an ACCUSLIDE® hook that automatically adjusts for inside and outside measurements. The wireform belt clip reduces belt/pocket fraying and helps keep your tape measure within reach. The blade lock feature holds the blade in place while taking measurements for convenience.
Features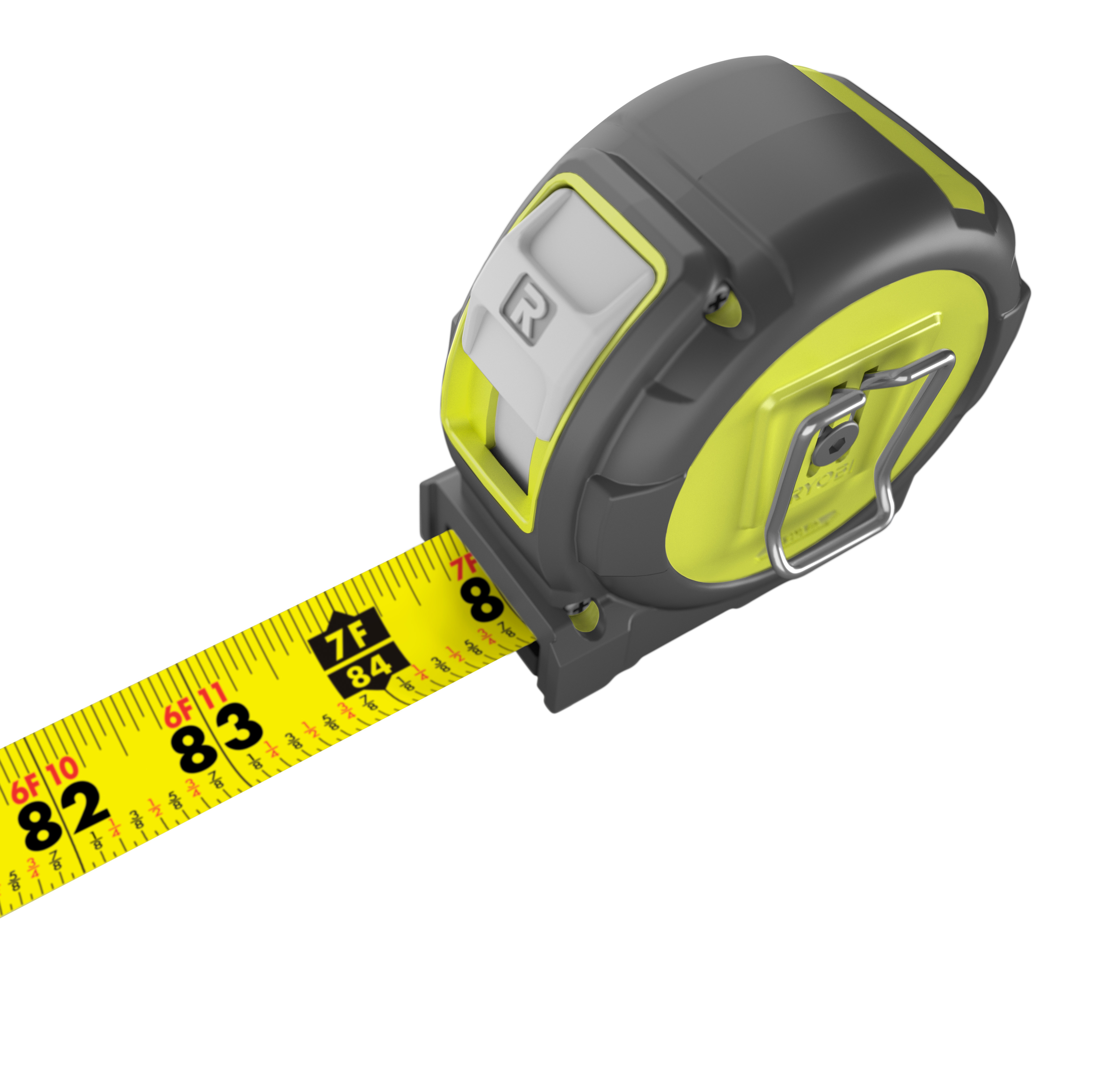 Features
Fraction markings
Reinforced rubber overmold housing for impact resistance
Nylon coated blade for durability
Wireform belt clip
ACCUSLIDE® Hook for precise measurements
Blade lock holds blade in place
Specifications
25ft. blade length
7ft. standout
Reviews
25 FT. Tape Measure
25 FT. Tape Measure
is rated out of
5
by
11
.
Rated

5

out of

5
by
Ace Tech
from
Measure of Greatness
The Ryobi 25 foot tape measure is a great addition to my ryobi tools collection. It is well made and works great.
Date published: 2019-08-28
Rated

5

out of

5
by
Drlongdong
from
Overall superior
Extremely satisfied with my amazing measuring tape. Definitely recommend it to anyone.
Date published: 2020-07-23
Rated

5

out of

5
by
Mantown
from
Measure
i got this for me to use at work have to do lots of measuring this was a great tool
Date published: 2020-09-05
Rated

5

out of

5
by
KEN B
from
Ryobi 25 foot tape measure
I have been using the Ryobi RTM25 tape measure for the past two months. I've completed three projects with this measuring tape and this is what I can tell you about it. I've dropped it three, maybe four times without the tape measure getting damaged. That showed me it's quite durable, probably because it has a rubberized coating on the housing. It has a nice wire clip for fastening to your work belt or tool pouch and it has never fallen off once I place it on my toolbelt. The Accu slide end has three rivets to hold it securely to the tape; it also has the hole slot for hooking onto a nail, and the end is nicely oversized to grab the item you're trying to measure. Overall right now I'm giving it five stars. Oh and it's under six dollars, you cannot go wrong with this 25 foot tape measure! Good job on this item Ryobi.
Date published: 2020-09-08
Rated

5

out of

5
by
Jbengio
from
Cool look, great price!
Fantastic, quality tape measure. Love the cool look.
Date published: 2019-04-02
Rated

4

out of

5
by
Eddie G
from
Easy to find and know it's yours
I bought these cause I was looking for new tape measures after my old one broke. Our local stores don't sell so must be purchased online. Easiest way to find my tape measure in a crowded job site. Only complain is that the locking mechanism is not strong enough and won't hold the tape in place. Makes things a bit difficult.
Date published: 2019-01-31
Rated

5

out of

5
by
DYImom
from
Nice measuring tap
It has markings down to the 1/8 of an inch which is really helpful getting measurements perfect!
Date published: 2020-10-21
Rated

4

out of

5
by
IMHO
from
It works. It's durable.
To Ryobi: please make measurement numbers so they're readable on both sides
Date published: 2020-11-01