25 FT. Tape Measure
Model: #RTM25 | Home Depot Sku #: 1002227207
With this RYOBI 25 ft. Tape Measure, accuracy and durability are everything. It features a measuring range of 25 ft., making it perfect for all of your larger projects. It's reinforced rubber overmold housing fits comfortably in your hand while also making it impact resistant and heavy duty. The blade features fractions markings for superior accuracy and a nylon coating for wear resistance and durability. It also features an ACCUSLIDE® hook that automatically adjusts for inside and outside measurements. The wireform belt clip reduces belt/pocket fraying and helps keep your tape measure within reach. The blade lock feature holds the blade in place while taking measurements for convenience.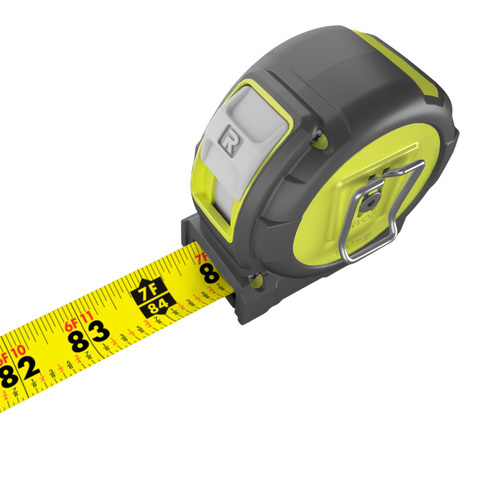 Features
Fraction markings
Reinforced rubber overmold housing for impact resistance
Nylon coated blade for durability
Wireform belt clip
ACCUSLIDE® Hook for precise measurements
Blade lock holds blade in place
25ft. blade length
7ft. standout
Click the link below to access power tool replacement parts schematics and order parts online.
For those customers that prefer ordering by phone, simply contact the RYOBI master parts distributor at toll free 1-877-634-5704, and place your order over the phone.
Visit Ryobi Power Tools Parts Store
---