18V ONE+™ Workshop Blower
Model: #P755
Introducing the RYOBI ONE+ 18V Workshop Blower. This compact and lightweight blower is ideal for cleaning up your workshop and jobsite areas. With a maximum air speed up to 160 MPH you can blow away dust and other messes in a flash. This workshop blower also features a variable speed trigger with 3 speed settings so you can adjust the speed to your needs. This cordless blower is part of the RYOBI ONE+ System and works with any of your ONE+ 18V batteries.
Features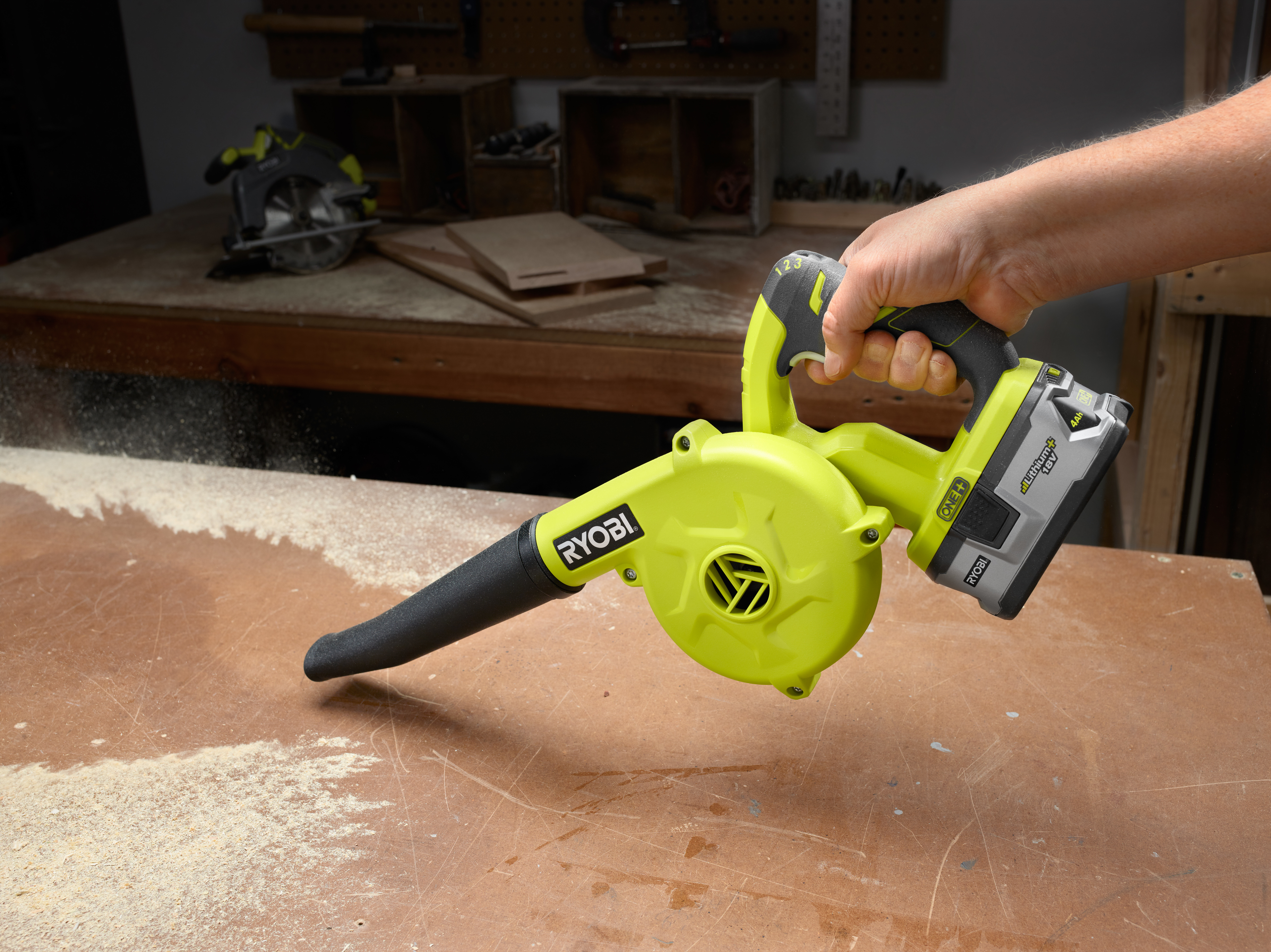 Features
Maximum air speed up to 160 MPH
Compact and lightweight
3 speed settings
Variable speed trigger
An integrated rubber nozzle to protect surfaces
Specifications
Battery: 18V
CFM: 93
MPH: 160
RPM: 5,700-19,800
Tool Weight: 2.5 lbs.
Reviews
18V ONE+™ Workshop Blower
18V ONE+™ Workshop Blower
is rated out of
5
by
252
.
Rated

5

out of

5
by
Les T
from
A handy tool to remove sawdust
Several years ago I had a small dicad battery blower/vac tool which was great. But the batteries gave out and the company no longer made the tool. I came acres this RYOBI and bought it to try it. It had a 3 position switch which I was not happy about because the previous one had a variable speed dial. To my surprise, even though it had the 3 speed switch it also had the variable speed ability by trigger pull. The advantage of that is sometime you need to remove sawdust without blowing the tools off the bench. It is light weight and easy to maneuver to get into small areas and yet powerful enough to clear leaves from the sidewalk and patio . A great tool.
Date published: 2019-08-20
Rated

5

out of

5
by
Brett D
from
Better than expected
I already have a Ryobi cordless leaf blower and it struggles to blow grass clippings off the sidewalk. I got this one primarily to clean the dust off my ShopBot cnc machine. I was literally BLOWN AWAY with its performance. It has a nice removable, flexible nozzle which lets you easily store it in the Ryobi padded bag. On high, it not only blows the dust off my cnc machine but it can be used for blowing dirt and grass off sidewalks, patios and driveways. I love the 3 speeds because I can dial down the air volume when I am blowing off my laptop that attaches to the cnc machine without blowing the mouse or laptop off its shelf.
Date published: 2019-07-01
Rated

5

out of

5
by
dww1
from
Vesatile and Effective
Intended use: blow off most of the water droplets on my (waxed) vehicles after washing. Excellent results as it minimizes/removes about 75% of the larger droplets very quickly. Follow immediately with a thick microfiber drying towel and no water spotting/glass/mirror/streaking. No need to use saturate 1-2+ towels to dry vehicle. Great for blowing water out of crevices, wheel spokes, lug nut holes, grills, etc. Lightweight and highly maneuverable with plenty of high setting blower tip air speed. Soft rubber nozzle is very protective. Fully charged 4aH battery will almost completely do an Altima sized car plus a 4-door full sized truck, about 10 minutes per vehicle.
Date published: 2019-04-07
Rated

4

out of

5
by
Bdeezer
from
Easy to use
This is a great little blower. I purchased it to use when I go camping and for blowing off my porches at the house. It has 3 speed levels 1 2 3. The higher you go the more battery you use. The unit I bought came with a 2.0 ah battery. It charges quickly enough for my purposes. I also bought a 4.0 ah for longer run time. The only complaint I have is the air intake. If you are right handed and hold the blower to close to your body it will pull your clothes over the intake. This is really a minor inconvenience but could be corrected by designers and then it wouldn't be an inconvenience at all. Overall this is a great little blower.
Date published: 2020-10-08
Rated

5

out of

5
by
Mark B
from
WOW This Is Awesome
I finally found the best blower on the market. I had been looking for a blower to carry in my camper. I have purchased two others and returned them because they were unacceptable. I needed light, compact, and powerful. I found it in this tool. I was so impressed. I carry a Ryobi drill for my jacks and general use and an impact gun for unexpected roadside emergencies. I have now completed my camper arsenal so I need to go get another one for the workshop. If you are looking for a tool like this you will not be disappointed. I love my Ryobi collection of 20 plus 18volt and corded tools and wouldn't change it for any other. Quality, affordability and durability in all of them.
Date published: 2020-06-05
Rated

4

out of

5
by
Uncle Bob
from
Powerful and compact
I bought this blower for clearing debris/dust from work benches and areas. However, I began using it to remove water from my vehicles body after washing it. It drives the water from nooks where a towel won't reach, as well as elimination of swipe marks and such that usually appear after driving away from the car wash as well as those water trails that come out of hiding as soon as you start driving. It's performance and compactness make it perfect for the job and the rubberized nozzle is gentle enough that lightly bumping the trucks surface isn't a concern. I give my ride the best possible care and receive compliments on it's condition and appearance on a regular basis and this blower is a very nice addition to my trucks "beauty routine".
Date published: 2021-03-05
Rated

5

out of

5
by
Kapo
from
Unsung Hero
I bought this blower for the compact size and to easy clean up DIYer projects. So this thing is by far a lot more then what it can do! I prefer this blower over my large blower, it is light, powerful and can do just about anything for a small yard. I have used this to clean up my garage, my workshop, home jobs, and I used this to clean my stairs from fresh snowfall, to include snow off the top of my car. I love this blower! It easily became my favorite Ryobi tool!
Date published: 2019-10-14
Rated

5

out of

5
by
Randy The Hack
from
A LOT of power in a compact little blower
I bought this workshop blower 3 weeks ago for my wife - she is constantly using a leaf blower to clear cut grass, leaves, and dirt from our front porch and our deck. She was having to deal with starting our gas blower, and it is large. The Ryobi workshop blower is nearly as fast and as powerful as our gas blower, and it's ten times easier and simpler for her to use. It does everything I could hope for, and it is so convenient, my wife is not hesitant at all to use it. It's a great addition to our Ryobi equipment here at our house. I would recommend it to anyone!
Date published: 2019-06-24