+9
18V ONE+™ Workbench LED Light
Model: #P727
+9
RYOBI Introduces the 18-Volt ONE+ LED Workbench Light. This versatile light can illuminate work spaces from all angles. With the rotating 270 arm, is ideal for detail work with concentrated lighting area. With up to 9 hours of run time, this light won't leave you in the dark. In addition to the convenience of 270° rotating arm, the workbench light produces over 950 Lumens to illuminate large work spaces and runs cooler than halogen or incandescent lights.
Features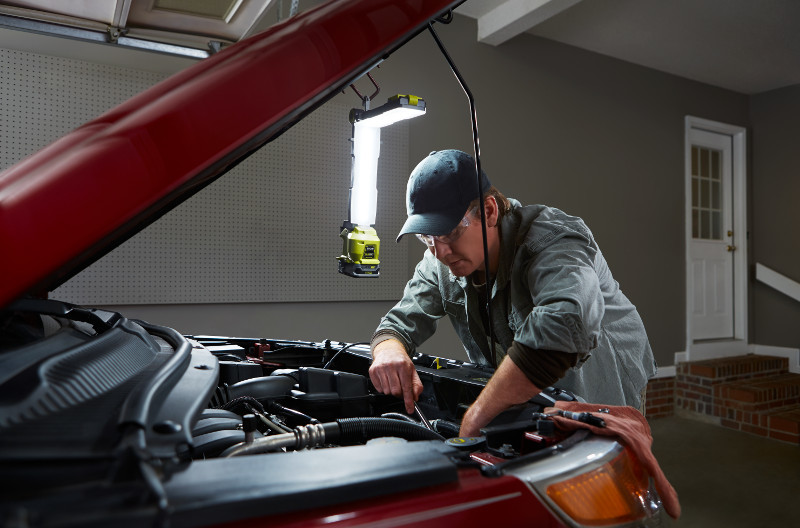 Features
950 Lumens of light output
270° rotating arm for optimal adjustability
Multitude of hanging options
Extendable hanging hook
Up to 9 hours of light with RYOBI P108 4Ah Battery
Integrated mounting hooks for hanging
2 separate banks of LED to illuminate either bank or both together for half or full light output
Multiple lighting positions include stand-alone and hanging options
Specifications
Battery: 18V
Lumens: 950
Rotating Arm: 270 degrees
Tool Weight: 1.8 lbs.
Reviews
18V ONE+™ Workbench LED Light
18V ONE+™ Workbench LED Light
is rated out of
5
by
191
.
Rated

5

out of

5
by
Gadsdan
from
Very versatile!
I have used this light so many times for so projects I've lost count. Working under a sink in the kitchen, under the hood or under the car, in the attic, the crawl space, etc. This light is quite versatile and will do just about anything you need it to. You can stand it upright, hang it, use one light in one direction, two lights in on direction, or two lights in two directions. I've found this to be very helpful while working around the house and on the car. Highly recommended!
Date published: 2018-07-12
Rated

5

out of

5
by
ScottN
from
Excellent little light!
There are so many uses for this light. The feature to turn on only one of both panels, coupled with the light's flexibility make this light a no-brainer. You can fold it all the way out, open the hanger and each end and mount it to the ceiling to light a whole room. You can use one half the light, in its fold position to work under counter tops, or in small places. Fold the light to a 45 or 90° angle to provide light from the sides/top of your project. The possibilities are endless with this unit. Due to the ability to select with light is turned on, you'll always have the right amount of light for your project.
Date published: 2019-06-30
Rated

4

out of

5
by
Daneel
from
Portable, bright and useful.
Got this for working in an unnelectrified crawlspace, and ended up using it in the attic and for working on my car at night far from a power outlet as well. It throws a LOT of light but it's very well diffused so it's not painful if you look at it. I lit up the front of the house across the street while working on my car. There are a lot of positioning options though I do wish the hangers were metal instead of plastic, though they do seem sturdy.I also wish the light could pivot left and right so that it was more directional when standing on the base. Overall, though it's a great workspace light.
Date published: 2019-09-23
Rated

5

out of

5
by
Gabe
from
Big, bright work light.
This is my second one. I have all the others, and love them, but I've found this one to be the most versatile of the models. I like that you can select upper, lower, or both sections of light, the adjustability of angles is perfect. I also really like the height of the unit when standing up straight, it really helps me to get good angle of light to my work when painting, wood finishing, etc.. I've found battery life to be very good to excellent, and haven't had any issues with my original - which is 3 or 4 years old, well used, has been dropped, dirty, wet (for under sink plumbing jobs), it just keeps on going. I've never really used the hanging feature, but I do like that it has the option to do so. Great light!
Date published: 2020-03-12
Rated

5

out of

5
by
Lbonneville
from
Awesome light, super bright
I LOVE THIS LIGHT! It is very versatile , and has gotten much use over the past few months. the only thing i have a problem with is; the button, it is very sensitive.
Date published: 2018-05-08
Rated

5

out of

5
by
howiedewing
from
A Bright Idea From Ryobi
Originally purchased for emergency lighting for hurricane season power outages, I use this workbench light everywhere. The fluorescent lights over the workbench are pathetic compared to this light. It's even my go-to light for the TV room; just aiming the top half at the ceiling illuminates the whole room perfectly. It's not cheap at $55. but well worth it IMHO. Highly recommended.
Date published: 2020-05-14
Rated

5

out of

5
by
Delarrius
from
Extremely versatile!
Originally bought this LED light to help installing my lift on my Jeep XJ, but since then I've used it for SO many other applications. Used it as a work light for inspecting the Jeep after a trail ride, work light for repairing computers/laptops, checking water pipes in dark areas, I could go on but I really can't stress how much I use this light for simple things. Being able to switch light banks on the light, or hang it from hangers or under the hood as I work, I just love this light. Seriously considering getting a 2nd one for bigger projects!
Date published: 2019-05-19
Rated

5

out of

5
by
Ariel Mendez
from
Life saver during huracane Maria's blackout
This was one of the best tools during the huracane Maria and the latter blackout. I used it to iluminate the street in front of my home so the kids can play during the nights. I still have it ready with a charged batery just in case another blackout.
Date published: 2018-07-15