+10
18V ONE+™ 10 IN. Brushless Dual Bevel Sliding Miter Saw
Model: #P3650B
Brushless motor provides longer runtime and longer tool life
The ONE+ONE™ system uses 2 ONE+™ 18-Volt batteries for 2X the power, for a full 36-Volts of Max Power
370 cuts per charge with RYOBI p108 batteries
+10
OUTLAST, OUTPERFORM & OUTDISTANCE THE COMPETITION
Features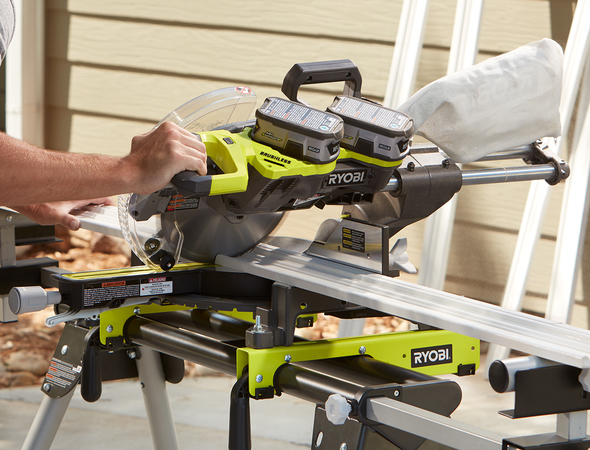 Sliding head provides maximum capacity for up to 12 in. cross cut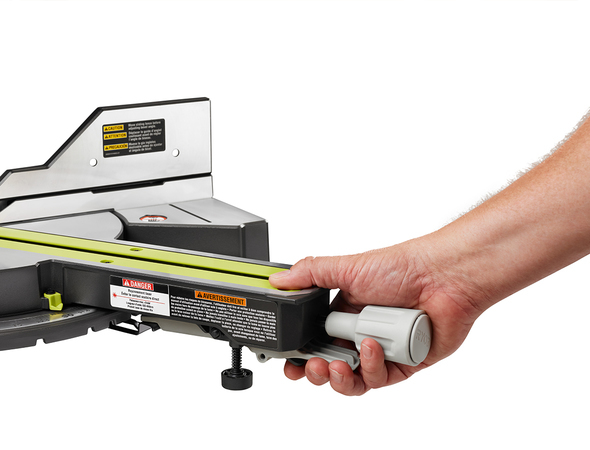 Extended Miter Ranges from 45° left to 50° right to accommodate a wide variety of cuts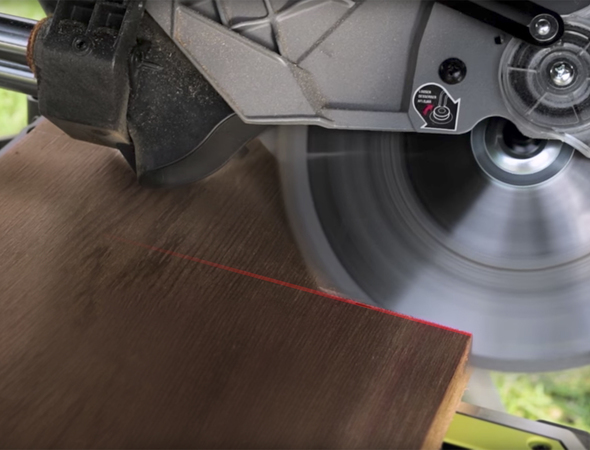 Adjustable EXACTLINE laser alignment system accurately aligns cutline with blade
Dual bevel design allows you to move the saw, not the material, for faster and more accurate cuts
Specifications
Dimensions
Product Depth

32 in

Product Height

17 in

Product Width

20 in

Table Length

18 in

Table Width

10 in

Product Weight

34 lb
Details
45 Degree Crosscut Capacity Maximum

2 in x 8 in

Maximum Cutting Thickness

3.5 in

90 Degree Crosscut Capacity Maximum - Left

2 in x 12 in or 4 in x 6 in

Maximum Degree Miter Cuts - Left

45 °

90 Degree Crosscut Capacity Maximum - Right

2 in 12 in or 4 in x 6 in

Maximum Degree Miter Cuts - Right

50 °

Amperage (amps)

0 A

Maximum Speed

4000 RPM

Arbor Size

5/8 in

Maximum miter capacity

50

Bench & Stationary Tool Type

Slide Miter Saw

Miter Saw Type

Sliding Compound

Bench or Stationary

Bench

No Tool Blade Change

No

Bevel Type

Dual

Power Tool Features

Electric Brake,Laser Guide,Positive Stops

Blade Diameter

10 in

Dust Collection Method

Bag
Warranty
Certifications and Listings

1-UL Listed
Includes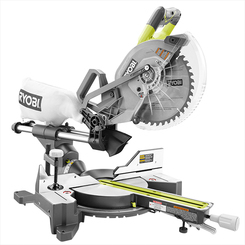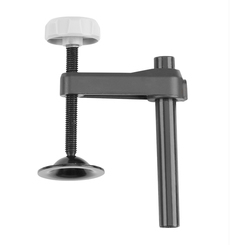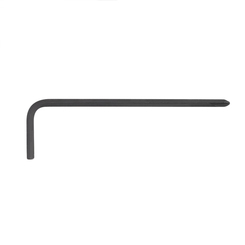 10 in Carbide Tipped Blade
[#<ProductFeature id: 1434, title: nil, content: "Miter Saw", photo: "541c5ded-95b2-4627-bb12-d9c1cda49f27.jpg", created_at: "2018-05-22 17:19:01", updated_at: "2018-05-22 17:19:01", product_id: 909, sort: 0, enhanced_type: "included_item", enhanced_group: nil, enhanced_icon: nil>, #<ProductFeature id: 1435, title: nil, content: "Work Clamp", photo: "fb9cc58e-6d91-45f9-9608-84a79bbc0bff.jpg", created_at: "2018-05-22 17:19:02", updated_at: "2018-05-22 17:19:02", product_id: 909, sort: 1, enhanced_type: "included_item", enhanced_group: nil, enhanced_icon: nil>, #<ProductFeature id: 1436, title: nil, content: "Blade Wrench", photo: "a0c9bdac-f02a-435a-b393-d6064b8f4c24.jpg", created_at: "2018-05-22 17:19:03", updated_at: "2018-05-22 17:19:03", product_id: 909, sort: 2, enhanced_type: "included_item", enhanced_group: nil, enhanced_icon: nil>, #<ProductFeature id: 1437, title: nil, content: "10 in Carbide Tipped Blade", photo: "0583a938-dc56-4795-bb79-ee457aca4c82.jpg", created_at: "2018-05-22 17:19:04", updated_at: "2018-05-22 17:19:04", product_id: 909, sort: 3, enhanced_type: "included_item", enhanced_group: nil, enhanced_icon: nil>]
Reviews
18V ONE+™ 10 IN. Brushless Dual Bevel Sliding Miter Saw
18V ONE+™ 10 IN. Brushless Dual Bevel Sliding Miter Saw
is rated out of
5
by
66
.
Rated

5

out of

5
by
GoldWinger
from
Outstanding Results
Bought this to do my addition on my 8 x 12 ft Tuff shed by adding a second floor and the results were nothing less than outstanding. It's performance was great with the 4 amp batteries but with the 6 amp batteries it was amazing. Made all the cuts with just one set of 6 amp batteries for the job. It was used in tandem with a corded 120v Ryobi saw of the same type and cutting all the 2 x 4 and 2 x 6 lumber and all the 1 x 4 trim was easy and with no problems. This is a great addition to my collection of Ryobi 18v tools. I believe that the same application could be used on a portable table saw with the same results.
Date published: 2019-04-02
Rated

5

out of

5
by
Marosie
from
No more cords! :)
I purchased this saw about a month ago during a promotion which gave me a free Miter Saw Stand. The portability is great! I'm running it with 2 6AH batteries and it's still light and compact enough to move from job site to job site without any issues or struggling. I have found that the power has been great as well as the battery life so far, the cuts are as the should be (no blade wobble or anything that would cause a rough cut). Everything about this saw is easy to use. I have the bigger brother (the 12in Ryobi Corded Saw) if I run into something this can't handle but for me, the price along with my great experience with Ryobi Tools as well as the portability of not needing AC power is what sold me on this Saw. I highly recommend it!
Date published: 2019-10-03
Rated

5

out of

5
by
Crispeto
from
Absolutely amazing!
I had been looking at this for a long time but it's almost impossible to find! But I finally found one and it's amazing! I have 4ah batteries in it and it cuts and performs just like an electric miter! It is such a good deal! To get a brushless, sliding, dual bevel, 10 inch, cordless saw that runs on two 18v batteries is awesome! I've already tried it out on 2x4's, 2x6's, and some baseboard cuts. The cuts are smooth and almost effortless. I can't say enough good things about this saw. The other cordless brands start at about $500 and I got this for $249! If you can find it, get one!
Date published: 2020-09-17
Rated

5

out of

5
by
Brian70
from
Portable Power
I have been using this saw for a couple of months now. At first I placed it on an old workbench and though it performed well, I found it to be hard to control. This improved tremendously once I installed it on the Ryobi mitre stand. I used a pair of 4.0 Ah batteries and it cut all day. It doesn't have the raw power of a corded model but it sure comes close. Adjustments are quick and easy to do and the ability to setup anywhere makes this one of my favourite additions to my shop. The only thing I changed was to replace the stock blade with a Freud Diablo 10" 40 tooth blade.
Date published: 2019-11-20
Rated

5

out of

5
by
Aplemons1
from
Love the portability
I am currently working on replacing the wood on my patio and I borrowed my brothers mitre saw. I loved it. I am one to buy very unique tools and a battery powered mitre saw is pretty unique. At first I didn't think that a battery powered mitre saw would be that powerful and last that long, but it is just as powerful as the corded one and it lasted a week of constant use on a single charge. The only downfall is that it will not work with HP batteries. That's all I owned at the time of purchase so I had to go buy two more regular 18v batteries. Overall, I absolutely love that I don't have to plug it in or bring an extension cord everywhere I go.
Date published: 2020-11-26
Rated

5

out of

5
by
Randy123
from
Just fantastic
I can't understsnd why this didnt really take off. What an awesome tool if you have ryobi batteries already. I'm a contractor and I use it on just about every job now. I know some other professionals turn their nose up at ryobi tools. I personally love most of em.
Date published: 2019-02-16
Rated

5

out of

5
by
esm142
from
Very nice Miter!
Was hesitant to try a cordless battery powered Miter Saw, but this is a great saw! Cuts through many types of wood with zero issues. Battery run time isn't too shabby either.
Date published: 2018-06-01
Rated

5

out of

5
by
BigrigBrian
from
Fantastic DIY tool
Bought this Ryobi tool a month ago to do a luxury vinyl plank flooring project for my home. I couldn't be happier with this Miter saw, not only was it cordless which was very convenient it made the job effortless. Since then I've tackled building a tree house with it at our lake lot. I've enjoyed using it so much I keep finding projects to do with it.
Date published: 2019-05-21