+10
18V ONE+™ Hybrid 20 Watt LED Work Light
Model: #P721
+10
Introducing the latest innovation from RYOBI®; the 18V ONE+™ Hybrid 20 Watt LED Worklight. Never run out of power with the convenient option of using a ONE+™ battery to run the Work Light or switch over to electric power with an extension cord for extended use. In addition to its Hybrid technology, the 18V ONE+™ Hybrid 20 Watt LED Work Light has more than 2,400 lumens to illuminate a large work area. The 18V ONE+™ 20 Watt LED Work Light is a great replacement for halogen work lights as it runs cooler and more efficiently. The compact design allows for easy transportation and features a tri-pod mountable option.
Features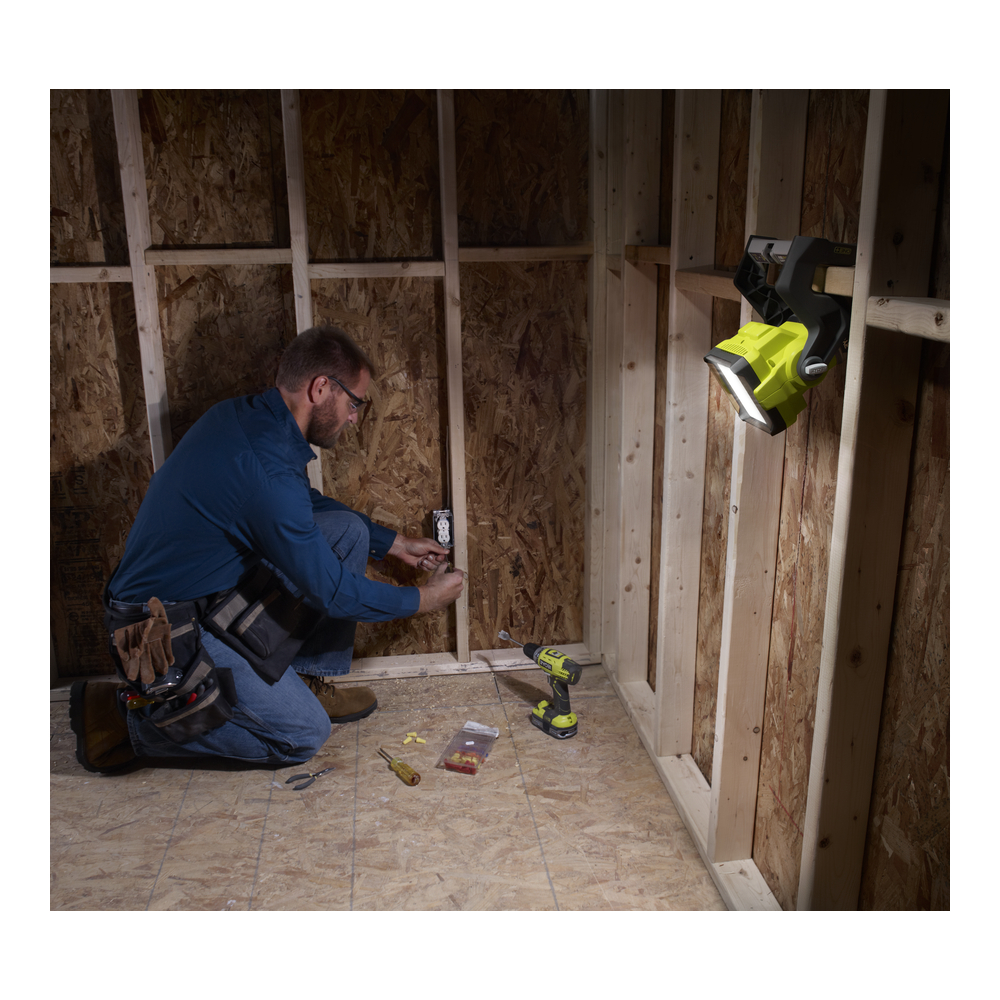 Hybrid 20W Work Light: runs off RYOBI® 18V ONE+™ battery or electric power with an extension cord
2,400 lumens from high intensity lifetime LED illuminates large work area
50,000 hour LED Life
20W LED light stays cooler than halogen or incandescent lights while operating
Head rotates 360 degrees to aim light in several directions
Multiple hanging options maximizes versatility; tri-pod mountable
Compact design with integrated handle for easy transportation and storage
Specifications
Hybrid: 18V ONE+™ Battery or 120V AC
LED Wattage: 20W
Max Runtime: 34 Hours (using P193 6.0ah LITHIUM+™HP High Performance Battery (not included)
Tool Weight: 2.95 lbs.
Reviews
18V ONE+™ Hybrid 20 Watt LED Work Light
18V ONE+™ Hybrid 20 Watt LED Work Light
is rated out of
5
by
297
.
Rated

5

out of

5
by
Geno3
from
Bought another after I purchased the first one.
I bought my first one and using it I quickly understood that this is a tool that has many uses beyond even what I thought. I could work at night even outdoors on things that take a little longer than daylight had to offer. Most people don't know but with a slight modification drilling the hole just a tad bigger you can use the hyper tough stand they have for their LED light this thing is just a brilliant light works well lasts fairly long on a 3AH battery I am impressed guys this is an expensive light at an unmatched price. Hybrid as well so I can plug it in. As the title says I bought another because I don't want to be stuck without it.
Date published: 2020-08-25
Rated

4

out of

5
by
Almost
from
Great Light But.....
This light is "almost" perfect for the amateur mechanic work I do. It's brightness, versatility and durability gives me more flexibility than the old halogen light I have. Much safer too. My big problem is the light is incomplete! You were supposed to be able to attach the light to a tripod. The frame has the hole but doesn't have the hardware to screw the tripod into. Not sure if I'll keep the light because I need to be able to move it around me as necessary. Any fix to this would be appreciated.
Date published: 2020-07-28
Rated

4

out of

5
by
mainmanar
from
Hybrid 20 Watt LED Work Light
This is a fantastic work light. Very bright even on the lower setting creates plenty of like to be able to work in darker areas or focus on a particular area that you need to see. The base is good and sturdy and great for hanging if there is no flat surface to set it on. On the high setting this light is quite battery hungry but the hybrid technology which gives you the ability to plug in an extension cord rather than battery is fantastic for long term use. It is a longtime needed addition to my toolbox, and I find myself using it almost daily.
Date published: 2020-08-31
Rated

5

out of

5
by
Damon
from
Awesome battery powered light
I love this handy extremely bright battery powered LED light. It is handier than moving my 500watt halogens and then not having to change bulbs..a blessing. It has 2 levels of light, could actually use one or two more cause it is still too bright at times. It provides plenty of work light when outdoors in the pitch black. Unlike my halogen you don't have the issue of pointing down too far and cooking a bulb. This has plenty of adjustment to get the light where u need it. Very happy with the purchase of this and running off the 3ah battery gives u alll the time u need for light.
Date published: 2019-06-28
Rated

5

out of

5
by
Dk_stretch
from
I own 2 and I love them
I got fed up with replacing halogen bulbs and I went ahead and purchased 2 of these work lights. I haven't been happier with any other lighting solution I've used. They are super bright (but also have a dimmer setting too), hybrid meaning they can work off ryobi 18v batteries for the remote job site or off ac if available. I've been using them for over 8 months now and I couldn't work without them in low light. They have survived drops, rain, and everything else I've thrown at them!
Date published: 2019-04-03
Rated

4

out of

5
by
jcarson
from
Bright as the sun!
I've been looking at this light every time I went into HD for the last 6 months or so, and finally bought it on a whim. Like everyone else, I've been using the corded Halogens my entire life. On high its more than bright enough to do whats needed and on low it's not going to blind you for days. It also doesn't try to melt your skin when you're done. No need to let it sit outside for a few hours and cool off or worry that it's too close to something that will melt/burn from the heat (like your head, in tight spaces). My only real disappointment is the button location; It's a minor nuisance, and I'm not sure where else they could have put it. A replaceable lens for when it gets beat up would have been an awesome feature. Definitely add this to your collection. The hybrid battery/cord option makes this a "must have".
Date published: 2019-04-28
Rated

3

out of

5
by
Roy A
from
Great light
Purchased awhile back mainly because my older ryobi light just wasnt worth fixing anymore.opened and closed too many times..but with only having this light for a month I've had to fix it also.the tightening knob had come loose and it's not a fixed nut inside so had to take apart and fix.with that being said love the light..very bright,love you can hang from a 2×4 also the plug in feature or the flashing when battery is dead and doesnt just shut off on you gives you a heads up is great.havent had a problem since fixed....so all and all great light once repaired
Date published: 2020-09-13
Rated

5

out of

5
by
HeavyD
from
Best light on the market!
I own the previous version of this light and felt it was the best. I feel Ryobi took a great product and made it better. They made it a little slimmer, a little brighter and gave it a bigger lighting footprint. You get all of these improvements without losing the durability and flexibility of being able to use it as a cordless or corded device. I am in a horseshoe league and we use them in the fall to light the pits. Highly recommend this product for work, play or for emergency backup.
Date published: 2020-08-07