+4
18V ONE+™ HYBRID FORCED AIR PROPANE HEATER
Model: #P3180
Compact design for easy transportation
Designed for use with a 1 lb. propane tank
+4
Features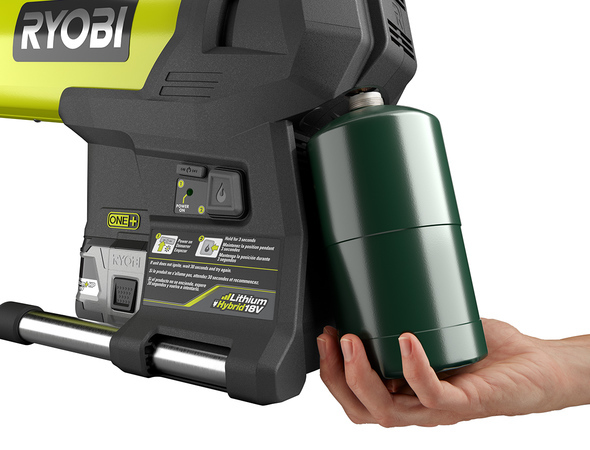 Up to 1.5 hours of heating using a 1 lb. propane tank
Hybrid design can be powered by a RYOBI 18V ONE+™ battery or extension cord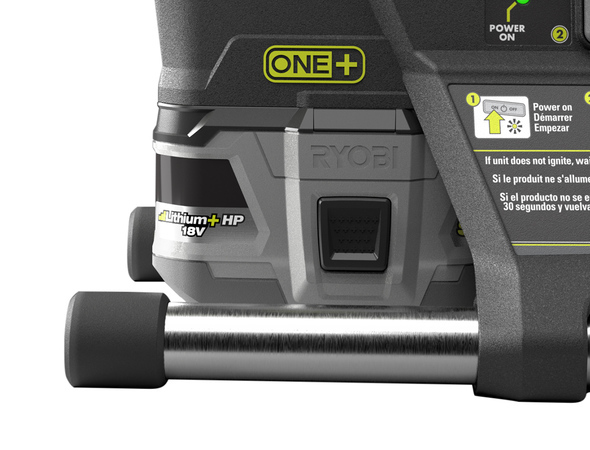 Up to 5 hours of battery runtime with a P108 battery
Specifications
Dimensions
BTU:

15,000

Hybrid:

18V ONE+ ™ battery or 120V AC

Fuel:

Propane

Tool Weight:

8.5 lbs.
Warranty
Certifications

ETL Listed
Includes
P3180 HYBRID FORCED AIR PROPANE HEATER
[#<ProductFeature id: 1488, title: nil, content: "P3180 HYBRID FORCED AIR PROPANE HEATER ", photo: "c2d98a6b-e5b7-448c-a58f-3b07c9baf7ae.jpg", created_at: "2018-09-07 23:52:04", updated_at: "2018-09-07 23:52:04", product_id: 1014, sort: 0, enhanced_type: "included_item", enhanced_group: nil, enhanced_icon: nil>]
Reviews
18V ONE+™ HYBRID FORCED AIR PROPANE HEATER
18V ONE+™ HYBRID FORCED AIR PROPANE HEATER
is rated out of
5
by
44
.
Rated

5

out of

5
by
chris
from
best on the market
This in my opinion is the best most versatile heater on the market. Its simple, versatile, powerful and fast. Opening the box I found it completely assembled and it took about 2 minutes until it was from the box to putting out hot air. Simply push the power button and push and hold the ignition button and it will start. I actually bought this to use for livestock water in the winter in remote locations. It will absolutely without a doubt in my mind do the job and the portability is awesome. I can see it being great on the patio or tailgating, camping, as well as taking the chill off a large room. (Don't use in in sealed rooms you may DIE!!!) I also have a adapter hose to run off a larger propane tank and its hybrid so you can plug it into a extension cord. With these abilities it can run for days.
Date published: 2018-10-11
Rated

5

out of

5
by
DavidV
from
Great heater. Small yet powerfuy
I bought this to heat my garage and when I work out side. It throws allot of heat out for it's size. Great item. Better than the Rigid one I had. Note: when starting the unit, you do not have to hold the starter button for more than 2 seconds. The instructions say hold the button in until the green lite stays on. This is not necessary and will wear the starter out.
Date published: 2018-10-09
Rated

5

out of

5
by
lewis818
from
Small but Versatile
This little beauty was able to do what Ryobi said it could do and more. It kept my work area nice and toasty, I even took it camping with me. At this point, would not leave home without it.
Date published: 2018-09-25
Rated

4

out of

5
by
just a guy in ri
from
not a workhorse
I had read many reviews on this heater and most were positive so I gambled and purchased one. Although it is handy and starts instantly, I wish it had an adjustable fan feature to increase volume of air thrown out. It does what it says and it throws good heat but not very far at all. Not for a job site use but for a homeowner to heat a garage, it would be fine. I've found it so reliable, I had to use it to thaw out my other job site heaters which tend to not want to start in extreme cold.I like the compactness of it and the ability to run on battery until we can run cords. I get 5 hours off the big batteries and converting it to the larger propane tanks give you days of heat..
Date published: 2019-12-28
Rated

5

out of

5
by
Pheel
from
Nice little heater
Purchased to heat insulated 25x25' low ceiling garage. Warmed from ~40F to 60-65F. Although ad shows heater outside, I think the heat will be lost to the elements before the fan ever blows it there. In the garage though, the fan does circulate the heat. Much better than the double radiant heater I have for top of propane tank, even though it is 30K BTU vs 15K BTU for Ryobi. It is not a job site, kerosene, baby jet engine heater, but in my garage it does exactly what I hoped. It is a small unit and with an adapter hose to 20 lb propane tank, it works great.
Date published: 2018-12-12
Rated

5

out of

5
by
WD79
from
Perfect
I was looking for a smaller portable heater. This is a descent size but is pretty light. It is well built and puts out pretty good heat. I love that it has the two options for power depending on what is available. Well done Ryobi!
Date published: 2018-10-26
Rated

5

out of

5
by
MusherDan
from
Hot Stuff!
I replaced my brakes on my truck in the middle of January in Wisconsin. This heater worked great! It isn't powerful enough to heat the entire garage, but I try not to spend a lot of time out there in -10 degree weather. I had it near me and the fan helped keep the area I was working in warm. After going through a small 1lb tank a purchased an adapter hose to allow it to be connected to the propane tank from my gas grill. The handle on the heater made it easy to move when I finished one side and moved to the other. Great heater for keeping an area warm.
Date published: 2019-04-21
Rated

5

out of

5
by
Beavis
from
Gentle Heat w/o the noise!
Live in Hurricane country and we lose power often, sometimes for a few minutes, sometimes for hours, sometimes for a few days. I have the Ryobi hybrid 18V One+ Fan and 18V One+ Radio to get by in the spring, summer, and early fall - but wanted a little 'heat' for chilly days and nights. Thought this little heat buster would do the trick. It does just what it was designed to do - a little heat without the noise. Using the little 1 pound Propane canisters available near anywhere, and an 18V One+ Rechargeable Battery always on standby, I'm ready for the next black-out. Thanks Ryobi!
Date published: 2019-05-01