+4
18V ONE+™ Hybrid Drain Auger
Model: #P4002
+4
The 18V ONE+ Hybrid Drain Auger offers superior performance to rid your sink or tub of slow draining. This Hybrid Drain Auger is unique in that it has Hybrid Technology, meaning it can run off a RYOBI ONE+ battery or electric power with provided power supply. The cordless convenience makes this drain auger one of the most user portable drain augers. The reinforced auger cable and powerful motor easily clear clogged drain pipes up to 2 in wide. The innovative chuck design allows you to easily drive the 25 ft. long cable to the clog and break it up, then quickly switch to retract. The 18V ONE+ Hybrid Drain Auger is sold as a bare tool, allowing you to build on your ONE+ collection without spending additional money on batteries and chargers with each tool purchase.
Features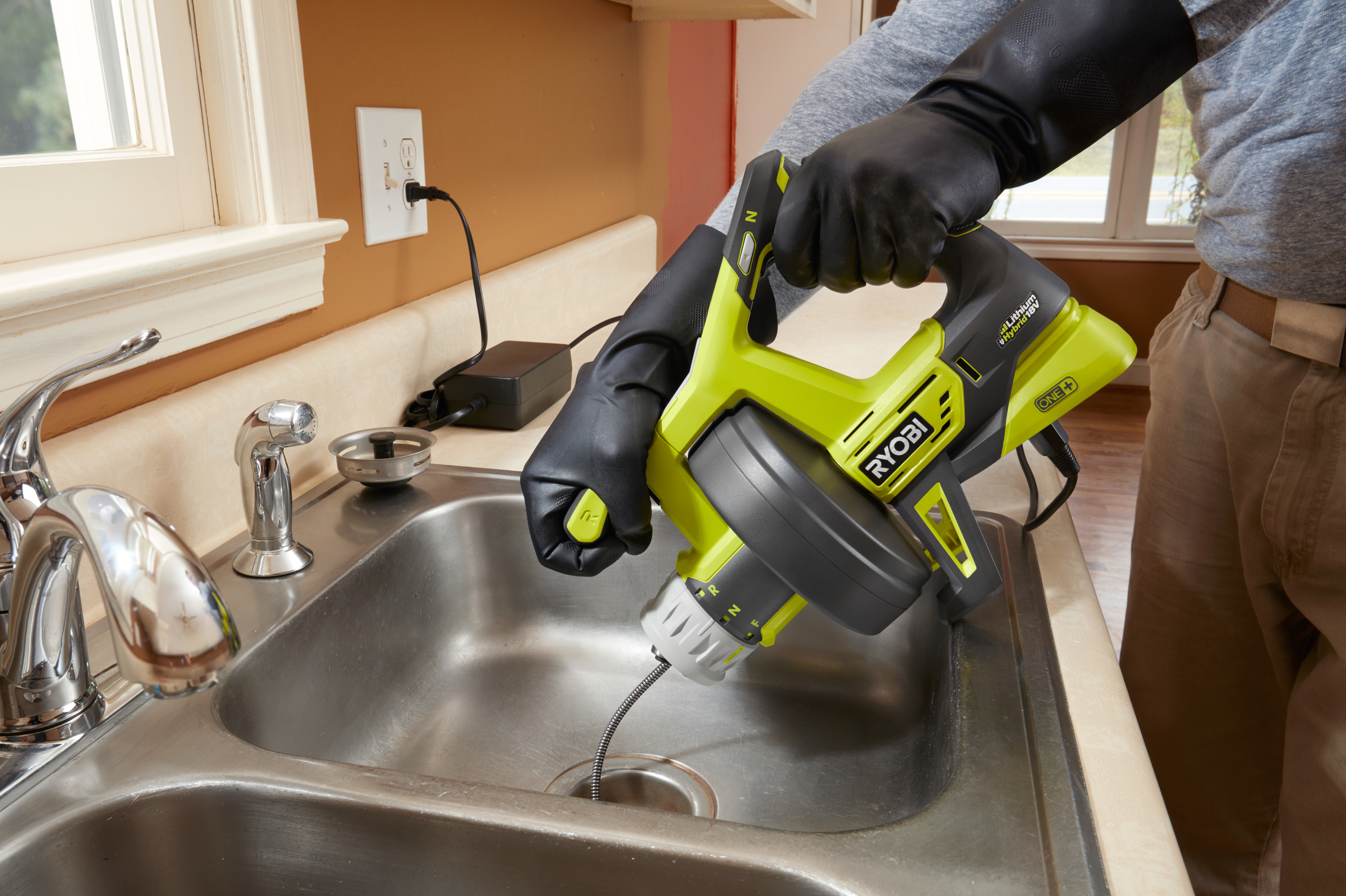 FEATURES
Included AC Power adapter
Quick-Change replaceable drum capable
Interchangeable tips for handling a variety of different clogs
Innovative chuck design for ultimate control
25 ft. reinforced cable to minimize kinking
Clears clogs from drains up to 2 in. wide including sinks and bath tubs
On-board rear drain port to prevent water build up in drum
Feet to keep rotating drum off of delicate surfaces
Part of the RYOBI ONE+ Family of over 100 Products
Reviews
18V ONE+™ Hybrid Drain Auger
18V ONE+™ Hybrid Drain Auger
is rated out of
5
by
51
.
Rated

5

out of

5
by
Fink
from
Fantastic drain opener. Best tool ever
First encountered this when a plumber charged me $250 just to pull out version 1 of this tool. It took one minute to open an impossible drain. Fool me once..shame on me...Next time buy the tool - fool! Same rental property it opened the drain in 30 seconds after sweating with a quality manual version by Rigid for about an hour. So now I'm even. Took it to my sisters new/old house 200 years old.. Just in case. Love it and it now has me buying other Ryobi 18+ tools since I have the batteries. This is an amazing tool for residential sized drains. Don't struggle with drains this glides thru U-bends etc. Just go slow and use a little "feel".
Date published: 2021-02-06
Rated

5

out of

5
by
Gregster
from
Easy to use!
After seeing a plumber use another brand electric auger on my sink, I decided I could probably do the same for my next clog. I went with this Ryobi Auger because it has the option to change the snake head attachments. Although, I could not locate the optional attachments (sold out locally). Using the standard attachment, it took about 15 minutes to clear a grease clog in the kitchen sink. At first it seemed as if it wasn't working well to clear the clog, not giving up and letting it do the work, the clog suddenly was gone. It's easy to use, and to clean up afterward. It used up most of the battery's charge for one clog. I'd rather buy a tool, than give money to a plumber if I can do it myself.
Date published: 2020-11-02
Rated

5

out of

5
by
Walt 185
from
Surprised
I was not quite sure that the Hybrid Drain Auger would do the job I need an auger for. I have rented drain augers before. They are akward and bulky to use. You need two hands to operate. Stop, step the rented auger down, feed the cable out and into a drain. Taking longer time. With the Hybird Drain Auger ( I used the battery, not electric power ). Used one hand to operate and the other to feed the cable. In no time I had about 20 feet in the drain and the glug was gone.
Date published: 2019-06-18
Rated

5

out of

5
by
Matt12165
from
Very versatile and well built arsenal of tools!
I have been remodeling homes for 30 years plus using all types and manufacturers of power tools with my crew.... 20 plus years ago I saw Ryobi "blue" cordless 12 volt screw guns which were very well balanced. I took a liking to them when they arrived on the scene back then. Years later I and my crew, are very impressed with the quality constructed, mindfully created and very versatile recent line of Ryobi18 volt "green" Cordless tools. FYI, my mechanical engineering background combined with performing all my own tool repairs when necessary allows me to state with confidence these tools are built well and to last. This cordless line is exciting and innovative to me as a contractor and a home owner.. . Including the lawn and landscape tools! I look forward to each new product that they put out on the shelves... Ryobi is a winner in todays tool world in my opinion.
Date published: 2019-06-21
Rated

5

out of

5
by
Demond
from
Overall great products
I love Ryobi products! As a hardworking family man on a budget, their ease of use accompanied with their affordability sold me on them for life. I'd swap out all the tools in my shed for Ryobi in a heartbeat.
Date published: 2018-10-14
Rated

5

out of

5
by
VICG
from
... ALL AROUND GREAT PRODUCT !!!
Being a stroke survivor and a retired plumbing contractor I needed a powerful lightweight tub/shower/sink snake that could be used by someone with physical limitations on their left/right side. I found the perfect combination of all these with the Ryobi P4002. throw a 4.0Ah 18v battery in it and it's worth every penny. On sale makes it a monster deal. The autofeed with the squeeze of the trigger that is also variable is unbeatable along with the balance and manageable weight is perfect for homeowner or professional (even retired) !
Date published: 2020-12-31
Rated

5

out of

5
by
Cali JP
from
Great tool for home owner who fixes things
Saved me from expensive plumber and stressful wife. Thanks Ryobi One
Date published: 2018-08-16
Rated

5

out of

5
by
Charleslambert392
from
Auger me
This tool is great. It takes a little use to get used to how it works but it did well when I got some experience with it. Does not go to fast which was nice. It saved me from having to move my washer from the wall as the speed and power were not to much to have some cable length out to get it in the drain line. Battery usage was minimal for 30 plus minutes of use. I saw an optional tip assortment in the store and it might be nice for a future use.
Date published: 2019-10-30