+4
18V ONE+™ Floating speaker/light show
Model: #P3520
360° Bluetooth® speaker for enhanced sound projection
Optimal LED output that changes with the sound of your music
Flip resistant design for an enhanced listening experience
+4
DIVE IN WITH CORDLESS POOL TOOLS
Features
On board volume and light show control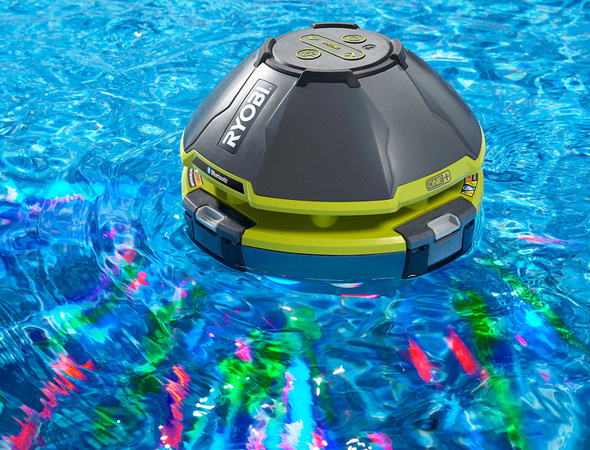 Customizable lighting experience with 3 operating modes: Play Mode, Pulse Mode, Sleep Mode
Specifications
Dimensions
Battery

18V
Details
Lights:

12 Multi-color LEDs

Weight:

4 lbs.
Warranty
Certifications and Listings:

1-UL Listed
Includes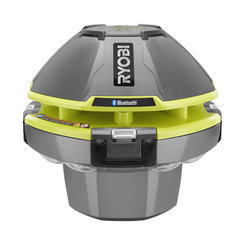 P3520 ONE+™ bluetooth® speaker/light show
[#<ProductFeature id: 1269, title: nil, content: "P3520 ONE+™ bluetooth® speaker/light show ", photo: "6c0a6f03-a082-4314-adaa-4e89b0b73389.jpg", created_at: "2018-01-16 03:33:36", updated_at: "2018-01-16 03:33:36", product_id: 948, sort: 0, enhanced_type: "included_item", enhanced_group: nil, enhanced_icon: nil>]
Reviews
18V ONE+™ Floating speaker/light show
18V ONE+™ Floating speaker/light show
is rated out of
5
by
59
.
Rated

1

out of

5
by
Lis2
from
Great concept, but disappointed in the result
My sister in law had purchased this product as a gift for me for my pool. It seemed to be a great concept and pretty nifty item since where I live we get scorching hot temperatures. We went to try it out in the pool and no more than 5 minutes later the sound went dull and before we knew it there was no music coming out of it at all. I thought It may have been a lemon so I exchanged it and tried it again only to find the same result as the last one. At this point I was disappointed and decided just to take it back all together. It was a great concept but maybe just not ready to hit the market.
Date published: 2018-06-07
Rated

4

out of

5
by
Sleuth
from
Finally
Been wanting to purchase a bluetooth speaker for the pool for some time, when I saw the One+ speaker I paced by it at least 6 times, each time reading each side of the box. Went off to do my shopping for the stuff I came for. Went back one more time and ended up in the checkout line with it. Thinking all the way home why did I spend the money....... Well, I use it all the time floating around the pool listening to music and podcasts. Light show at night is pretty cool, too. Battery is very easy to switch out, like replacing better than plugging into charge. When working in the yard it is nice to have it playing also. I would recommend
Date published: 2019-08-04
Rated

2

out of

5
by
GuyP
from
Sound is poor...low and not clear...
I hate to say it, because I think Ryobi's ONE+ tools/accessories are the greatest, but this really doesn't work well for music. The light show is nice, but the speaker is terrible...I use a fully charged 4a ONE+ battery and for a few minutes you hear music but then it goes away...and it's not the battery because I can use the battery in the lawnmower and it works fine. Unless you want it for just the light show, I would avoid buying this for the speaker. hopefully they will be able to fix the issue as I do think it's a great idea for the pool..........
Date published: 2018-07-10
Rated

1

out of

5
by
Josh_M
from
Save your money
I bought this in March, and out of the box it was okay. After a few uses, there was no longer any sound coming out. I exchanged this for a new one (they would not let me get a refund as I no longer had the box). The new one was also fine for a few uses. I even tried using brand new batteries which did not make any difference. I currently own over 30 Ryobi power tools, with about 28 of them being one+. This is HANDS DOWN the WORST product that Ryobi has ever placed their name on. DO NOT BUY.
Date published: 2018-07-01
Rated

2

out of

5
by
KaViFL
from
Maybe a defective unit
We bought this about 2 weeks ago from Home Dept and it worked great for the first two times. But now the volume isn't as loud as it was. I tried restarting my iPhone twice and even changed the battery in the Ryobi unit. Still nothing. I will take back and exchange to see if maybe I got a bad unit.
Date published: 2018-06-03
Rated

1

out of

5
by
Acd1
from
Hardly works
The light show works well but like most Iam mor interested in using the speaker but the speaker sucks and very low volume to the point you can hardly hear it. I'll definitely be returning this speaker it's to bad because I liked the idea and am usually a fan of ryobi products.
Date published: 2018-05-13
Rated

1

out of

5
by
luvmyff
from
Don't Do It!
Should have read the reviews before I spent the money but it's a RYOBI, it must be quality, right! If 0 stars was an option, I'd give it a 0. Just like everyone else, worked great for a few minutes then next to no sound! Tried a new battery, restarted phone, tried a different phone, repaired the device a few times....nothing!
Date published: 2019-05-06
Rated

5

out of

5
by
ozmerish
from
Kids Love It
I wanted to buy this last summer and had difficulty finding one. This year I saw one and pulled the trigger. Glad I did. This has been the kids go to for the summer. Whether listening to music or audio from the TV, they love the fact that it just floats along with them. Sound is OK for what it is - you arent in a concert hall. Manage your expectations and its a great item to have in the pool. The LED lights are neat, only improvement is if the moved to the beat of the music - again manage expectations for what it does deliver at this price point. Excellent run time and build quality.
Date published: 2020-07-30