+6
18V ONE+™ DEVOUR™ Cordless Debris Sweeper
Model: #P3260
4.5-Gallon tub capacity and over 2 hours of runtime
Quickly sweep up nails and screws, wood scraps and garbage with a 21 in. cleaning swath
Effectively cleans along walls and edges and transparent tub shows how much debris has been swept
+6
Quickly sweeps up large and small debris
Features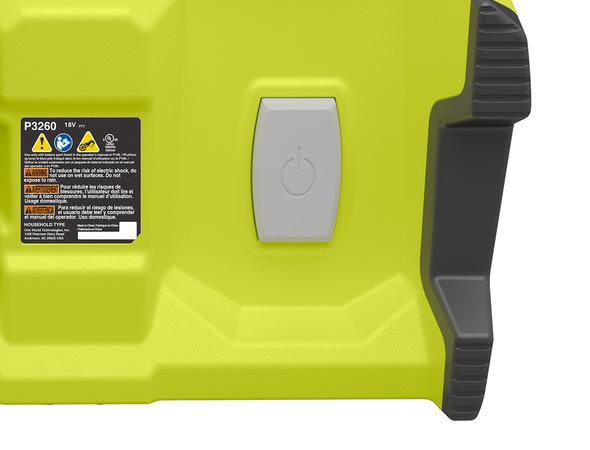 Conveniently located foot-actuated power switch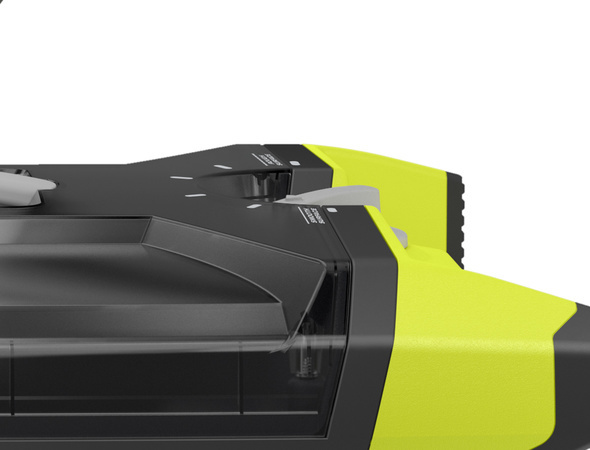 Rear-wheel height adjustment for use on various terrain levels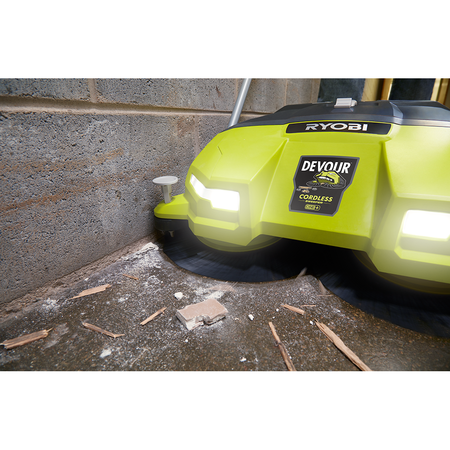 Integrated LED headlights provide improved visibility for a number of applications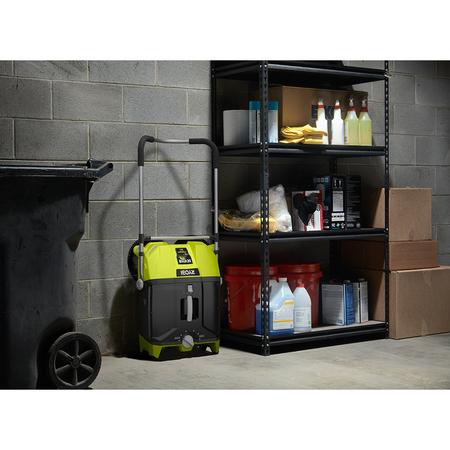 Adjustable, pivoting handle and rubber feet provide optimal ergonomic and compact storage
Specifications
Dimensions
Runtime

Over 2 Hours*

Tub Capacity

4.5 Gallons

Tool Weight

17.5 lbs
Warranty
Warranty

3 Year Tool Warranty
Includes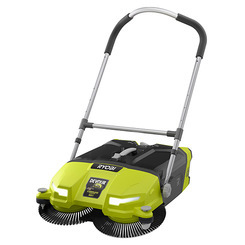 P3260 DEVOUR™ Cordless Debris Sweeper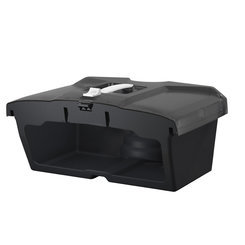 [#<ProductFeature id: 1238, title: nil, content: "P3260 DEVOUR™ Cordless Debris Sweeper", photo: "aa4e10d6-565c-4bd0-b916-77328483d397.jpg", created_at: "2018-01-15 22:21:23", updated_at: "2018-07-06 21:20:37", product_id: 946, sort: 0, enhanced_type: "included_item", enhanced_group: nil, enhanced_icon: nil>, #<ProductFeature id: 1239, title: nil, content: "Transparent Tub", photo: "7570091c-3c93-4072-93f7-f6b5de836f3d.jpg", created_at: "2018-01-15 22:21:24", updated_at: "2018-01-15 22:21:24", product_id: 946, sort: 1, enhanced_type: "included_item", enhanced_group: nil, enhanced_icon: nil>, #<ProductFeature id: 1240, title: nil, content: "Adjustable Metal Handle", photo: "4dfe1e95-4f2d-4f28-b42d-d83ead00cfcf.jpg", created_at: "2018-01-15 22:21:26", updated_at: "2018-01-15 22:21:26", product_id: 946, sort: 2, enhanced_type: "included_item", enhanced_group: nil, enhanced_icon: nil>]
Reviews
18V ONE+™ DEVOUR™ Cordless Debris Sweeper
18V ONE+™ DEVOUR™ Cordless Debris Sweeper
is rated out of
5
by
48
.
Rated

5

out of

5
by
Brandomoon
from
Own personal street sweeper
Works great. Did my research knowing it doesn't have a vacuum action but it still exceeded my expectations. Wife got it for me as a bday gift. We have a city tree that makes a mess with seed pods and i use this to keep the sidewalk and driveway clean. Easy to use and sooo much quieter than leaf blower. And no more noise from me cussing at the tree and push broom. I wouldn't recommend it though for pine needles. The short individual ones like Christmas tree pines is fine but the long 6"+ multi strand pine needles bunch up and plug the opening and bin. Small leaves and debris its great for. I now have the cleanest sidewalk on the block. Thanks ryobi.
Date published: 2019-08-11
Rated

5

out of

5
by
Mr Fixman
from
Outstanding Product
This Debris Sweeper surely earns is DEVOUR title! I originally bought this sweeper for my shop but ended up using it in my entire house! In my shop, it picks everything, from sawdust to chunks of wood and screws that fall to the ground. While it looks a little big, it actually goes into little spaces to devour dirt and other debris. And the movement! It moves in all directions; forward, backward, and sideways! In my house, it actually works extremely well with all the pet hair laying around. Its devouring power makes sweeping my entire house extremely easy and very convenient. I don't regret getting this unit and I will recommend it to anyone who needs a battery powered sweeper. Ryobi leadership: Please give the team that designed this product a big bonus and my thanks for their hard work!
Date published: 2019-12-28
Rated

5

out of

5
by
Phil79
from
Unbelievable!
I'm using this for commercial use and guess what it's holding up and I'm beating the snot out of it. For $150.00 I could care less I'll buy another one or parts doesn't bother me it the least! I got this primarily for a small warehouse but I've been using it everywhere including a high end account with 17k square feet it's replaced my dust mop and my vacuum on wet salt entryway rugs and mats. There is no comparison to sweeping manual and this product! All my accounts are way cleaner. A dust mop can't remove dirt from a floor thats wet greasy or stuck to the floor this can! I also got the chance to use this in a Japanese steakhouse last night a place I don't ever normally sweep because sweeping just grinds it into the floor I could not believe how well this machine performed! Ryobi should be selling way more of these!
Date published: 2019-02-21
Rated

5

out of

5
by
BarbNPaul
from
Simply the Best and a must Have
I owned to manual version of this by another manufacturer, and this is by far the best sweeper I have ever owned. We have many oak trees in the yard and use this all the time. Oak trees drop small twigs nearly every day and this cleans them up in minutes. In the fall it picks up the thousands of acorns that fall on the driveway. We also use it to sweep up all the sand, pebbles, and fine dirt from the garage floor without a cloud of dust that brooms cause. A must have...we own 2 now and walk back and forth on the driveway chatting. Love it!!!
Date published: 2021-02-16
Rated

5

out of

5
by
leeplog
from
Fantastic machine
I have been using a Karcher push sweeper and looking for a battery powered sweeper they are very expensive and the reviews weren't that great. I bought the Ryobi Devour I can't believe how good this thing works it will even go sideways it picks up just about everything and anything on the first pass unlike the push sweeper it moves very easy and smooth and is very easy to use. It runs a long time on a battery charge and the storage bin is simple works great and easy to empty. Ryobi you figured it out it is worth every penny.
Date published: 2019-05-21
Rated

3

out of

5
by
JTaylor
from
Didn't last long before I ran into an issue...
Great product. Very useful around the pool and in the garage. Unfortunately the adjustment knob on the back for smooth to rough settings lasted a total of 2 uses. Now it just falls to the "Rough Surface" setting each time I adjust it.
Date published: 2018-07-16
Rated

5

out of

5
by
Hillco
from
Good machine to have in your shop
This is a good machine to have in your shop. It does have power to clean up, but if debris is a little too much it will leave a trail behind. (just empty the container and keep working. But all in all this is a good machine. I am not so interested in having the lights - to use in the dark? Do the light help to run down the battery? I thought this was a new gadget that I needed, and yes, I am pleased with it. It will let you swing the handle up so you can store it upright for less storage space. It is like 4.75 stars.
Date published: 2020-04-30
Rated

2

out of

5
by
RyOBI1KanOBI
from
My favorite tool!
I've had this Devour sweeper since August of 2019 and it was my favorite up until the adjustment levers on each side for the sweeper to get into corners seemed to snap off in half almost one after the other, and then the adjustment knob to raise and lower sweeper height broke leaving the only option setting at rough surface. I still enjoy watching it eat up chunks of wood, drywall, nails, screws, anything practically but due to poor quality I have to rate it as fair.
Date published: 2020-03-02