+8
18V ONE+™ brushless jig saw
Model: #P524
40% Faster cutting speed* (*using P193 battery) with up to 3,500 SPM when paired with LITHIUM+™HP batteries
Cast aluminum no mar shoe for maximum durability
Sight-line blower clears debris for accurate cutting
+8
OUTLAST, OUTPERFORM AND OUTDISTANCE THE COMPETITION
Features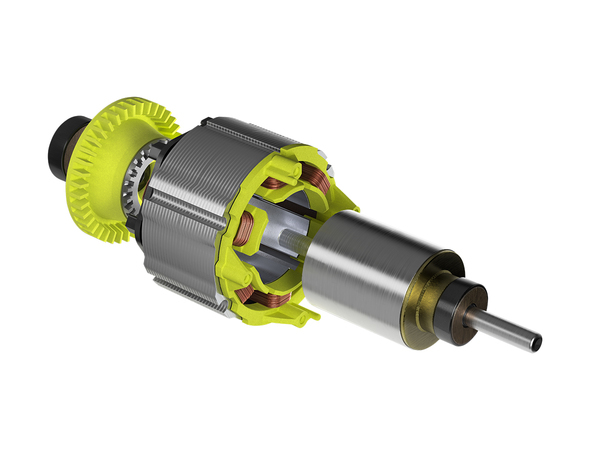 Brushless motor provides more runtime, faster cutting, more power and longer motor life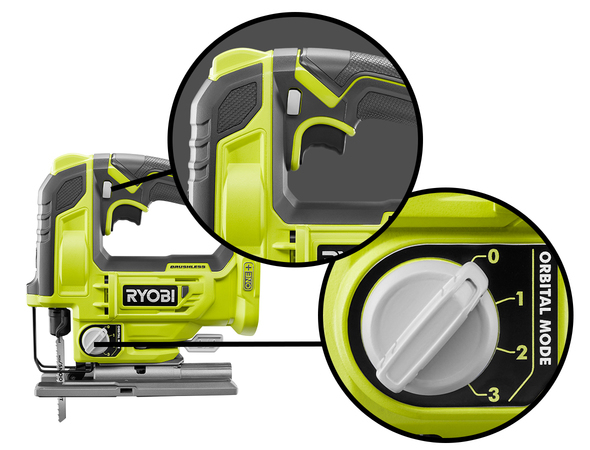 Lock on trigger with variable speed dial allows for slow starts to fast cutting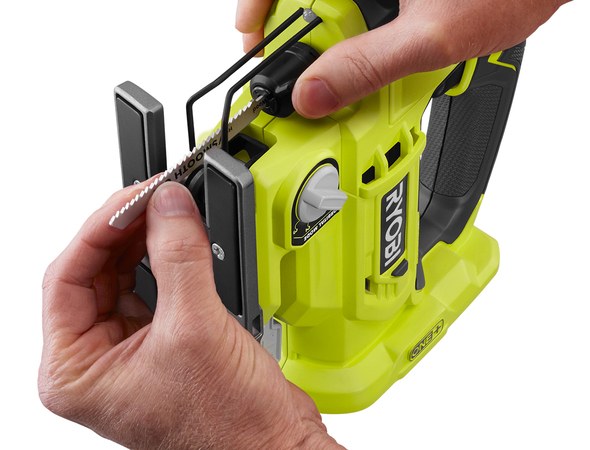 Tool-free blade clamp makes blade changes quick and easy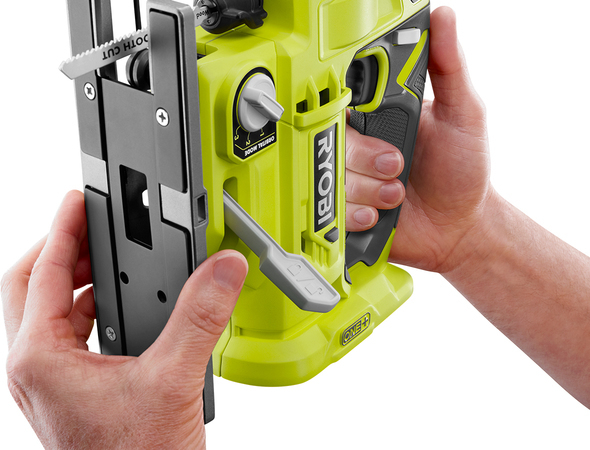 Keyless bevel base adjusts from 0° to 45° right or left for smooth and easy bevel changes
Specifications
Details
Battery

18V

SPM

Up to 3,500 (no load speed)

Cutting Angle

0 to 45 degrees both right and left

Weight

4.0 lbs.

Stroke

1"
Warranty
Certifications and Listings

1-UL Listed
Includes
[#<ProductFeature id: 1518, title: nil, content: "Wood Cutting Blade ", photo: "8196f6aa-ede4-4145-81b1-2d6306647d79.jpg", created_at: "2018-10-19 22:28:45", updated_at: "2018-10-19 22:28:45", product_id: 1029, sort: 0, enhanced_type: "included_item", enhanced_group: nil, enhanced_icon: nil>, #<ProductFeature id: 1519, title: nil, content: "P524 Jig Saw", photo: "3ff9990b-32f9-42ff-9983-c9f4c5569cc5.jpg", created_at: "2018-10-19 22:28:46", updated_at: "2018-10-19 22:28:46", product_id: 1029, sort: 1, enhanced_type: "included_item", enhanced_group: nil, enhanced_icon: nil>]
Reviews
18V ONE+™ brushless jig saw
18V ONE+™ brushless jig saw
is rated out of
5
by
230
.
Rated

5

out of

5
by
Ortiz7652
from
1929 Farmhouse
I rehabbed by grandfathers 1929 farmhouse on 2/3 of an acre. Ok, I'm 56 years old woman and manage a police Division. Ryobi tools were instrumental in my project. I gutted the house and completely rebuilt it. New kitchen, bathroom, subfloors, electrical, water lines... the whole thing. I bought the combo back which included the jigsaw in which I cut plywood for the subfloors. I love that all the tools are cordless. Makes a big task more manageable.Thank you Ryobi, I couldn't have done it without you. I have bought many more tools, pole chainsaw, edger trimmer, tire inflated, sander, vibrating sander,18 gauge nail gun and vacuum. By the way the nail gun rocks. Big chainsaw in my future. Have 3 trees to cut.
Date published: 2019-06-09
Rated

5

out of

5
by
Typhoon
from
Of all the jigsaws I've had this one's the best
I've owned a few jig saws in my time, & many have been ryobi, in fact I have a plug in one in my storage space that I rarely use because it is so bad. This Ryobi brushless jig saw is by fat the one I like the most. The base is secure & doesn't tilt unless you want it to, (like my plug in one) the power is steady & adjustable. It's by far the most powerful jigsaw I've had too. I have the Ryobi multi tool & a Rigid jig attachment, & that was my go to jigsaw, but after using the brushless jigsaw I don't ever use it anymore. Completely happy with this tool for once in my life.
Date published: 2020-07-02
Rated

2

out of

5
by
bisholaw
from
Great until saw bar fell to pieces
I loved this saw but after 8 months, with not much use, the saw bar assembly has fallen to pieces. Pretty useless now. Have to try to get warranty sorted out now as was imported. Very disappointing
Date published: 2019-12-20
Rated

5

out of

5
by
DD54
from
Outstanding saw
I do a lot of scroll cutting with a jigsaw mostly on full sheets of plywood. My old saw was corded and I would have to continuously stop cutting to move the cord out of the way. This saw has made cutting fun again. The saw has a light, which I wish would shine closer to the blade and my path, but it is a great feature. The saw stops instantly when the trigger is released whereas my old saw would wind down to a stop. The other nice feature is the blade holder which, once the blade is release it ejects out so no more grabbing a hot blade to remove it from the chuck.
Date published: 2020-08-25
Rated

5

out of

5
by
DK Stretxh
from
Amazing tool?
I got my new brushless jig saw just in time to build a deck and wow what an amazing tool! Was a breeze to clean up cuts done by my brushless ryobi circular saw when cutting out stairs for the deck. I was amazed at the power behind it and how well it worked. It didn't hesitate on any material I've used it on including cutting some bar steel for another project (with proper metal blade of course!) the convince of a jigsaw without a cord is amazing! I highly recommend it to anyone who's looking for a cordless jigsaw. Go brushless. You won't regret it!
Date published: 2019-07-17
Rated

5

out of

5
by
Chris_Artist
from
Very Satisfactory if not great.
I've gotten tired of being tied to the cord with my last jigsaw so I opted to Ryobi's 18V ONE+ Brushless Jigsaw. I have other Ryobi cordless tools, so an advantage is that I am able to use the batteries I already have. My first project was cutting several squares in 1/2' Plywood. I was able to make perfectly straight cuts without a guide. The Ryobi Jigsaw cut straight and smooth. The Ryobi is also relatively quiet. I wish it came with more than a single blade, but it was easy enough to run to the hardware store for blades to cut metal, etc...
Date published: 2020-08-21
Rated

5

out of

5
by
john68
from
Love going brush less.
I have been updating my tools from brushed to brush less over the last 6 months & there is definitely a noticeable difference in performance. The new tools also have a longer stroke than the older ones which I feel is reason enough to switch. Very pleased so far.
Date published: 2019-05-30
Rated

5

out of

5
by
F100OWNER
from
It works a lot better than I expected
Started a fence project requiring cutting cedar fence boards to length and occasionally ripping a few. A table saw would have been a better tool, but really did not want to waste the space on something I might not use again for a year or two. My old jig saw was corded and based on my experience with the One+ stuff (I have multiple tools and batteries) I decided to give it a try. Tool is easy to guide and adjust. Very easy to swap out blades (no tools) and it does not burn through batteries badly.
Date published: 2021-01-07