+2
18V ONE+ 2-1/2" Compact BAND SAW
Model: #P590
Up to 225 Cuts of 3/4" Conduit
Fast Cutting with 560 SFPM
Over 175 ONE+ Tools - All Work With Any RYOBI 18V ONE+ Battery
+2
Delivers Power To Every Job
Features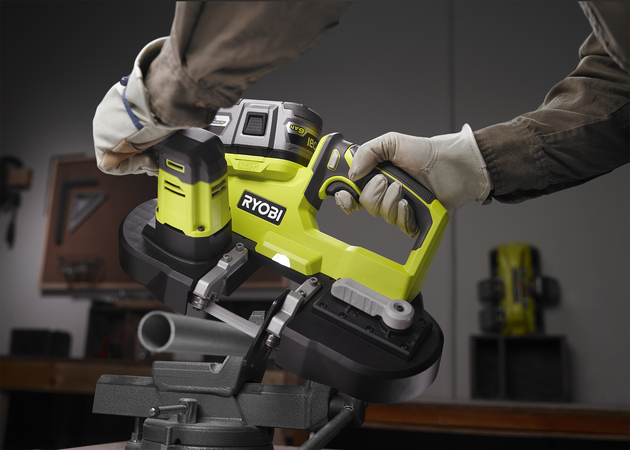 Up to 225 cuts of 3/4" conduit
Fast cutting with 560 SFPM
Lightweight design ideal for overhead use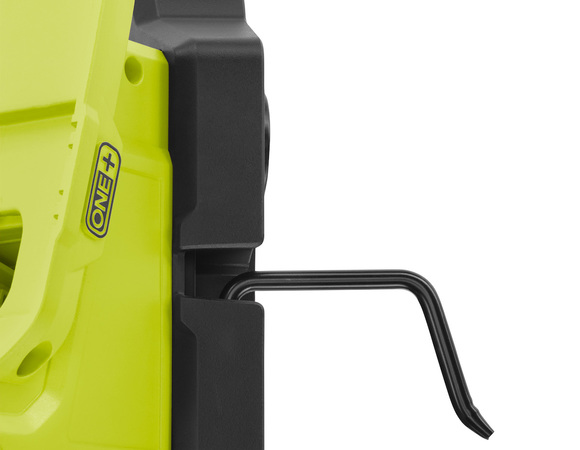 Rafter hook for easy hanging and storage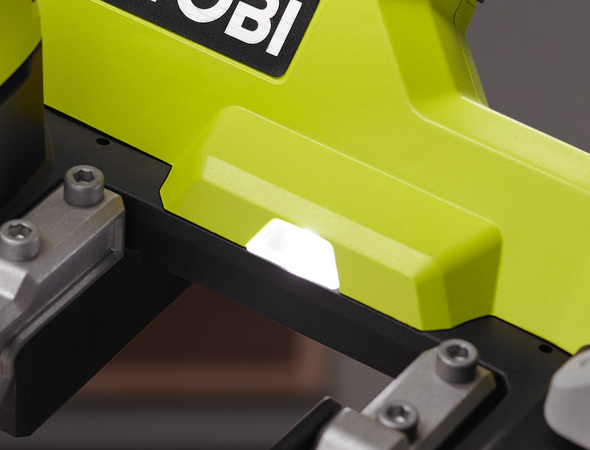 On-board LED worklight for increased visibility
Integrated pommel handle delivers user comfort and control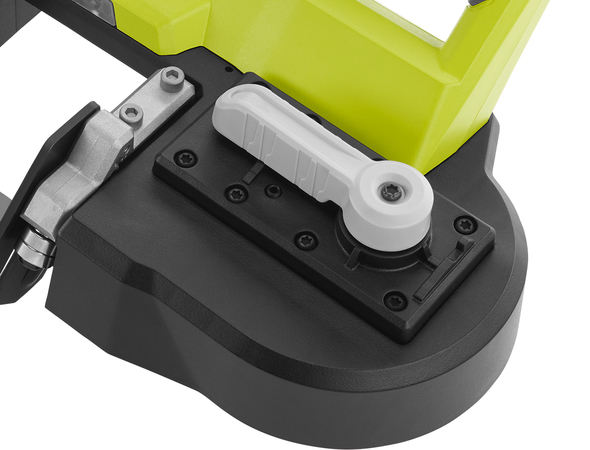 Specifications
Details
Battery

18V

Cutting Capacity

2-1/2"

Blade Size

32-7/8"

Surface Feet Per Minute

560
Includes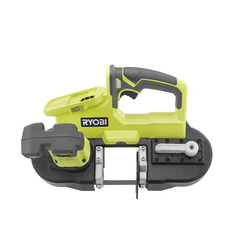 (1) 2-1/2" COMPACT BAND SAW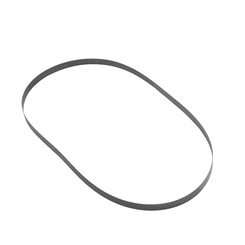 [#<ProductFeature id: 1827, title: nil, content: "(1) 2-1/2\" COMPACT BAND SAW", photo: "ec535297-b491-4334-bacb-0642fe677724.jpg", created_at: "2019-11-04 20:32:46", updated_at: "2021-02-01 22:20:58", product_id: 1189, sort: 0, enhanced_type: "included_item", enhanced_group: nil, enhanced_icon: nil>, #<ProductFeature id: 1828, title: nil, content: "(1) 32-7/8\" 18 TPI BLADE", photo: "5780ef40-60a1-4da5-a60b-328d0752d8d8.jpg", created_at: "2019-11-04 20:32:47", updated_at: "2021-01-21 00:43:17", product_id: 1189, sort: 1, enhanced_type: "included_item", enhanced_group: nil, enhanced_icon: nil>, #<ProductFeature id: 1829, title: nil, content: "HEX KEY", photo: "e20db5cf-60e9-44f1-ba99-64590673393c.jpg", created_at: "2019-11-04 20:32:48", updated_at: "2019-11-09 00:12:25", product_id: 1189, sort: 2, enhanced_type: "included_item", enhanced_group: nil, enhanced_icon: nil>]
Reviews
18V ONE+ 2-1/2" Compact BAND SAW
18V ONE+ 2-1/2" Compact BAND SAW
is rated out of
5
by
55
.
Rated

4

out of

5
by
shoe
from
It was time
Great to finally see a portable band to keep up with the cordless competition. The size is fine for a smaller application... I'd love to see the full size portable-band band as well. Now for the reason for 4 stars... portable-band band saws are used for many uses and materials and for that reason there is different tooth blades and what is missing from this saw is the variable speed trigger a great option for starting a cut and for materials that are softer to keep the cut where you want it, second would be a brushless motor for power and battery enhancement. This is a good start and I look forward to using this one and hopefully a upgraded model in the future.
Date published: 2019-12-25
Rated

4

out of

5
by
harleyshoe
from
great size and price
I've been waiting for a Ryobi one portable-band saw forever it seems... I have a use for this a lot of the time for my metal working and blacksmithing hobby. I use many Ryobi one tools and own somewhere around 30 Ryobi One tools at this time. This saw is perfect for quick cuts and for small intricate cuts for making pieces fit. Now for the reason behind the 4 star instead of a 5 star... Every portable-band band I've ever used has been a variable speed and the reason is to start a cut on a line and to cut different materials at different speeds to control the run out and the heat on the blade. So for this saw to be with the big 3 out there it should be variable speed and to go a notch above that make it brushless to match the team of drills, saws,surface grinders and impact drivers to mention a few (that I do own).
Date published: 2020-01-16
Rated

5

out of

5
by
Bagley36
from
Amazing Tool for Ryobi One collection
As soon as I heard Ryobi was coming out with a portable band saw, it was a must have! Since acquiring my bandsaw I have cut re-bar, t post, cattle panels, metal brackets, with ease and speed. Its fits nicely in your hands and operates smoothly. A must have for your Ryobi tool collection.
Date published: 2020-03-09
Rated

4

out of

5
by
notTomHanx
from
Good, could be better
The biggest con is the size. It's not like a pro saw that can cut 4" material. But I knew that before buying it, so I won't say anything more about that aspect of it. It feels like it's well made, heavier construction than many other Ryobi tools I own. It's fairly well balanced, even with a 6ah battery on it. The handle for your left hand feels a little bit awkwardly shaped, but it gets the job done. The LED light that shines on the cutting area is a nice touch, although it could be a little brighter. I've only used it a couple times so far, but it does cut well, the blade tracks nice and straight...but the blade speed is slightly slower than some other brands. Not a huge deal, but cutting 3/4" round bar does take a few seconds longer compared to other saws. Only other issue is with the availability of the blades. It came with 2, which is good, because it seems to be a less common blade length, and I haven't yet found a place that carries them locally. Easy to find online though.
Date published: 2020-01-28
Rated

4

out of

5
by
Swade
from
Finally
Use a smaller Milwaukee m12 on a daily basis, but is a little too small to evenly cut larger pipe. All my other tools are Ryobi so this is a nice addition and works great. Only issue I have is balance and weight. Not well designed for one handed use. If the battery was in the handle on the other side it would probably be great
Date published: 2019-12-30
Rated

5

out of

5
by
Zack Arkansas
from
Best saw ever! SAFE!!!
I purchased this bandsaw over a month ago and it has been my go to bandsaw for cutting round and square tube in my welding shop. Not having to drag around a cord save me so much time(money). Also it's much safer with its cutting light and no trip hazards or high voltage hazards. I did have a small issue with it when I first used it, the blade it came with was mm's too small causing the wheels to pigeon toe and the blade was walking off the wheels cutting into the guides.
Date published: 2021-01-22
Rated

5

out of

5
by
Coke
from
Nicely balanced, fairly sturdy tool.
Bought this to do various jobs both at home and on the job I cut everything from wood dowels, lucite dowels, copper, galvanized and black iron pipe. Also come in handy for cutting aluminum screen frame material. Works flawlessly and I love the fact that every 18 volt RYOBI battery I have works in. I use this almost everyday and am more than happy with it.
Date published: 2020-07-28
Rated

5

out of

5
by
Adino
from
Easy control with cuts.
This saw makes smooth, easy, straight cuts. Good control with even weight.
Date published: 2019-11-15