+7
18V ONE+™ 3-Speed 1/2 IN. Impact Wrench
Model: #P261
+7
The RYOBI 18V ONE+™ 3-Speed ½ in. Impact Wrench is more compact and more powerful than the previous model. With this new design, it produces 300 ft-lbs of torque and up to 3,200 impacts per minute allowing you to use this tool for a variety of heavy-duty applications. This tool features a 3-speed selector switch and tri-beam LED lights. The RYOBI 18V ONE+™ 3-Speed ½ in. Impact Wrench works with any 18V ONE+ battery (sold separately) and is a part of the ONE+™ System of over 70 great tools that all work with the same 18V battery platform.
Features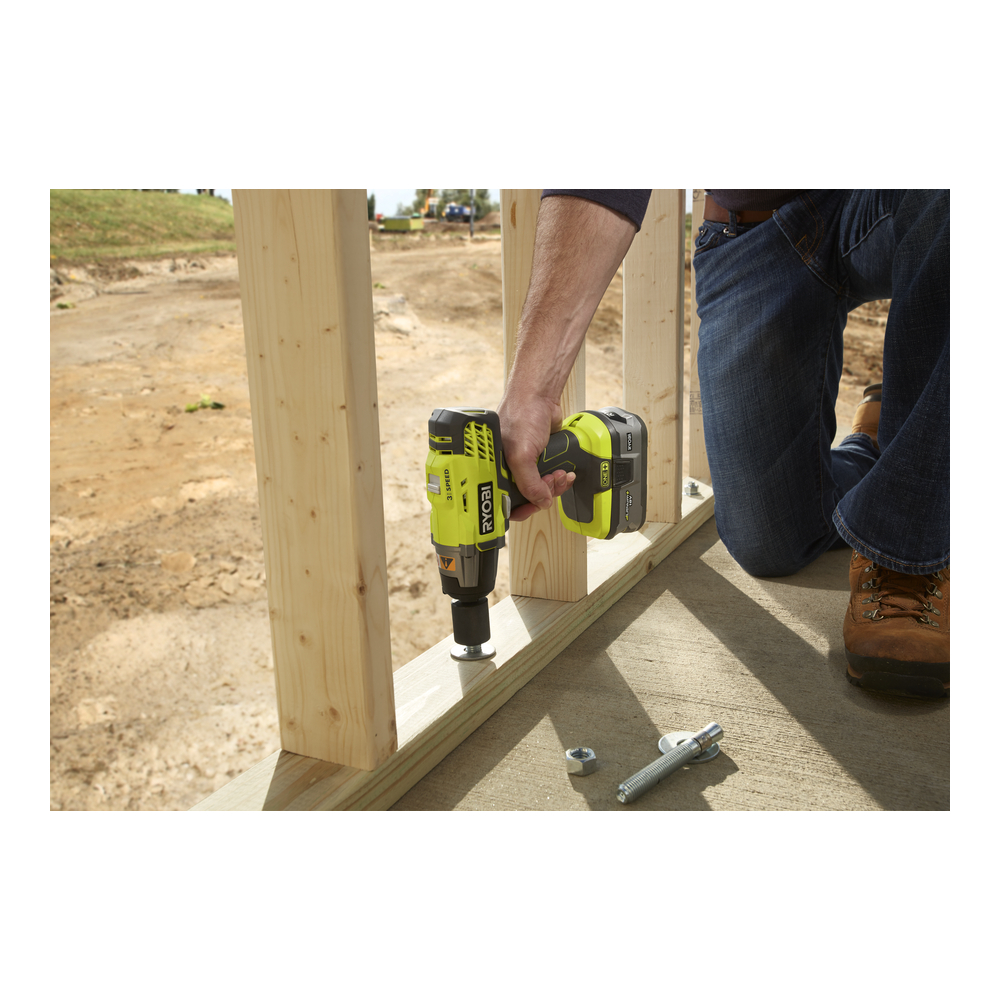 Impact mechanism produces 300 ft-lbs torque and up to 3,200 impacts per minute (IPM) for a variety of heavy-duty applications
Powerful design allows for tightening or loosening various nuts and bolts
3-Speed Selector Switch offers greater control over a wide range of fastening applications


0–2,900 RPM* for maximum torque
0–2,300 RPM* for controlling driving depth and fastener tension
0–1,800 RPM* for precision fastening

Tri-LED light increases work area visibility
1/2 in. square anvil with detent pin retention for easy and secure socket connection
New and improved GRIPZONE™ overmold for optimum grip and user comfort
Specifications
Battery: 18V
Anvil: 1/2 in. with detent pin retention
RPM: High: 0–2,900*
Medium: 0–2,300*
Low: 0–1,800*
Torque: 300 ft-lbs
IPM: 0–3,200
Tool Weight: 3.45 lbs.
*No Load Speed
Reviews
18V ONE+™ 3-Speed 1/2 IN. Impact Wrench
18V ONE+™ 3-Speed 1/2 IN. Impact Wrench
is rated out of
5
by
263
.
Rated

5

out of

5
by
VelocityRC
from
Suprised At The Torque
Retired from the wheel and tire business after 25 years so I have a lot of experience with 1/2" air impact wrenches. It's certainly not a stud snapper but works great removing wheel lugs for at home servicing of my vehicals. The three speed function wasn't clearly explained when I purchased it. It is actually three torque settings. I use 3 for removal of lugs and position 1 to install them. this runs them down to ~ 80ft lbs and then I can finish off with the torque wrench. If your vehicle has small 10mm studs setting #1 may be too much if your specs call for 65ft lbs so be advised. This is also great to bring on road trips just in case the unfortunate happens.
Date published: 2021-01-10
Rated

5

out of

5
by
AngrySection8
from
Surprisingly Powerful
I bought this for use in the garage simply to avoid dragging an air hose around. Decided to give it a go at the farm, had to pull the front wheel of a tractor as well as the hub/planetary setup, figured it would just chatter on such large items but to my surprise with very little effort it removed every bolt on the job, I honestly never expected it to have the power to do so considering these aren't car lug nuts were talking about, couldn't be happier with it.
Date published: 2018-04-12
Rated

5

out of

5
by
Parsrobc
from
Best tool I own
I've only used it twice so far, but the last time when I had a blowout on my boat trailer. I used the impact on the lug nuts AND the screw jack to lift the axle. SO MUCH EASIER with this powerful light-weight impact. The LED lights really help when working in dark quarters. Sockets attach and stay on, and they come right back off without a struggle. I tested several rusty bolts with my torque wrench when I got home, all nuts we're at about 100ft/lbs. I pulled a couple of the other axle, and it took over 120ft/lbs to break them loose. My Excursion lug nuts are torqued to 165ft/lbs, and this impact will remove them as well Looking forward to a long history with this tool.
Date published: 2020-09-28
Rated

5

out of

5
by
ACESPADES
from
Great little DIY gun
Got this with the ryobi buy a battery and get a tool for free, I asked around on the ryobi rebels facebook group and they recommend it also my old school had the same gun too and they liked it so I figured I'd give it a shot, I previously had a corded HF tools impact that was a pain to get the extension cord and this tool eliminates that problem with the battery. As for power it tears lug nuts right off my 1999 jeep grand cherokee laredo so no more breaker bar! Overall I like the gun and ryobi platform as all the batteries are compatible my only negative is that the gun has a brushed motor but with the 3 year warranty I should be covered.
Date published: 2020-02-26
Rated

2

out of

5
by
jmdoty77
from
Not Impressed - Slightly Disappointed
I bought this hoping to continue expanding my power tool set, as well as be able to get the job done. I was happy with the price I paid, but cheaper obviously isn't better. I needed to change the blades on my riding mower. I thought 300 pounds of torque would be enough. Long story short it wasn't. My brother in law had to bail me out (and I'll never hear the end of it) with his Milwaukee impact wrench that has 380 pounds of torque. Where the Ryobi wouldn't budge the bolts, the Milwaukee made it look effortless. Please consider increasing the power to keep up with the competition. I'm seriously considering returning this tool.
Date published: 2020-05-28
Rated

5

out of

5
by
luixervantes
from
Amazing Tool!!!
I bought this tool last summer, when I was at the store looking at this1/2 IN. impact driver I never thought it had so much power. The tool seemed to be so small compared to other brands and I never imagined this tool would perform the way it does. I always work on my cars and even though I live in a city where they use salt during winter and the cars get a lot of rust there's is not one single time this impact driver has let me down. The reason I gave five stars to this tool is because the price, weight, size and power ratio is simply amazing compared to other brands.
Date published: 2019-05-01
Rated

5

out of

5
by
Brento
from
Works Well!!
This impact wrench is awesome. I was a little skeptical. I have 4 vehicles that I change summer and winter tires/rims back and forth. This impact wrench worked really well. Did all 4 vehicles on same battery pack. The the highest lug nut was tightened to 90 ft:lb and it took it off no problem. Just remember to use setting 3 to take nuts off. Ha ha I tried setting 1 at first and I thought, "wow, this thing is gutless ...." but went to setting 3 and it pulled the lug nut off in a blink of an eye. I am building a shed this summer and will be driving 8" lag bolts 3/8" from floor joists into 4x6 skids. I will be drilling 3/16' pilot holes but Im curious to see how this impact driver will perform.
Date published: 2019-05-12
Rated

5

out of

5
by
cliff the tool guy
from
Amazing power
I've used air tools for years, and no longer have a air compressor, so looked at this tool. My son purchased this for me as a birthday gift and used it to help son-in-law do breaks on a older truck. We couldn't budge some bolts with a breaker bar and gave this a try. WOW, removed rusty nuts and bolts easily, made a long afternoon very short. At this time, don't miss an air compressor and dragging air hose around.
Date published: 2018-06-02