+16
18V ONE+ AirStrike™ 18GA Narrow Crown Stapler
Model: #P360
+16
The RYOBI® 18V ONE+™ System introduces the new addition to the RYOBI AirStrike™ family - the 18V ONE+™ 18ga Cordless Narrow Crown Stapler. This tool features AirStrike™ Technology, which eliminates the need for noisy compressors, bulky hoses or expensive gas cartridges. This means faster setup and easier maneuvering on the job site or at home. Tackle your projects from start to finish with the capacity to drive up to 1,500 staples per charge using the new and improved P108 4Ah High Capacity LITHIUM+™ battery (sold separately). The 18V ONE+™ 18GA Cordless Narrow Crown Stapler is sold as a bare tool, allowing you to build on your ONE+™ collection without spending additional money on batteries and chargers with each tool purchase. Best of all, like every RYOBI® 18V ONE+™ blue or green tool, this AirStrike Narrow Crown Stapler works with any 18V ONE+™ battery. Upgrade to lithium-ion or LITHIUM+™ batteries for lighter weight and better performance.
Features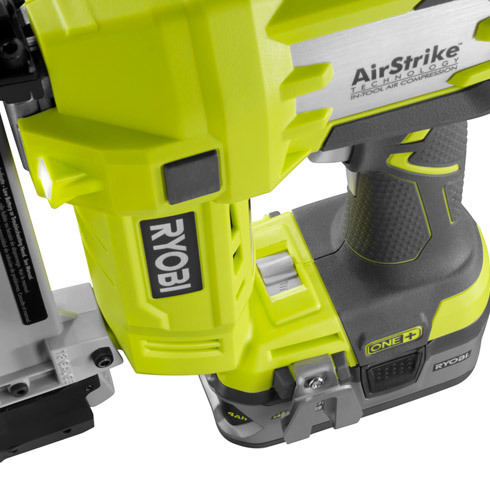 Selectable Drive Switch
Selectable drive switch with single sequential or contact actuation
Single Sequential Mode for precision placement
Contact Actuation Mode for production speed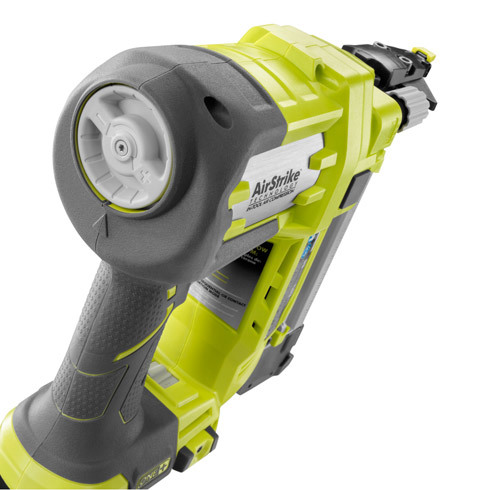 Precision Control
Toolless depth-of-drive adjustment helps protect work surface and allows proper setting of staples
Convenient adjustment dial regulates air pressure for optimum results
Staple Capacity
For use with 18ga 1/4" narrow crown staples
Drives 3/8" to 1-1/2" staples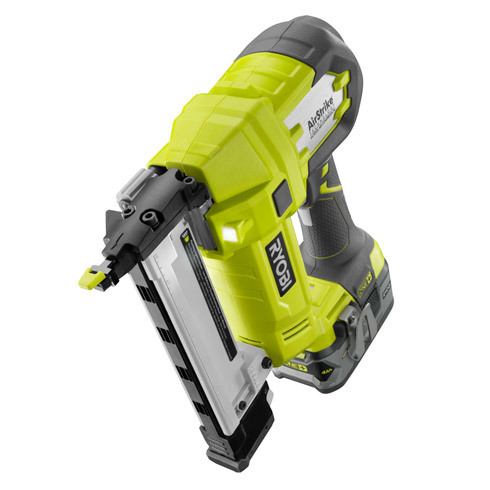 Safety and Ergonomic Features
Grip-Light technology engages LED by grasping the tool handle
Two non-marring pads to keep work surface free of tool marks (one in storage position on rear of magazine)
Dry-fire lockout feature extends tool life
Low staple indicator to quickly and easily see when it is time to re-load
Belt hook mounts to right or left side for added convenience
New and improved GripZone™ overmold for optimum grip and user comfort
* Battery Sold Separately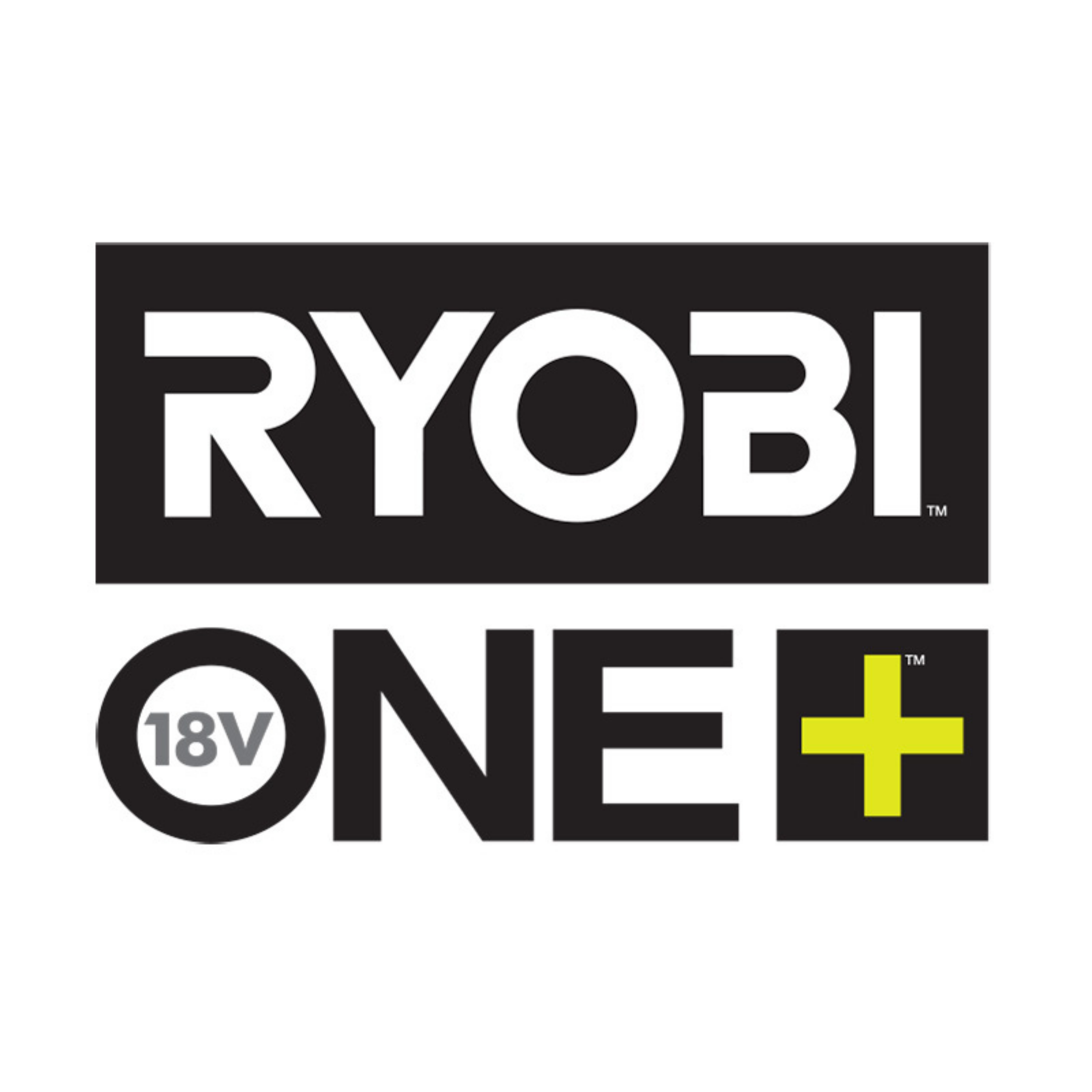 All RYOBI 18V ONE+ tools work with all RYOBI 18V ONE+ batteries.
Specifications
Battery: 18V
Type of Staples: 18GA 1/4" Narrow Crown
Magazine Capacity: 105 Staples
Staple Length: 3/8" to 1-1/2"
Staples per Charge using P108 Battery: 1500
Fastener Collation: Glue Strip
Tool Weight: 5.0 lbs
Includes
P360 Stapler
(500) 1" Narrow Crown Staplers
Belt Clip
Operator's Manual
Reviews
18V ONE+ AirStrike™ 18GA Narrow Crown Stapler
18V ONE+™ AirStrike™ 18GA Narrow Crown Stapler
is rated out of
5
by
112
.
Rated

1

out of

5
by
Service Manager
from
broke again!!!
Purchased this gun back in October 2017. It didn't last 2 months. I had to drive an hour to drop it off at a Home Depot that repairs them. The one 10 miles from my shop does not repair them. If they sent it out to the home depot that repairs them. It would take 8 weeks. I brought it there myself. Time goes by, I return to the store to check on it. Guess what? They cant find it. I buy another one This October, 3rd to be exact. This one will not work now either. I am done buying Ryobi. I have invested thousands in Ryobi tools over the years. I have lost the faith. I am not going through this process all over again. This gun is less than 2 months old. it should be an automatic replacement!!! But then again, that one will probably break also. Off to look at different brands.
Date published: 2018-12-12
Rated

4

out of

5
by
Whowell
from
Great for moving around big jobs.
I've had this for almost a year and have used it for multiple projects including, cabinetry, trim work, and other odds and ends repairs. It hits as hard as an air powered stapler. The adjustable depth is nice for switching from woodwork to upholstery. Only downside is size and speed. It's bulkier than it's air driven counterparts so tight quarters makes it harder to use. The firing rate is longer than the air driven ones due to it compressing the air for each shot which can slow you down a little but not bad when you can move from place to place without having to move the hose.
Date published: 2020-10-02
Rated

5

out of

5
by
TerryT
from
Great nailer
I bought one 2 months ago and used it regularly for the first 2 weeks. Did not use it for a few days and when I went back to it, it would "charge" but would not drive. It functioned some of the time. Sometimes switching to continuous drive mode got it working but it became a real pain, then just quit. I took it back to Home Depot and the exchanged it with no questions asked. The new one is working great. I really like the convivence f this tool for installing baseboard and 1/4 round.
Date published: 2018-11-20
Rated

5

out of

5
by
Tommybally03
from
Best crown stapler for the money
I bought mine to install roughly 600 feet of chicken wire on a back yard fence. I went through 6 boxes of staples that weekend without a single failure. I already had extra batteries and chargers from my Ryobi weed trimmer and other power tools. This thing works great for putting up wood privacy fences quickly so that you then go back with the impact driver and put the wood screws. The best part is not having to drag out my air compressor, drag and potentially damage the hose, and waiting for the compressor to build up pressure. Would definitely recommend and buy again if it failed!
Date published: 2020-05-12
Rated

5

out of

5
by
Necromancer
from
Power to spare
Unable to use my pneumatic nailer for a retro (solid 3/4") hardwood floor install, I purchased the Ryobi unit with low expectations for performance. I couldn't have been more wrong. The unit fired in excess of 1500 staples on one batter. I had to dial back the impact force to prevent over-penetration. The results have been nothing short of perfect.
Date published: 2019-06-12
Rated

5

out of

5
by
TripleG
from
Best Tool for the Job
Without a doubt the best tool for the job at hand. Wife asked me to redo four kitchen table chairs. Initially thought no way since I had little experience with putting new fabric on a chair. Researched many power tools and found the 18GA Narrow Crown Stapler to be the best. Besides, I got to add another 18V Ryobi tool to my already growing set.
Date published: 2019-04-11
Rated

4

out of

5
by
Vig13
from
Great TOOL
Happy I added this to my Ryobi collection. Super easy to use and functions with all the 18V batteries I had. Light and easy to carry. Makes projects that much easier!
Date published: 2019-04-01
Rated

2

out of

5
by
scot835
from
not so good
It stopped working. I can't find out why or where to send it.. The trouble shooting guide is so useless I have to laugh
Date published: 2020-06-15