+3
18V ONE+™ 18GA OFFSET SHEAR
Model: #P591
+3
Introducing the RYOBI ONE+ 18V 18-Gauge Offset Shear. Featuring an off-set head, this shear is great for cutting various materials, like chicken wire, steel, and roofing shingles The rotating head design makes it easy to adjust the angle of the shear to fit your job. This tool's blades are replaceable for continued performance, and a variable speed trigger gives you optimal control all the way through your cut. Power is no problem for the ONE+ Offset Shear. When used with our 4 AH battery, this tool easily and cleanly cuts through over 1000 ft. of sheet metal on a single charge. The RYOBI ONE+ 18GA Offset Shear is part of the RYOBI ONE+ Family of over 100 Products.
Features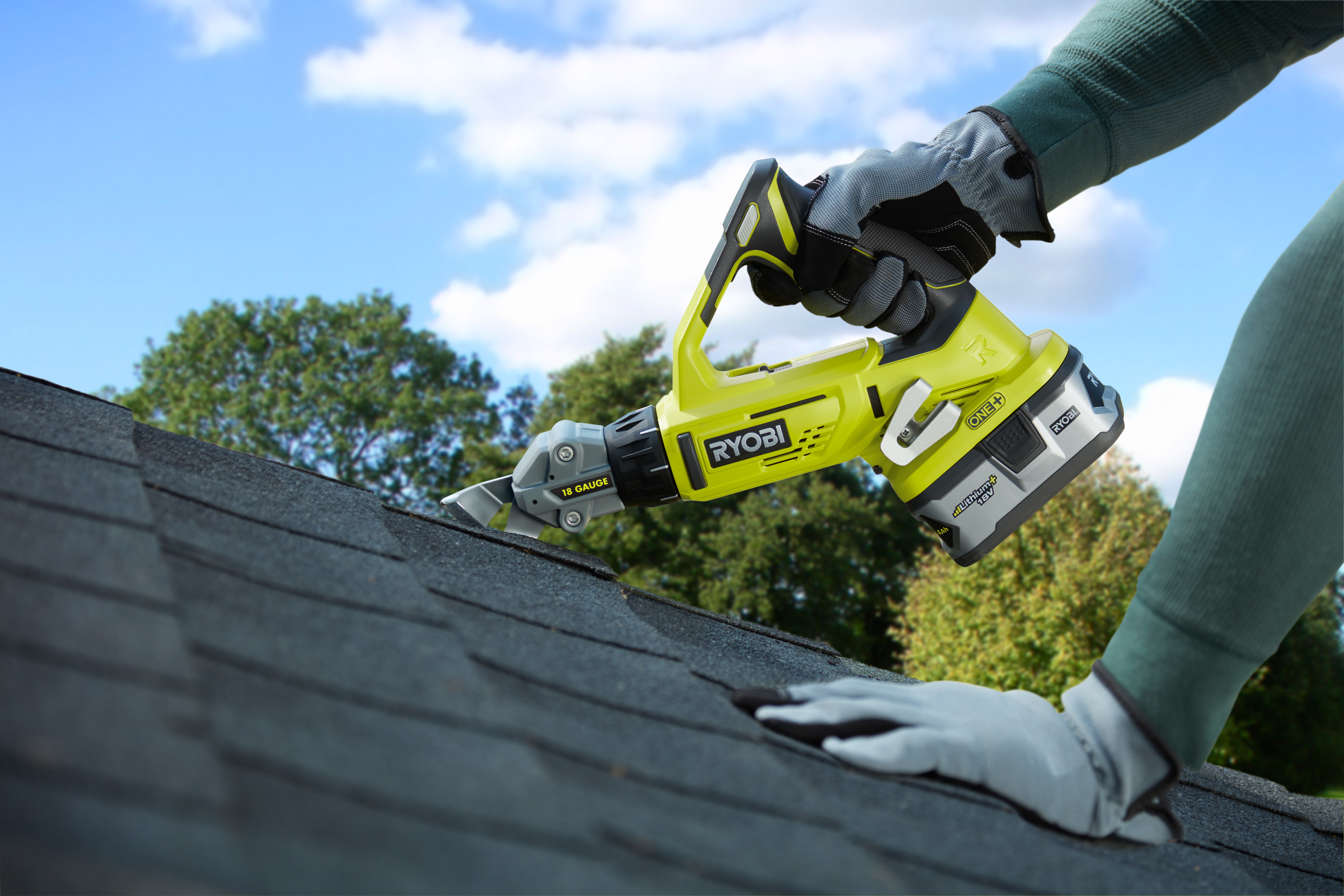 Features
Rotating head for versatile cutting
Offset Shear Design for use on multiple materials including sheet metal, vinyl siding, chicken wire and corrugated steel
Replaceable blade capability for continued performance
Over 1000 ft. of sheet metal cut on a single battery charge using a P108 battery
Variable Speed trigger for maximum control
GRIPZONE overmold for optimum grip and user comfort Includes
Belt Clip and Hex Key
Part of the RYOBI ONE+ Family of over 100 Products
Reviews
18V ONE+™ 18GA OFFSET SHEAR
18V ONE+™ 18GA OFFSET SHEAR
is rated out of
5
by
47
.
Rated

5

out of

5
by
gm12338
from
Safer Super F-A-S-T Cutting!!!
I bought this a month or so ago and finally used it. I have a big stack of the older thicker heavy corrugated 12' length galvanized roofing. I've always hated having to manually cut roofing for out-building and other projects here on our farm. Cutting this roofing material is an especially tiring job here which is mostly done at ground level. My arthritis acts up when manually cutting these and other sheet metals causing me much hand pain/discomfort. I was excited and curious to see how these Ryobi shears would work. WOW, was I shocked!!! These new shears cut through even this thick metal with ease, glides through SO FAST it's like butter! Also, it's very time saving and so much safer too. The shear length is long making the handle way back, which keeps the cut metal further from your hand. I'll really enjoy using these shears often! Thanks Ryobi for making another wonderful tool product.
Date published: 2019-06-18
Rated

5

out of

5
by
RowdyRob
from
Simply Amazing!
I bought this 6 months ago and actually got to use it the other day. I needed to tear down an old shed and cut galvanized roofing up beautifully. years ago I attached welded wire along bottom of wood fence to help keep dogs from digging, so couldn't plant any bushes near it. I took this and went along and snipped off 50 feet of welded wire with this instead of side cutters. I'm going to order replacement blades for the day when I over do it!
Date published: 2018-03-31
Rated

4

out of

5
by
JRobi1982
from
Works really well.
I bought this tool to help with my project tiny house. I needed a way to cut sheet metal to cover the underside of the house and it works really really well on flat sections of metal. On the ridges of steel roofing it struggles to make it through the bends. That's my only complaint. I'm happy with my purchase and would do it again in a minute.
Date published: 2019-04-12
Rated

5

out of

5
by
lewis818
from
Shear genius
Another tool I bought on a whim, not necessity. I didn't really need this tool, but I picked it up just to add to my ONE+ collection and boy am I glad I did. This thing is handy, saves time not to mention carpal tunnel.
Date published: 2018-10-04
Rated

4

out of

5
by
Charlie13
from
Great for HVAC
Awesome tool for HVAC Sheetmetal. Used it twice so far. Used it to cut some 8" 26ga pipe and to make a plenum. Gonna order some extra blades.
Date published: 2018-08-11
Rated

5

out of

5
by
Phantom
from
Great tool snips
Bought this a month ago to install a metal roof. Talking about taking the work out of it . Very pleased with the performance of the product.
Date published: 2020-09-17
Rated

5

out of

5
by
Mike1983
from
Awesome
Glad I bought this tool. It beats using aviator snips for sure.
Date published: 2019-04-07
Rated

5

out of

5
by
AngrySection8
from
Another great tool
Was going to buy an shear end for my multi tool but at 1.5x the cost of this tool I'm glad I didn't. I don't use it a lot but the few times I have it works great, cuts like butter. I've mainly used it on 28 gauge but do find myself cutting just about everything that I would normally just use side cutters on just because it's so easy and convenient. Another great tool to add to the arsenal of my 20+ ryobi one plus lineup
Date published: 2019-06-10