+10
18V ONE+™ Brushless Hammer Drill/Driver Kit
Model: #P1813
Brushless motor provides 50% longer runtime and extended tool life when compared to brushed motors
Powerful design produces up to 750 in-lbs torque to handle the most demanding drilling and driving applications
1/2 in. all-metal, keyless, ratcheting chuck for increased strength and durability
+10
OUTLAST, OUTPERFORM & OUTDISTANCE THE COMPETITION
Features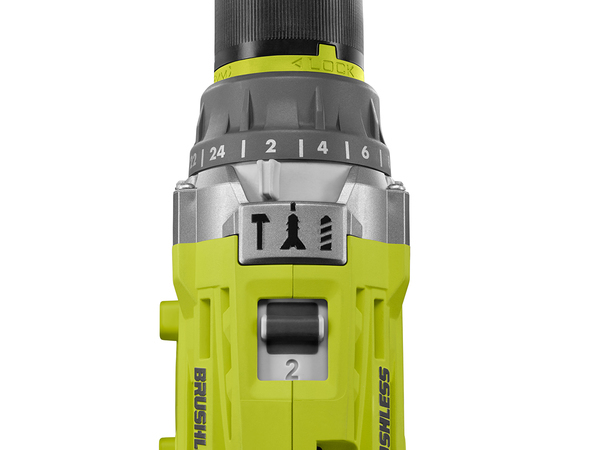 Clutch override for quick mode changes
(1)Drill Mode: For drilling holes in wood, plastic, and metal (2)Drive Mode: For driving screws and bolts (3)Hammer Mode: For drilling holes in masonry and concrete
LED Light illuminates the work area and remains on for a time after trigger is released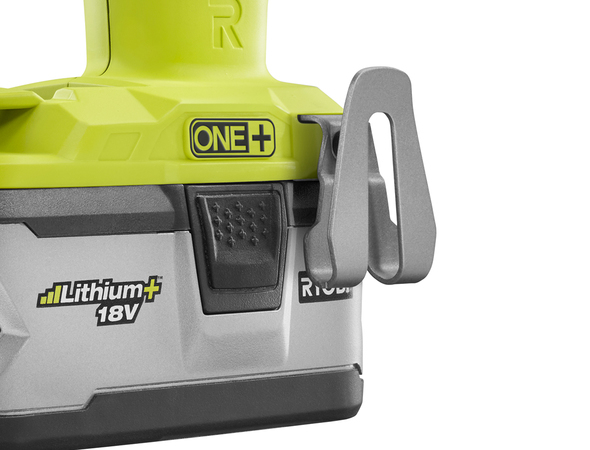 Belt clip mounts to both sides of drill for convenience
Auxiliary handle assembly included for accuracy while drilling
Specifications
Dimensions
Tool Weight

3.15 lbs
Details
Battery

18V

Chuck

1/2 in Keyless

No Load Speed

0-410 / 0-1,800 RPM

BPM

0-5,400 / 0-23,000

Clutch

24 Position

Torque

up to 750 in-lbs
Warranty
Certifications and Listings

1-UL Listed
Includes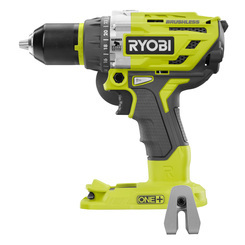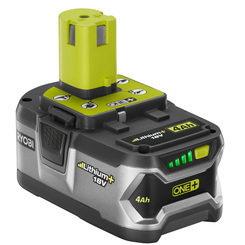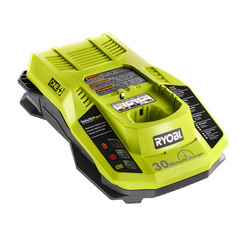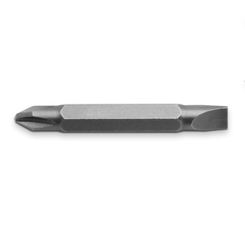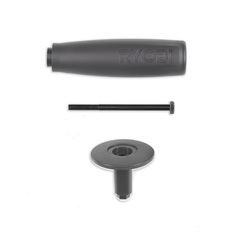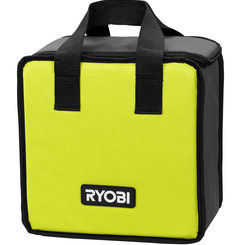 [#<ProductFeature id: 1441, title: nil, content: "Hammer Drill", photo: "f37fd07c-5c3f-4a79-85f2-772c39480f56.jpg", created_at: "2018-05-29 20:17:33", updated_at: "2018-05-29 20:17:33", product_id: 842, sort: 0, enhanced_type: "included_item", enhanced_group: nil, enhanced_icon: nil>, #<ProductFeature id: 1442, title: nil, content: "4.0Ah Lithium+ Battery", photo: "9b96b735-81f8-4706-af35-e835667d9d01.jpg", created_at: "2018-05-29 20:17:36", updated_at: "2018-05-29 20:17:36", product_id: 842, sort: 1, enhanced_type: "included_item", enhanced_group: nil, enhanced_icon: nil>, #<ProductFeature id: 1443, title: nil, content: "Dual Chemistry Charger", photo: "1ad076b4-961c-4c31-9ac6-61ed6e4d58d3.jpg", created_at: "2018-05-29 20:17:37", updated_at: "2018-05-29 20:17:37", product_id: 842, sort: 2, enhanced_type: "included_item", enhanced_group: nil, enhanced_icon: nil>, #<ProductFeature id: 1444, title: nil, content: "Screwdriver Bit", photo: "a5565bd9-3b6c-4394-ab8e-a0e130a4f35d.jpg", created_at: "2018-05-29 20:17:38", updated_at: "2018-05-29 20:17:38", product_id: 842, sort: 3, enhanced_type: "included_item", enhanced_group: nil, enhanced_icon: nil>, #<ProductFeature id: 1445, title: nil, content: "Auxiliary Handle ", photo: "fa1eb650-5b03-4db4-91e8-2f345437b6f4.jpg", created_at: "2018-05-29 20:17:39", updated_at: "2018-05-29 20:53:47", product_id: 842, sort: 4, enhanced_type: "included_item", enhanced_group: nil, enhanced_icon: nil>, #<ProductFeature id: 1446, title: nil, content: "Belt Clip", photo: "bc454b33-2b76-413a-bf75-ec11c0ac8a80.jpg", created_at: "2018-05-29 20:17:41", updated_at: "2018-05-29 20:53:48", product_id: 842, sort: 5, enhanced_type: "included_item", enhanced_group: nil, enhanced_icon: nil>, #<ProductFeature id: 1447, title: nil, content: "Tool Bag", photo: "a5923755-37a3-4619-9a14-7340856339ce.jpg", created_at: "2018-05-29 20:17:44", updated_at: "2018-05-29 20:17:44", product_id: 842, sort: 6, enhanced_type: "included_item", enhanced_group: nil, enhanced_icon: nil>]
Reviews
18V ONE+™ Brushless Hammer Drill/Driver Kit
18V ONE+™ Brushless Hammer Drill/Driver Kit
is rated out of
5
by
143
.
Rated

5

out of

5
by
da_bradder
from
Great tool for the price! Batteries are fantastic.
I've had this drill/driver for about a month and so far, it's been great. The brushless motor has a ton of torque and I don't really have any reservations as to how long it'll last. Feels great in the hand and the chuck seems decent quality for a tool of this price. The battery packs were honestly my selling point and they don't disappoint. The 30 min charger and the 2 li-ion batteries last quite a while and take virtually no time to recharge. I have a handful of other Ryobi One+ tools and use the batteries in them too with no problem at all. Overall, great drill/driver. Would definitely recommend, especially if you already own other One+ tools.
Date published: 2019-04-04
Rated

3

out of

5
by
ZMiller
from
Works just how I want it to.... has 1 major flaw!
This would be my 5th drill, I keep breaking the chuck bolt. I have 3/4 nuts welded to my trailer jacks and I use this drill primarily to raise and lower my trailers. When I go in reverse to lift the jack all the way up I sometimes don't stop the drill before it retracts all the way. Its not a hard stop but its hard enough that it'll break the chuck bolt and the chuck will unscrew off the drill. I have tried to locate at the hardware stores a new grade 8 revers thread bolt but they don't carry the right shape of the head. Ryobi............... please upgrade the chuck bolt please. it looks to be a grade 2 bolts which is insufficient for a drill with that much power. Thank You!
Date published: 2018-12-12
Rated

5

out of

5
by
APPLGUY
from
One Tough 18V One+ Brushless Hammer Drill
After owning MANY YELLOW 18V Tools the Manufacturer upgraded their tools to 20V and their 18V batteries DO NOT FIT the NEW Tools... So I purchased the RYOBI 18V ONE+ Brushless Hammer Drill and I must say- I'm so glad I did. I'm so happy with the Power, Durability and Price of this tool and currently this 18V ONE+ Hammer Drill gets used daily. I no longer use the Yellow 18v Tools and currently they are waiting to be disposed of. The 18V ONE+ 4.0 amp Battery lasts almost all day, plus I also own the 18V ONE+ 2 Gallon Sprayer and it's battery is also compatible with the Brushless Hammer Drill/Driver.. so I can use the Sprayer's battery on the drill as well
Date published: 2019-09-30
Rated

5

out of

5
by
Tony Lee
from
Powerful and Versatile Hammer Drill
I have had the Ryobi Brushless Hammer Drill since January 2018 and it is awesome. I have used it in many home improvements at home, from drilling on cement and wood, to driving screws and it is my favorite tool. The Brushless motor combined with the 4.0A 18v battery make the drill so powerful and long lasting. The hook on the side of the drill makes carrying it so easy and convinient without the use of a carrying tool belt or bag. No need to overpay for a hammer drill with lots of power. Ryobi delivers one of the most powerful hammer drill for a great price. You can't go wrong on this one.
Date published: 2018-06-29
Rated

5

out of

5
by
jah43819
from
Amazing
Absolutely loving the new Ryobi brushless tools. This is a great drill. It has all the power and the settings you could want. This is now my second set of Ryobi cordless tools. The others ones still worked great btw... just wanted to upgrade. And what an upgrade. These tools are good. I beat the #%!* out of my old ones. Pushed them all the time. These new brushless... you can feel the extra power yet the triggers are sensitive so you can finess your work when you need to.
Date published: 2018-04-09
Rated

5

out of

5
by
PhilG
from
Great so far
Purchased about a month ago use 2-3times a week for a few hours at a time. Way better than the previous model. I love the torque and the low amount of kickback in hammer mode . Still heavier than most of the competitors, Ryobi needs to work on lightening their tools while maintaining or improving durability. This is replacing my old Ryobi hammer drill combo that I purchased a little over two years ago. While drilling a 3/16" pilot hole for tap cons the clutch or a motor blew but I lost all torque. I would recommend if you don't use your tools all day everyday or are a homeowner in need of tools that will last . I work in a supervisory role and they do just fine for me .
Date published: 2020-09-25
Rated

5

out of

5
by
Shaggysan1
from
Brushless is the way to go!!
All of my ryobi product so far work flawlessly. I recently needed to drill some anchors in concrete and usually use a corded drill. This time I needed to be portable and up on a ladder and didn't want to mess with cords. I have not had a cordless hammer drill in the past and this one is superb. I don't know if its because I haven't tried a brush-less drill yet or what but this drill driver is a beast! The torque and speed with which it drilled into solid concrete was tremendous. I love the fact that it is a clutched driver as well so when I was done drilling my anchors I was able to drive the bolts down without breaking the heads off. The included 30 min charger was a nice touch as well. Very happy with this drill.
Date published: 2019-06-21
Rated

5

out of

5
by
Kev1987
from
atomic great name
I was using your older model on speed impact while building a deck for a family the worst of the worst weather wore down the screws to the point where my old impact was striping them and just turning the head with if I was lucky now this fantastic 3 speed demon Ryobi put out took those stripped screws right out not a second thought and spun what was left of those broken screws right out and while the competition would be over heated taking out over 300 screws Ryobi 3 speed impact was just getting heated up love the brush less design where the others would over heat and have to take a break it kept up nice job
Date published: 2020-07-03