While supplies last, purchase this RYOBI 18V ONE+ LITHIUM+ High Capacity Battery with a Free 2nd 4Ah Battery included ($198 value if purchased separately). This limited time offer is an incredible value for any RYOBI ONE+ user. The RYOBI 18V ONE+High Capacity LITHIUM+ battery provides 4x more runtime, 4x longer lasting charge and 20-percent lighter weight than Ni-Cd batteries. The fuel gauge lets you know the battery status before work begins. Lithium-ion batteries provide fade-free power for maximum performance throughout the charge. Best of all, it works with over 70 great one plus tools.
---
Product Videos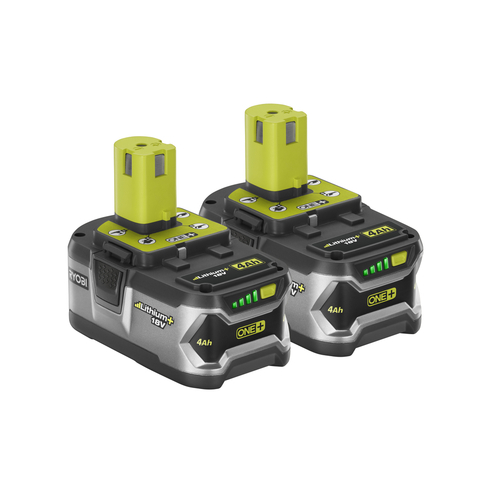 Compared to 18-volt Ni-Cd (P100):
4X runtime
Improves the performance of 18V ONE+ tools up to 35-percent
On-board fuel gauge to check your charge before work begins
Holds charge 4x longer
Compatible with all RYOBI 18V ONE+ tools
Charge only with 18V one plus dual-chemistry chargers
20-percent lighter weight reduces user fatigue
(2) 18V ONE+ High Capacity LITHIUM+ batteries
Tool Lanyard - Model p922
One+ 18V SDS Plus Rotary Hammer Drill - Model p222
19 V Angle Grinder - Model p422
Angle Grinder, 18V - Model p422
18 Volt Lithium-Ion Battery Pack - Model p102 / p105
18 V Jig Saw - Model p522
18 V 2-Speed Hammer Drill - Model p211
1/2 in., 18 V 2-Speed Hammer Drill - Model p210
18 V Ni-Cd/Li-Ion 6 Port SuperCharger - Model p125
18 V Dual Port Charger - Model p120
18 V Battery Charger - Model p112
Click the link below to access power tool replacement parts schematics and order parts online.
For those customers that prefer ordering by phone, simply contact the Ryobi master parts distributor at toll free 1-877-545-4099, and place your order over the phone.
Visit Ryobi Power Tools Parts Store
---