+10
10 IN. Sliding Compound Miter Saw with Laser
Model: #TSS102L
+10
This RYOBI 15-Amp 10 in. Sliding Compound Miter Saw with Laser features 9 positive miter stops with ball and detent action for precision cuts. It has a 10 in. carbide-tipped blade for a smooth cut and an electric brake that stops the blade fast for added safety. The saw comes with an EXACTLINE™ Laser that provides a guide line for cutting. It also comes with table extensions that offer added support when you're working with large pieces.
Features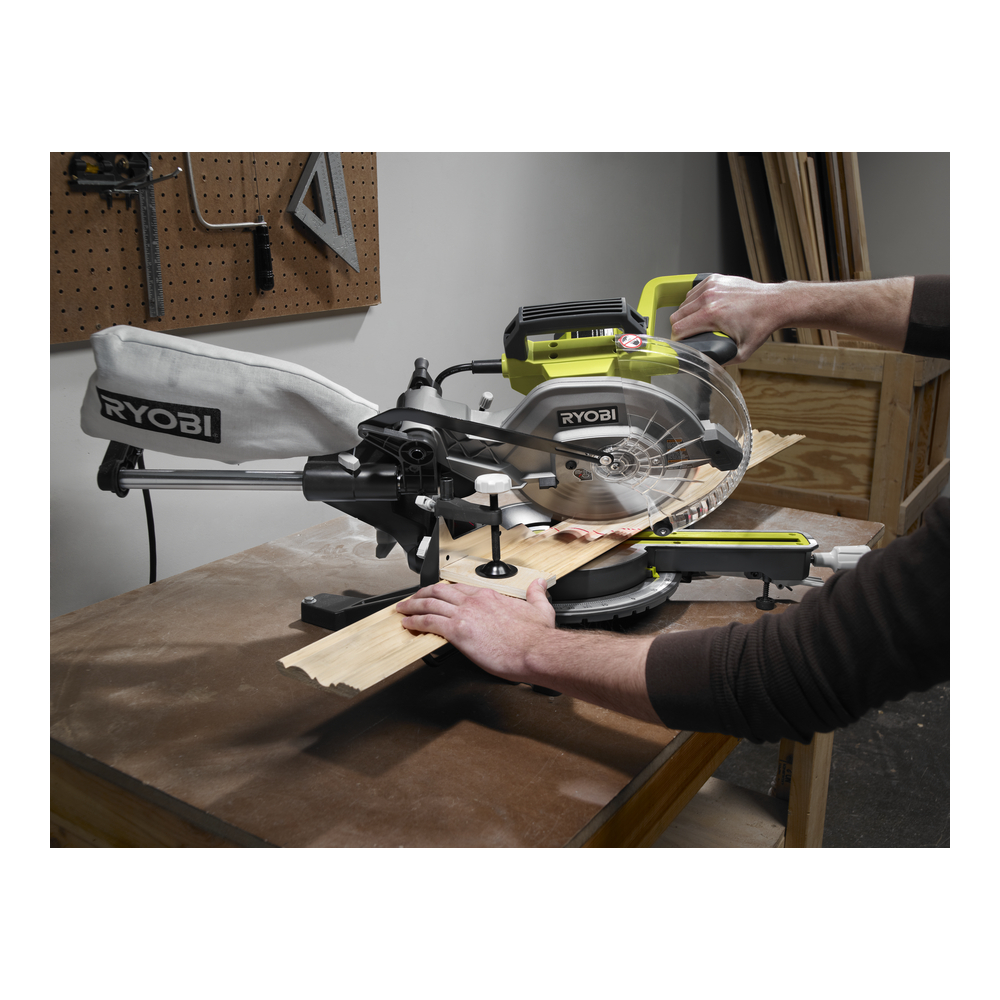 Heavy duty 15-amp motor to easily cut through larger material
Sliding head provides maximum capacity for up to 12" cross cuts
Miter stops located at the most common crown molding angles 0º, 15º, 22.5º, 31.6º, and 45º left and right for quick cut settings
Adjustable EXACTLINE™ laser alignment system accurately aligns cut line with blade and is internally powered (no batteries required)
Extended miter ranges from 45° left to 50° right to accommodate a wide variety of cuts
Miter detent override provides quick action lever by-passes miter detent index points with one simple motion
Machined cast-in miter scale for accurate table alignment
Fixed 1-1/4" dust port provides connection to standard dust collection systems and optimizes dust collection efficiency for plunge and sliding cuts
Horizontal D-handle for improved comfort
Specifications
Motor: 120V ~ 60 Hz 15 Amps Motor Speed: 5,500 r/min. (RPM)
Dust Port: 1-1/4"
Blade Arbor: 5/8"
Blade Diameter: 10"
90º miter cut: 1-1/2" x 12" & 3-1/2" x 3-1/2"
45º miter cut: 1-1/2" x 7-1/4"
Includes
TSS102L Compound Miter Saw with Laser and Carbide-tipped Blade
(2) Table extensions
Blade Wrench
Dust Bag
Work Clamp
Operator's Manual
Reviews
10 IN. Sliding Compound Miter Saw with Laser
10 IN. Sliding Compound Miter Saw with Laser
is rated out of
5
by
163
.
Rated

3

out of

5
by
Matt Omaha
from
Good but with one issue.
For the price, this is a very good saw. The slide mechanism isn't extremely smooth. And I ended up returning it because the blade could not reach the bottom back part of square boards. Typical lumber with rounded corners worked fine. But if you had a square board it would not cut all the way through. Then it would splinter. I tried to adjust the fence forward, but it was already maxed out. To be fair, I had put on a new Dewalt 10" blade. So it's possible the blade it came with would cut all the way through, but I didn't bother testing that. I want the flexibility of using different blades.
Date published: 2019-04-29
Rated

5

out of

5
by
Blake
from
Good saw for the money
I've had this saw a few months and I will say I do like it. It took a little adjustment to get it to cut just the way I wanted but it was nothing a screw driver and a pair of pliers couldn't fix. It's very easy to use, saw cuts smooth as butter when especially when it is fixed to a work bench with a fresh sharp blade. The motor has plenty of power, tears through 4x4's with ease. The dust collector bag works well but the surrounding areas will still get dusty so keep that in mind when choosing a place to set up. Overall it's a great saw, I bought this one for $129 on sale at my local Home Depot and I've already got my money's worth.
Date published: 2019-05-15
Rated

5

out of

5
by
Paul S
from
Great Saw
Great saw, I used it right away with ease. Built a work bench and storage shelves. Now on to more projects.
Date published: 2018-06-05
Rated

4

out of

5
by
anestis
from
Great saw with some minor flaws
I purchased this saw about a year and a half ago and have used it for multiple projects. It cuts great and I love the sliding arm. But, I haven't had good luck with adjusting the laser guide. So I made a zero clearance insert for the arm and an auxiliary fence. Each one has a cut that I use to locate the kerf when making straight cuts. Also, I found that the fence was difficult to adjust. But, eventually I managed to adjust it but taking it completely off, cleaning some oil residue from the fence and the saw surface, and reassembling it. Overall, it's a pretty good performing saw for the money.
Date published: 2019-10-06
Rated

4

out of

5
by
Bobr
from
Missing set screws and holes for clamp
Great saw for the money but mine is missing all the set screws for the clamp and no holes were drilled for it. Had to drill my own.
Date published: 2018-04-15
Rated

4

out of

5
by
Nick from HB
from
10" Sliding Compound Miter Saw
Out of the box the saw seems to be put together very well. It was out of square both vertically and horizontally, so I had to adjust the stops. After getting everything square, I went to move the small pointer on the tilt head which shows the angle to align it with the zero and it cracked (it is just thin plastic). My only other complaint thus far is the included clamp, which is really finicky to get set up since it's just a knurled shaft that fits in a sleeve on the back side of the fence. Very odd. Overall though, this saw works very well and I'm excited to get more chances to use it.
Date published: 2019-05-06
Rated

5

out of

5
by
Grantwass33
from
Excellent Product that I use all the time!
I was hesitant to buy this chop saw as it was my first Ryobi product and I had a negative connotation that their tools were "cheap." After doing additional research, and checking out competitor items, I found that the Ryobi was just as stout and seemingly durable as competitors, but significantly lower cost. So I took the gamble, saved over $100 v other brands, and could not be happier. I have used this thing to cut everything from small finish wood to a 6" pressure treated post. I absolutely love it. I am not a contractor and use it for smaller home projects, but put it through it's paces while building a deck and an additional set of "deck stairs" where I was cutting a lot of pressure treated lumber.
Date published: 2020-10-30
Rated

4

out of

5
by
cdl1
from
Nice features
I was looking to buy a new 10 inch mitre saw to replace my 22 year old Delta one. I was researching different ones and decided on the Ryobi 10 inch sliding mitre saw. It had all the same features just not the big price tag. I'm sure there's better ones, but for the weekend warrior like myself, it's works perfectly fine. I took it out of the box and didn't have to adjust anything as it cut perfect. I checked the mitres with a digital mitre gauge and they were bang on. Couldn't be happier
Date published: 2019-07-06