+2
10 in. Compound Miter Saw with LED
Model: #TS1346
+2
RYOBI introduces the 10 in. Compound Miter Saw with LED. The heavy-duty 14 Amp motor delivers up to 5,500 RPM for the power to make difficult cuts. It features a 1-1/4 in. dust port to help keep your work area clean. The 24-tooth Carbide-Tipped blade provides improved performance for fast, clean cuts and an LED Cutline Indicator for higher accuracy. Backed by the RYOBI 3-Year Manufacturer's Warranty, the 10 in. Compound Miter Saw with LED includes a 24-tooth Carbide Tipped Blade, a blade wrench, a dust bag, a work clamp, and an operator's manual.
Features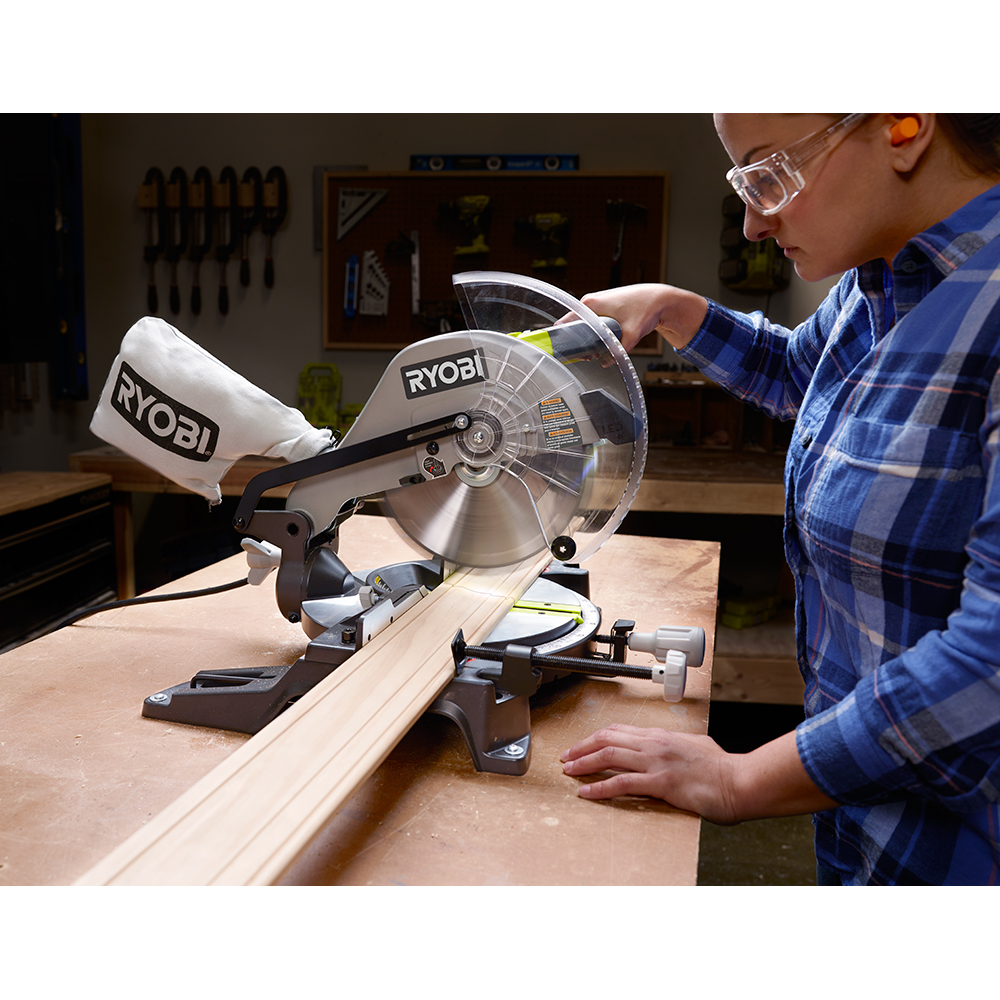 1 1/4in dust port provides connection to standard dust collection systems

to help keep work area clean
LED Cutline Indicator for higher accuracy cutting
Miter stops located at the most common angles 0º, 15º, 22.5º, 31.6º and 45º left and right for quick cut settings
Electric brake stops the blade in seconds
Adjustable bevel 0º-45º with adjustable positive stops at 0º and 45º
Spindle lock for easy single wrench blade changes
Extended miter range from 47º left and right for a wide variety of cuts
Machined and cast miter scale for accuracy
Specifications
Motor: 120V AC, 14 A
RPM (No Load Speed): 5,500/min.
Dust Port: 1-1/4 in.
Blade Arbor: 5/8 in.
Blade Diameter: 10 in.
Cutting Capacities:
Baseboard against fence: 3-1/2 in.
Crown molding laying flat: 4-5/8 in. [Bevel 33.9º x Miter 31.6º]
90º miter cut: 2 in. x 6 in. or 4 in. x 4 in.
45º miter cut: 2 in. x 4 in.
45º bevel cut: 2 in. x 6 in.
Includes
TS1346T Compound Miter Saw with 24T Carbide-Tipped Blade
Blade Wrench
Dust Bag
Work Clamp
Operator's Manual
Reviews
10 in. Compound Miter Saw with LED
10 in. Compound Miter Saw with LED
is rated out of
5
by
97
.
Rated

4

out of

5
by
Angie L
from
Decent with a few issues
This is a decent saw for the price; it has a few minor issues. The dust collection is a joke, which isn't really all that surprising for a miter saw. Still, the bag catches literally none of the sawdust; not sure why they bother to include it in the box. Tearout is crazy bad with the stock blade, virtually requiring a new blade, sacrificial scraps, and/or a zero-clearance extension fence. One of the screw holes for mounting an extension fence is *directly* behind one of the bolts which secure the stock fence in place. So every time an extension fence is installed or removed, that bolt must be removed and replaced. All in all, it's not a bad saw for a budget shop, just has a few quirks that need to be worked around.
Date published: 2020-04-21
Rated

5

out of

5
by
TMFsince78
from
Wowweee wow WOW!!
This is my first dive into the power tool pool and let me just say I wish I'd jumped in sooner! I did my research to find a moderately priced saw that was safe for a beginner like myself but also strong enough to become part of my long term arsenal. I got just that and more in this saw. It is very easy to use, has all the details I needed, and is heavy on the safety features. I will admit the first trigger pull was very startling (if you don't have earplugs, get some! ) but once I got beyond that it's been so easy to use and clean. The sawdust catcher works great, I actually hooked my shop vac right up to it and the dust is minimal now. Truthfully I invested in this miter, a circular saw and a brad nailer ago but Ryobi act I couldn't be happier.
Date published: 2020-09-02
Rated

3

out of

5
by
Chief2020
from
Easy to set up and use
Nice tool, but the LED doesn't work. Cut allot of trim and was very accurate.
Date published: 2020-06-10
Rated

5

out of

5
by
Sarge3054
from
Really good miter saw
I bought this miter saw to do some light/medium finishing in our family over the recent Covid lockdown. Great tool. Very accurate, nice smooth cut, & miter stops are very accurate. The saw is quite light for it's size. The only drawback to this saw is, the dust back collection system is almost useless. However, that is a minor detail when looking for a good, reliable saw that makes doing window & door moldings as well as baseboards a snap. Overall, a very nice saw.
Date published: 2021-02-25
Rated

5

out of

5
by
WannaBeABuilder
from
Great value!
I needed a compact yet fully functional chop saw and I took a chance on the Ryobi because I've had a large number of their cordless products that worked very well. This saw is no exception. It's a real little workhorse and has allowed me to do some major remodeling with ease. Great value.
Date published: 2021-01-26
Rated

5

out of

5
by
InstinctiveID
from
User friendly!
I'm totally a novice to power cutting tools. However, the instructions and the "how to" videos really helped get to know and feel comfortable with this tool. The cuts very are clean and very good quality.
Date published: 2020-09-12
Rated

5

out of

5
by
Anonymous
from
Love this Miter Saw!
My Ryobi Miter Saw works like a champ. I built a coffee table for my patio. My angle cuts were perfect. All my Home Power Tools are Ryobi. Please keep up the great work and to continue to build a great product. Thank you very much. Richard S.
Date published: 2020-06-19
Rated

5

out of

5
by
JRR27
from
Great saw for a beginner.
I am new to woodworking and bought this miter saw. Worked great for me. I have built 2 three tiered flower box and end table and a night stand. If I get better I may get a Ryobi 12" sliding miter saw.
Date published: 2020-08-28