+2
1 1/2 Peak HP Fixed Base Router
Model: #R1631K
+2
The RYOBI 1.5 HP Corded Router has a powerful 8.5-Amp ball-bearing motor that provides long-lasting high performance. The durable base is constructed of die-cast aluminum to provide accuracy and stability, while the ergonomic handles offer comfortable use. A micro-adjustment knob has a zero reset for accurate depth adjustment.
Features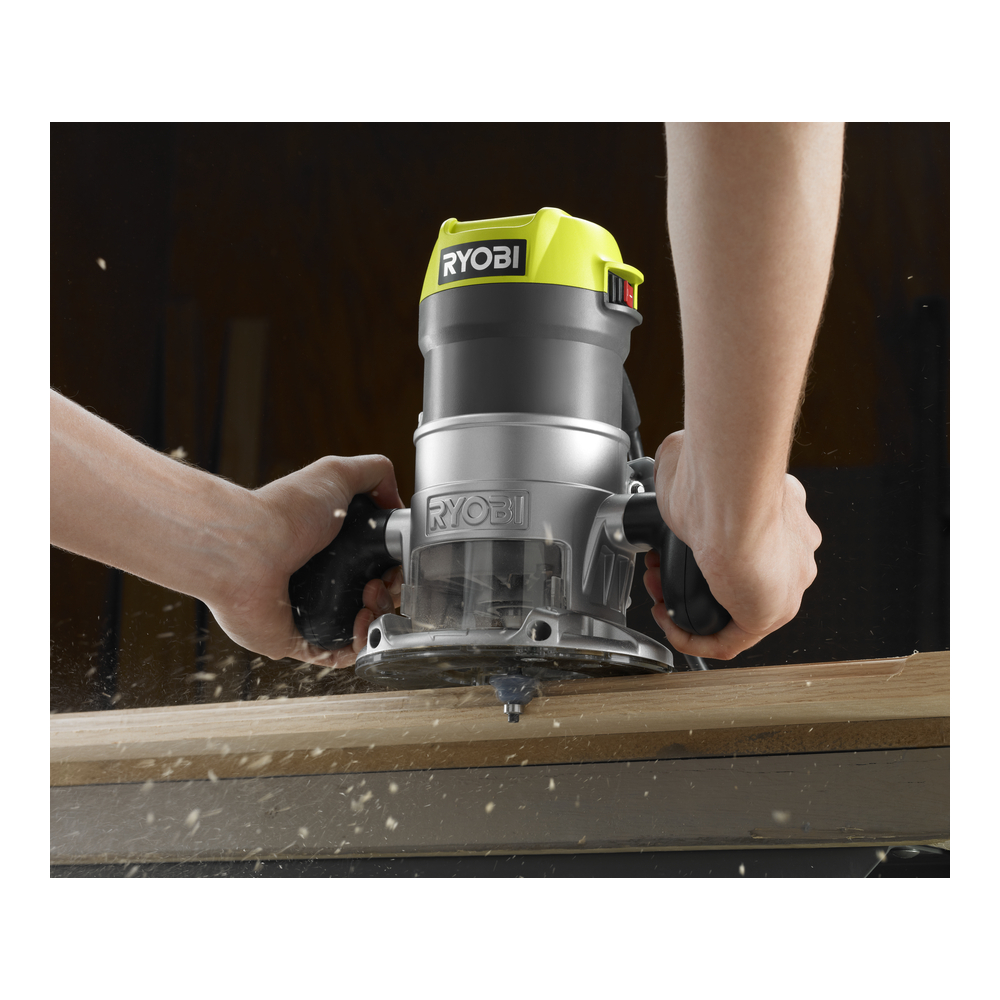 Micro-adjustment knob with zero reset for accurate depth of cut adjustments
Quick release button allows for quick and easy depth adjustments
Ergonomically-designed handles reduce user fatigue and chip shield for user protection
LED lights for improved sight during routing applications
Conveniently located on/off switch for easy operation
Spindle lock for quick and easy bit changes
8.5 AMP all ball-bearing motor for increased performance
Cam-lever securely locks the motor unit in place for accurate cuts
Die cast aluminum base for increased accuracy and stability
Specifications
Motor: 120V AC, 8.5 AMP, 1.5 Peak HP
Speed (No Load): 25,000 RPM
Cut Depth: 0–2 in.
Collet Size: 1/4 in.
Cord: 10 ft.
Weight: 6.5 lbs.
Includes
R163G Fixed Base Router
Carrying Bag
Operator's Manual
Reviews
1 1/2 Peak HP Fixed Base Router
1 1/2 Peak HP Fixed Base Router
is rated out of
5
by
66
.
Rated

5

out of

5
by
davo
from
Couldn't believe it!
Several years ago I purchased a combo router table with the router for use in a tool class. This week a student us it and wasn't observant enough to notice it was getting too hot - so it burned out the upper bearing. This tool is used for light work and is not in constant use. It had been a good tool for a number of years so, I was well pleased with how long it had lasted. The easiest replacement would be to buy the same model, hoping it would bolt up to the table. In todays world manufacturer's are constantly changing designs forcing you to buy more. I was pleasantly surprised to find the same model, Ryobi's R163, and it bolted up to my old table. It was easy - plug-n-play.
Date published: 2018-12-16
Rated

5

out of

5
by
trakpak91
from
Great Product That's Easy To Use
I've heard about routers for years, but never really understood what they were for. Finally decided to buy one, after doing some research online. Now I'm amazed how easy the router is to use, and can't believe I didn't buy one before. And this Ryobi router is such a good deal at an incredible price for someone just starting to use one. I've only used it on a couple of small projects so far, but I've been very pleased at the results. It is really simple to use, whether mounted in a table or freehand, and videos I saw on Youtube were really helpful in getting me started.
Date published: 2019-06-20
Rated

5

out of

5
by
Eric
from
My first router
This is my first router. So far it does everything I would expect. The micro adjuster works fine. Has worked well so far on routing edges, making rabbets and dados etc. note for other rookies out there the base has arrows on it to tell you which direction to rout, just remember the arrow is based on which edge you are routing gains inside or out. building a router table now and will be excited to get even more use out of it. Only suggestion for Ryobi is it would be nice to include some extra screws to mount the router to a thicker base for those that are making a simple router table out of plywood. great router for those on a budget looking for a first router to build skills and get some projects done.
Date published: 2018-08-06
Rated

5

out of

5
by
Mark CA
from
Great router that doesn't clean out your wallet!
For the price this router is hard to beat. The fit and finish is spot on and using this tool one would not guess that it cost less than $100. I shopped around for awhile before purchasing this router and I originally bought this router due to the low price tag because I was worried I would not use it enough to justify buying a more expensive unit. So I purchased this router first to see if it I would use it enough to eventually upgrade later on. After using the router on several projects I have no intention of upgrading anytime soon because this router has exceeded all of my expectations. My only caution is how loud this router is, I suggest wearing ear protection. The LED light is also a nice touch.
Date published: 2019-05-29
Rated

1

out of

5
by
Dave123
from
Low duty cycle
I bought the Ryobi 1.5 hp router and found that it has a very low duty cycle. It's good for very short periods of time but it constantly trips the internal breaker and has to cool down constantly.
Date published: 2018-12-12
Rated

1

out of

5
by
Hankus
from
Junk
I picked one of these up, mostly because it will mount to my Ryobi router table. Got it home and attached it. It has the same problem as my older router - it will not adjust. Loosen the base clamp, turn the knob. It moves a tiny bit, then seizes up. Took it off the table and laid it on its side. Still not able to adjust it. Called Ryobi tech support, they recommended that I return it to the store. Done.
Date published: 2018-07-25
Rated

5

out of

5
by
Beau25
from
Easy to use
Bought this router about a month ago to replace an old one. This one is easy to use and has great features such as the lights and plastic shield over the cutting area to allow you to see what the router is cutting. Would definitely recommend this Router for for any DIY'r no matter what level of experience with power tools.
Date published: 2019-04-24
Rated

5

out of

5
by
Bruce
from
Best Routers are made by Ryobi
Ryobi made my previous router and I had it for over 30 years. Now I have a new one and it is even easier to operate. I only wish they had included the screws needed for attaching to my router table. I will have to make another trip to town tomorrow for some. 30 miles for 2 screws ... :(
Date published: 2018-08-08