Media / Editorial Reviews
---
RYOBI 18-VOLT BRUSHLESS JIGSAW REVIEW MODEL P524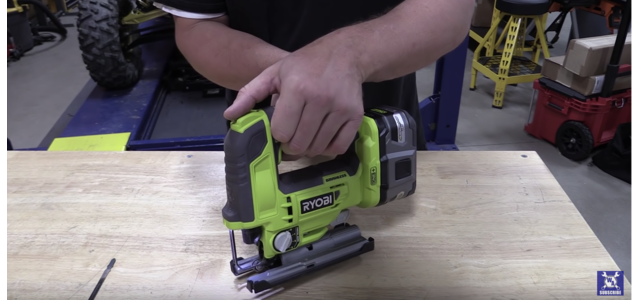 The RYOBI 18-Volt Brushless Jigsaw Review ( Model P524 ) is currently available at The Home Depot. If you are in the RYOBI 18-volt battery line, this is a nice upgraded tool that will get more power from the RYOBI HP batteries that are currently available in 6.0 and 9.0 Ah.
---
New Ryobi Cordless Air Compressor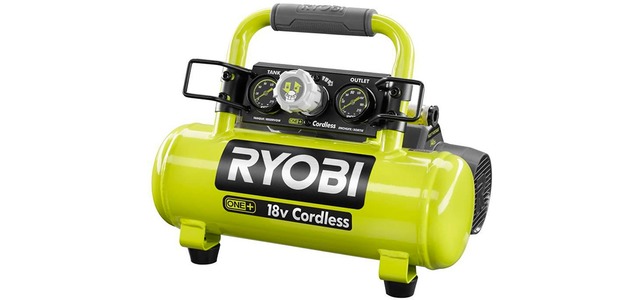 RYOBI has come out with a new 18V ONE+ cordless air compressor, model P739. The new RYOBI cordless air compressor is said to be perfect for roadside tire inflation, or for use with pneumatic finish nailers. It delivers 120 PSI max, and has a 1 gallon air tank.
Additional features include a push-to-connect quick coupler, for easy one-hand operation, a locking regulator for keeping the pressure set at the desired PSI, a metal air hose wrap for on-board storage, and a rubber over-molded handle for greater user comfort. RYOBI says that it can inflate a car tire from 0 to 35 PSI in 80 seconds, and it can inflate up to 9 car tires per charge when used with a 4.0Ah (P108) Li-ion battery. There's a tank drain valve (as expected), and clearly marked tank and outlet pressure gauges.
Price: $99 for the bare tool (you'll need a separate battery and charger) READ MORE...
---
Ryobi 18-Volt 15K BTU Hybrid Forced Air Propane Heater Review P3180
Living up to what RYOBI does very well, this heater will run off a RYOBI 18-volt battery or it can be used with an extension cord plugged into the wall. Options for powering the unit are nice. A 4.0 Ah battery will last through about 4 tanks of 1-pound propane cylinders.
---
RYOBI 18V Cordless 1-Gallon Air Compressor Review | P739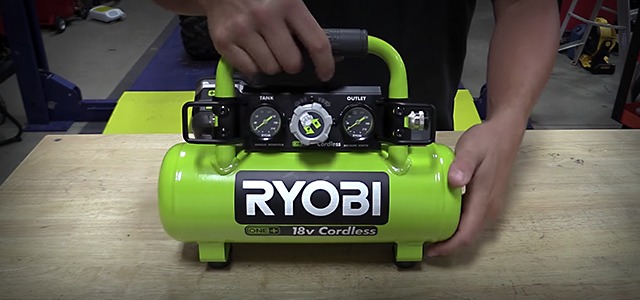 8-Volt Air Compressor - Ryobi's 18-volt line has brought forth some different and cool tools sold through Home Depot. The new Ryobi 18V Cordless 1 Gallon Air Compressor, model P739, comes to market at a great price for someone who would like to get into a small air compressor or wants a portable model. The air compressor is run off one 18-volt battery and Ryobi states it should be a 4.0Ah battery or larger for best performance. Runtime on Ryobi's cordless air compressor is pretty impressive with the compressor running 30 minutes total before the battery is discharged. READ MORE...
---
RYOBI Cordless 3-Gallon Project Vacuum: 18V One+ P3240
PTR co-founder Tom Gaige just finished helping my friend, Jeff Hogan, wrap up a new workshop next to his house. As one of the more knowledgeable DIYers in my local area, I put the new Ryobi Cordless 3-Gallon Project Vacuum in his hands to see what he thinks and how he implements into his system as a supplement to a larger shop vacuum. Read More....
---
Categories
Product Line