Media / Editorial Reviews
---
Meet the 2-HP Ultra-Quiet RYOBI Garage Door Opener
That's right—the experts at RYOBI who normally dream up, engineer and produce power tools have created something new and unique in the world of garage door openers. The opener can host many cool accessories, in the form of snap-in modules. More on those in a moment. For now, let's talk about the features of the basic opener.
---
RYOBI GD200 GARAGE DOOR OPENER AND MODULE SYSTEM
The RYOBI Ultra-Quiet Garage Door Opener has a powerful 2HP motor that will quietly open and close large doors with ease due to faster openings. Read More...
---
Ryobi Garage Door Opener Review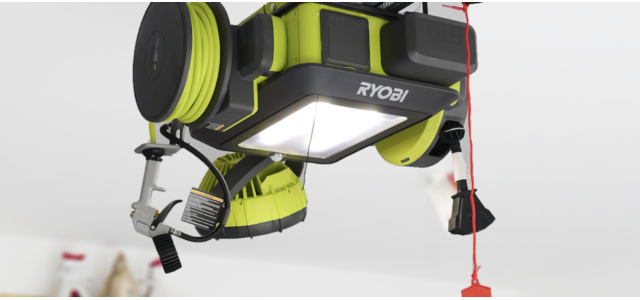 There was a time that all I expected from my garage door opener (GDO) was to raise and lower my garage door. That time is gone. Ryboi has made the garage door opener so much more with innovative features and mix-and-match accessories. If you're in the market for a new GDO, consider the Ryobi 2 HP Belt Drive Garage Door Opener. It has the features you'd expect – LED light, wireless keypads, safety sensors, and car remotes. But wait there's more! This GDO also includes wifi capabilities and corresponding app, battery backup and up to seven accessories. The accessories are what really sets the Ryobi GDO apart. You can choose from a retractable power cord, shop fan, air inflator, bluetooth speaker, and more. Ryobi sent us a test unit to try out. Keep reading for the full review.
Installation
The Ryobi garage door opener installs much like any other GDO, and I highly recommend checking out Ryobi's installation video. It walks you through the process, and it's easier to see someone installing the unit rather than reading about it (at least for me). After you remove the old GDO, you assemble the rail and attach to the power head. Next, you secure the rail to the wall above your garage door and the power head to the mounting straps. The safety sensors are hardwired as usual. The indoor keypad uses an IR receiver which requires a line of sight. The outdoor keypad uses RF so just test it out before installing. Programming the travel limits and connecting car remotes was easy. All the accessories are plug-n-play which means you install them and they are ready to go. I had no issues getting the Ryobi GDO connected to wifi. The app takes you through each step. Altogether it took me most of a day to install. I took my time, ensuring everything was dialed-in before continuing to the next step.
Quality
I mentioned earlier that this GDO features a 2 HP motor which is actually quite good. The idea is that a more powerful motor doesn't have to work as hard and will last longer. If you check out the competition, you'll often see motors with 1-1/4 HP or less. I can't speak to the longevity as I've only just installed the opener. All the parts and materials seemed good quality. The Ryobi GDO also includes a steel-reinforced belt instead of a direct drive or screw drive. On top of it all, the warranty is very good. Ryobi covers the power head, gearbox, rails, door arms, sensors, remotes, and keypads for three years. The belt and motor have a lifetime warranty.
Operating
This GDO works much as you'd expect with a few additional bells and whistles. The outdoor keypad is wireless and will open or close the door after you punch in a four-digit keycode. You can also set a temporary pin that will remain in effect until the next time you use your regular code. This is nice to give someone access while you're away. The indoor keypad has a button to raise or lower the door, and it has numbers for operating accessories.
This GDO is HomeLink compatible. For us, that means we can use the built-in remote in our Ford (unlike our last opener).
Ryobi opted for a belt-drive instead of a direct-drive or screw-drive, and the belt drive is much quieter.
Even if the power is out, the Ryobi opener can operate off 18-volt battery backup for about 100 openings!
The one and only thing I would have Ryobi change is that when the door is closing, the unit beeps and the light flashes a few times. This is probably some arcane legal requirement. However, it's just annoying for the end user.
Built-In Features
You already know about the 2HP motor. I also wanted to point out the LED light. This is a nice bright light, and no more replacing light bulbs. There's even a motion sensor to automatically turn it on. No more fumbling around for the recycling can in the dark! The duration can be adjusted anywhere between 3 and 10 minutes (in 1 minute increments).
The battery backup also acts as a charger to keep the battery ready in case you lose power.
Accessories
OK. This is the really exciting part of the Ryobi GDO. You can use the 7 accessory ports for specialized, plug-n-play modules like a shop fan, bluetooth speaker, retractable power cord, inflator, laser parking assist, security camera, and CO detector (coming soon). How cool is that?! Just note that some accessories require two ports.
I opted for the speaker, power cord, fan and inflator, and so far I'm very pleased with each. The accessories can be controlled from the indoor keypad or from the Ryobi GDO app (App Store, Google Play).
The speaker is great for listening to music while I work, and it includes a microphone for hands-free calling. The 30′, retractable power cord may sound basic, but I love it. It gives me three power connections in the middle of the garage and keeps cords off the ground. Ryobi claims the high-power inflator can handle car tires. I haven't tested that yet. However, I like it for bike tires, balls, and other toys. This accessory saves me the trouble of setting up my compressor when the kids tires get low. Lastly, I have the shop fan. You can pivot the head in any direction and control the speed with the app or indoor keypad.
Where to Buy
The Ryobi garage door opener and all the Ryobi GDO accessories are available at the Home Depot. The opener will set you back $250 and each accessory ranges from $44 to $100. However, there are some sweet bundles available. For example, you can get the cord reel, speaker, fan and laser parking assist bundle for $175 or the GDO and the speaker for $292. Here are a few links. Be sure to check out all the options!
Check out the original review here.
---
Ryobi 68pc Driving Kit Review
We all need bits to accompany our impact driver. They will easily disappear into the dark depths of your tool bag or box if they aren't kept organized and secure. Ryobi has released a line of bits and drivers that do just that. This specific Ryobi bit set covers the largest in their line of impact driving sets. Let's dive into the Ryobi 68pc Driving Kit Review and see how they perform.
It seems like no matter how much you plan for a job, there are always some oddball fasteners you encounter. For this reason, it is always better to have a whole set of bits for your impact driver. In the world of power tool accessories, a good set of bits is almost as coveted as the perfect blade and with good reason. The right accesory can make all the difference in how your power tools perform.
Being that impact drivers keep getting more and more powerful, being able to use sockets with them is also more popular than ever. Ryobi's 68pc Impact Driving Kit solves all of these problems. The whole kit is also contained in a small, secure case as well.
The set comes in a sturdy plastic clamshell case. A sliding lock keeps the case securely closed, yet is easily opened.
All of the bits are laid out in an organized fashion that makes identifying the one you're looking for rather easy. Tight plastic tabs or sleeves hold everything in place.
Socket adapters are located on a convenient flap. A good feature that takes advantage of otherwise unused space.
Bits are made with a "Torsion Zone" that absorbs the torque from an impact driver. This feature prevents damage to bits and fasteners, extending the life of both. A similar feature is found on our Husky Torque Limiting Extensions Review.
A magnetic screw guide is also included, which accepts standard, short 1/4″ hex bits. Screws are prevented from falling off of the bit with the sliding sleeve.
Bit sizes are stamped on the shank of each piece. Albeit some are easier to read than others.
Ryobi 68pc Driving Kit Review Performance
These bits fit well into fasteners. The shanks also fit well into the chuck of my impact drivers. I used this set on a project and they worked flawlessly.
There is a bit of a trade-off between having a nice compact kit that is easy to carry and being able to easily get to some of the bits. I had a little bit of a difficult time getting some of the bits on the top row out. It was easy to use another bit to help get them out if I couldn't with my finger. Again, this is a trade-off for the size of the case. I also believe that they will become easier to get out with use, as the plastic loosens up.
Included are 3 socket adapters: ¼", 3/8", and ½". These are extremely handy if the included socket bits are not what you need for the job. Socket adapters are always a good idea to have around, so including them in this kit was a wonderful idea.
Ryobi 68pc Driving Kit Review Value
Home Depot offers this kit for $19.97. For under $20 for an entire setup, this handy kit is a no-brainer. I have paid more for smaller kits on Black Friday. Larger sets are indeed available (both more pieces and in larger cases). What makes this kit such a standout deal is that it contains the most popular bit and has socket adapters, something a lot of kits lack. Most of them do not have the popular bits this set does nor do they have the socket adapters.
Ryobi 68pc Driving Kit Review Final Thought
All things considered, this kit is a home run. A kit like this is likely all the average Homeowner will need and more. Pricing is great, the case size is compact and secure, and the assortment of bits is almost overwhelming. As always, Ryobi puts out a great budget-friendly product a wide range of users will love.
Read the full review By Garrett "Red" Sanders here.
---
Ryobi 18 Volt ONE+ EVERCHARGE LED Area Light and 1.3 Ah Battery and Wall Mount Review
Ryobi's new 18-Volt ONE+ EVERCHARGE LED Area Light comes with a 1.3 Ah Lithium-Ion Battery and Wall Mount Adaptor Charger. This is a light you will not know how you lived without once you have it. The 360° of light output allows this light to be used for emergencies, camping, fishing, hunting, anything outdoors and also shop use. This could easily be mounted on the wall of a repair man's wall so they always have a light that is charged and ready to go, but it would also double as an emergency light for when the power goes out. The light has an Auto-On feature that will automatically turn the light on in a power outage. While 400 Lumens of light output does not seem like a lot, it is. Check out the video as we pan around our shop with only the Ryobi Area Light on the wall. On low, we found this light to have over 27-hours of runtime on an RYOBI High Capacity LITHIUM+ Battery. As a bonus, the light also has a Built-in USB charging port will keep your phone charged anywhere. The folding metal handle provides easy storage and portability and allows you to light up any workspace.
- Auto-on in power outage when mounted to wall mount adaptor
- 360° of light output
- Charges RYOBI ONE+ battery and remains charged with a wall mount adaptor
- Built-in USB charging port
- Folding metal handle for storage and portability
- modes of brightness with up to 400 Lumens on high
- 3-year manufacturer's warranty
Includes: 18-Volt ONE+ EVERCHARGE LED area light with (1) 1.3 Ah battery, (1) wall mount adaptor charger
---
Categories
Product Line