Media / Editorial Reviews
---
Ryobi Dual Function Inflator/Deflator Hands-on Review | P747
Ryobi Upgrades a Classic
Not many of us spare too many thoughts for the lowly tire inflator until we actually need one, and then they become exceedingly helpful in a pinch. Between filling bike tires, the occasional air mattress, the odd basketball, ZT mower tires, and my driver-side rear car tire with an almost-imperceptible-but-definitely-there-if-you're-paying-attention slow leak, we actually find a fair amount of use from our old Ryobi Inflator. That's why when Ryobi sent us the new P747 Ryobi Dual Function Inflator/Deflator recently, we got excited about the potential upgrade.
---
4 Cool New Ryobi Tools You Need to See by Tools In Action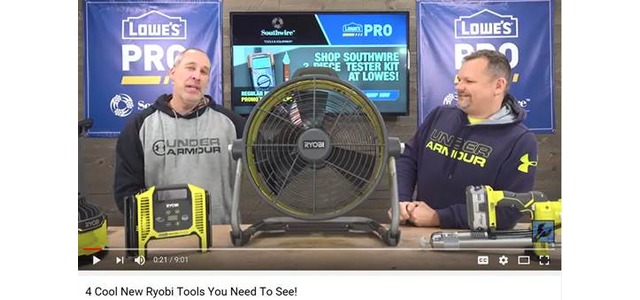 We take a look at some of the new Ryobi offerings from Home Depot starting in 2020.
---
Ryobi 18-Volt OR Corded Hybrid Floor Dryer Fan Model P3330 Review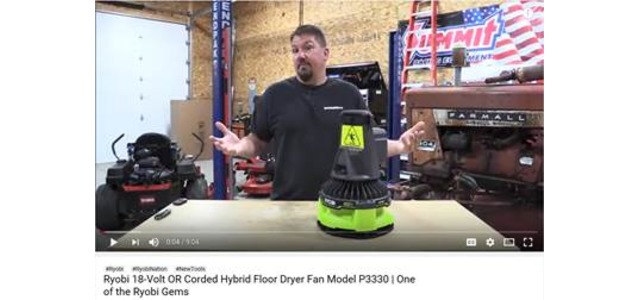 RYOBI has a NEW 18-Volt ONE+ Hybrid Floor Dryer Fan.
This is a small and lightweight 300 cfm 360-degree floor drier that will work well for many.
Ryobi Floor Drier: https://www.homedepot.com/p/RYOBI-18-...
► Our Testing Comparision: https://amzn.to/38KPh5g
► Amazon's Top Pick For Floor Dryers: https://amzn.to/35jClkp
----------------------------------------------------------------
Ryobi Hybrid Floor Dryer Pro's - Air flows out the bottom of the fan directly onto the floor all around the unit. - Great runtime on low with a 9.0Ah battery - Hybrid Technology extends runtime by allowing use with a battery or an extension cord - Small and light so it is easy to move and store - Very quiet
Con's - Airflow is light for large rooms - More options available for less money with higher CFM when comparing this model to others at full price - For longer runtime on high, you will need larger batteries.
---
New Ryobi Cordless Band Saw, P590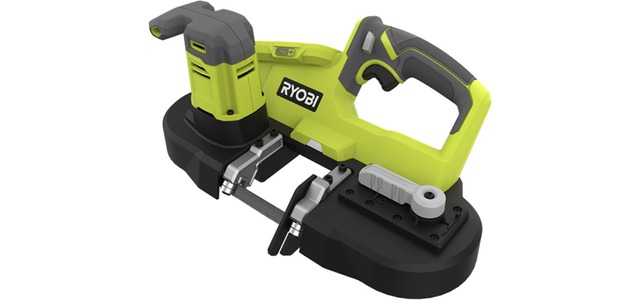 We just received word that Ryobi has come out with a new 18V One+ cordless band saw.
You know that a brand has been listening to user requests when the press release announcement starts off with the wait is over!
The new Ryobi cordless band saw, model P590, is said to be lightweight and portable. It features a 2-1/2″ cut capacity and is designed for cutting wood, metal, and plastic materials.
It features adjustable blade tracking and an LED work light.
575 SFPM (surface feet per minute) cutting speed
2.5″ cut capacity
Integrated pommel handle
32-7/8″ blade size
Comes with (2) 18 TPI blades
Price: $129 for the bare tool
ETA: November 2019
Discussion
The new Ryobi band saw seems straightforward – it's a compact cordless band saw with 2.5″ cutting capacity and what looks to be a standard blade size.
What's not to like?
Raise your hand if this be on your wishlist.
Before anyone says it, I know what the number one question will be – "when will Ridgid come out with a cordless band saw?" The announcement of this new Ryobi saw should give you some hope that the answer is "soon" rather than "eventually," although that's not a guarantee.
To read the article in full, click here.
---
Ryobi Impact Wrench Review
Are you a weekend warrior who likes to work on their car but it's not at their forefront of the to-do list? If so, this Ryobi impact wrench might be a great solution for you. I have a family and so many things going on every week. While I love working on things around the house such as my truck, I would rather do other things, like spend time with my family. However there are those tasks I want to tackle. I just don't want to spend a fortune on an impact wrench when a majority of its life it will be sitting on the shelf. So let's jump into the Ryobi Impact Wrench Review.
Ryobi Impact Wrench – Information
Ryobi Impact Wrench – Features
The Ryobi puts out 150 ft.lbs of torque which is powerful for an impact wrench under $100.
The wrench produces 3,400 impacts per minute with 3-speed settings which means this can be used on a variety of applications.
The unit is powered by the Ryobi 18V battery which also is used for a wide variety of other Ryobi products.
The impact wrench uses a 3/8″ anvil that is a hog ring.
One awesome feature is the three bright LED lights that help eliminate shadows and shine up your work.
The handle has a typical Ryobi tool grip that has a very nice rubber over-mold.
On the back of the unit, you have three-speed settings that will adjust the ipm speed.
Speed 1 – 0-1,700/min
Speed 2 – 0-2,500/min
Speed 3 – 0-3,200/min
On the base of the unit, there is a magnet to hold smaller nuts or bolts.
Ryobi Impact Wrench – Impressions
For an impact that is priced under $100, I think it's powerful and built well. While you won't be removing semi-truck lug nuts, it's a perfect option for the homeowner who needs a wrench but doesn't need the power of removing semi-truck tires.
Overall it's powerful and I like the speed selection on the back of the tool, which makes it easy to change on the fly with your thumb.
Ryobi Impact Wrench – Final Thoughts
While the impact wrench is on the heavy side, I am okay with that since I am not using it all the time. For me, the price and quality are what I want in my wrench. The Ryobi is an easy decision for me as I need power, but not the price tag of a professional wrench. I love how many tools are in the Ryobi line up so even if the wrench sits around a lot for me, I can use the battery in so many other Ryobi tools and products.
To Read the Article in full, click here.
---
Categories
Product Line